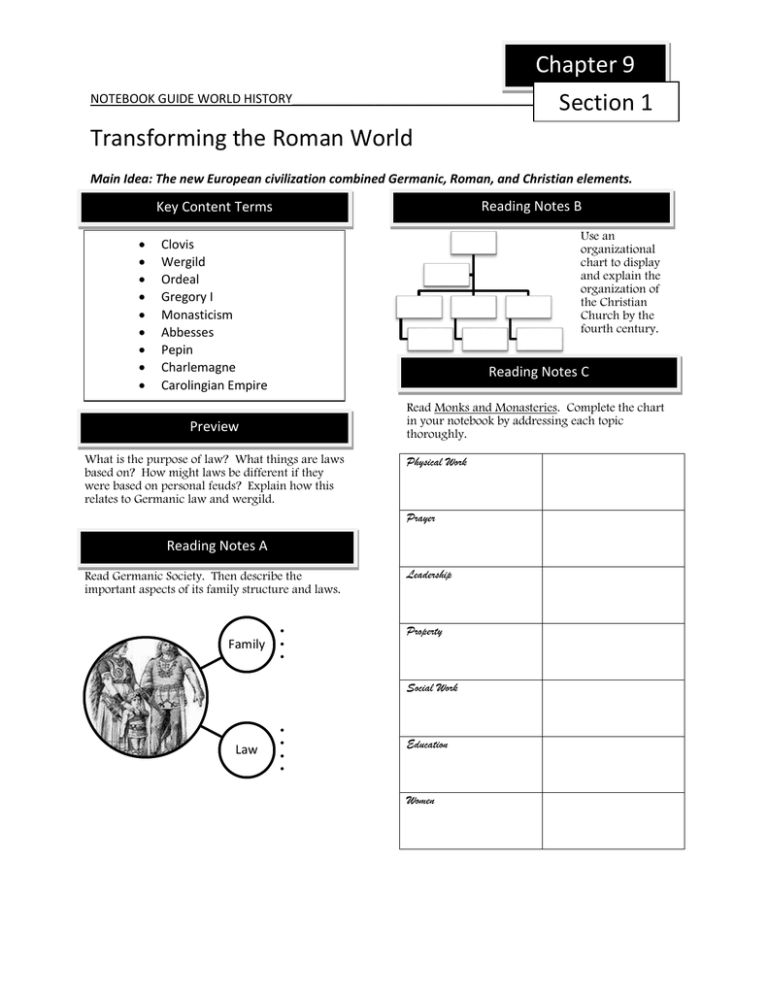 Chapter 9
Section 1
NOTEBOOK GUIDE WORLD HISTORY____________________________________________________
Transforming the Roman World
Main Idea: The new European civilization combined Germanic, Roman, and Christian elements.
Reading Notes B
Key Content Terms









Use an
organizational
chart to display
and explain the
organization of
the Christian
Church by the
fourth century.
Clovis
Wergild
Ordeal
Gregory I
Monasticism
Abbesses
Pepin
Charlemagne
Carolingian Empire
Reading Notes C
Read Monks and Monasteries. Complete the chart
in your notebook by addressing each topic
thoroughly.
Preview
What is the purpose of law? What things are laws
based on? How might laws be different if they
were based on personal feuds? Explain how this
relates to Germanic law and wergild.
Physical Work
Prayer
Reading Notes A
Read Germanic Society. Then describe the
important aspects of its family structure and laws.
Family
•
•
•
Leadership
Property
Social Work
Law
•
•
•
•
Education
Women
Reading Notes D
Complete the following outline as you read about the
Carolingian Empire.
I.
The Carolingian Empire
1.
2.
3.
A. Charlemagne as Roman Emperor
1.
2.
3.
B. Carolingian Renaissance
1.
2.
Processing
In a T1 Collins Writing, apply Germanic law to
modern society. List five common crimes that
occur today and argue what wergild you think
should be established for each crime. Explain your
choices.