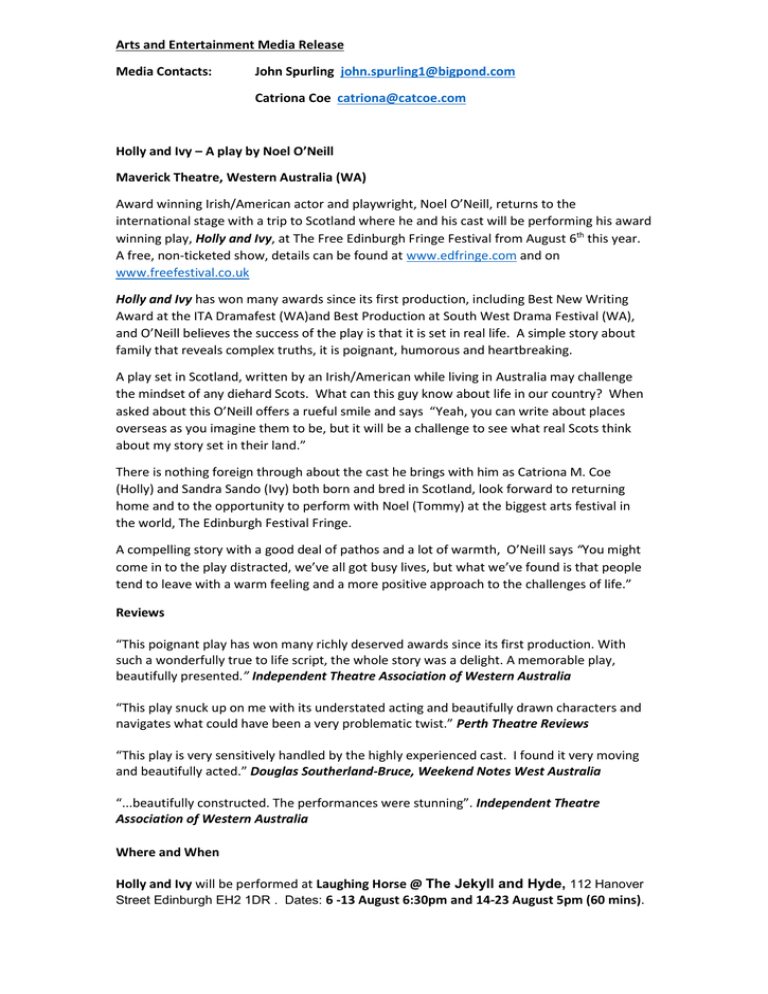 Arts and Entertainment Media Release
Media Contacts:
John Spurling john.spurling1@bigpond.com
Catriona Coe catriona@catcoe.com
Holly and Ivy – A play by Noel O'Neill
Maverick Theatre, Western Australia (WA)
Award winning Irish/American actor and playwright, Noel O'Neill, returns to the
international stage with a trip to Scotland where he and his cast will be performing his award
winning play, Holly and Ivy, at The Free Edinburgh Fringe Festival from August 6th this year.
A free, non-ticketed show, details can be found at www.edfringe.com and on
www.freefestival.co.uk
Holly and Ivy has won many awards since its first production, including Best New Writing
Award at the ITA Dramafest (WA)and Best Production at South West Drama Festival (WA),
and O'Neill believes the success of the play is that it is set in real life. A simple story about
family that reveals complex truths, it is poignant, humorous and heartbreaking.
A play set in Scotland, written by an Irish/American while living in Australia may challenge
the mindset of any diehard Scots. What can this guy know about life in our country? When
asked about this O'Neill offers a rueful smile and says "Yeah, you can write about places
overseas as you imagine them to be, but it will be a challenge to see what real Scots think
about my story set in their land."
There is nothing foreign through about the cast he brings with him as Catriona M. Coe
(Holly) and Sandra Sando (Ivy) both born and bred in Scotland, look forward to returning
home and to the opportunity to perform with Noel (Tommy) at the biggest arts festival in
the world, The Edinburgh Festival Fringe.
A compelling story with a good deal of pathos and a lot of warmth, O'Neill says "You might
come in to the play distracted, we've all got busy lives, but what we've found is that people
tend to leave with a warm feeling and a more positive approach to the challenges of life."
Reviews
"This poignant play has won many richly deserved awards since its first production. With
such a wonderfully true to life script, the whole story was a delight. A memorable play,
beautifully presented." Independent Theatre Association of Western Australia
"This play snuck up on me with its understated acting and beautifully drawn characters and
navigates what could have been a very problematic twist." Perth Theatre Reviews
"This play is very sensitively handled by the highly experienced cast. I found it very moving
and beautifully acted." Douglas Southerland-Bruce, Weekend Notes West Australia
"...beautifully constructed. The performances were stunning". Independent Theatre
Association of Western Australia
Where and When
Holly and Ivy will be performed at Laughing Horse @ The Jekyll and Hyde, 112 Hanover
Street Edinburgh EH2 1DR . Dates: 6 -13 August 6:30pm and 14-23 August 5pm (60 mins).