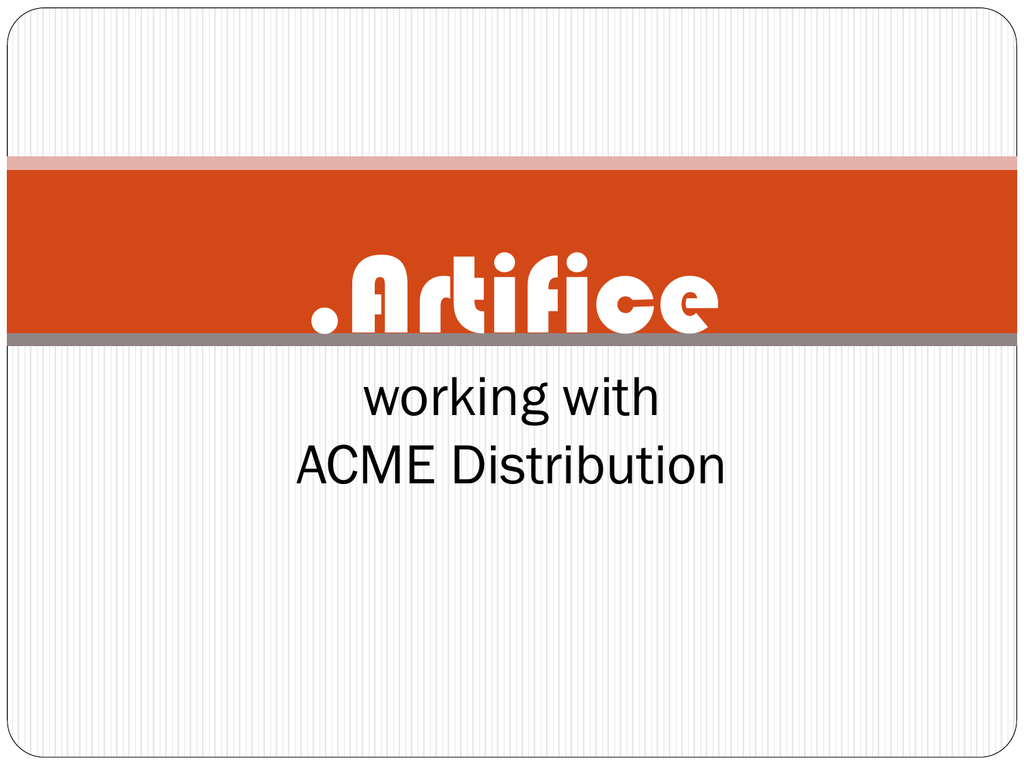 .Artifice
working with
ACME Distribution
General Overview:
 ACME called us in because of the unsatisfactory
work the business was providing.
 Customers and Employees were both unhappy
about the current state of their system.
 Grew from 2 employees and 1 barn (1990) to
120 employees and 3 warehouses (2005)
providing 2000 products from 5 companies.
Current System Overview:
 The system currently
 Customers are not
in place does not
provide accurate
information
 Annually money is
lost from both
cancelled orders and
products on backorder
notified if a product is
even out of stock
 Nothing is paperless
and information is
unsafe.
Current System Overview Cont'd
 They receive a pick-ticket.
 Pick-ticket is assigned to an employee.
 The product has to be located and placed in a cart.
 The pick-ticket is placed on the cart for shipping.
 The contents are then packed with a manifest and label.
 They are then moved to a staging bin to be picked up by the
shipping carrier.
 The pick-ticket is then marked as shipped and set to the
office.
Current System Overview Cont'd
 It takes two days for a customer to determine the
status of an order. Statics show that ACME loses
$35,000 annually because of this.
 It takes 2-3 days to cancel an order, and in most
cases the order has already been shipped. Statistic
show $20,000 is lost because of this.
Current System Overview Cont'd
 Reducing floor space with computers is estimated
to save $12,000 annually.
 Information to the manages is slow and many
times out of date.
Problems
 The current state of processing order forms and
getting notice to the customer is out of date and
inefficient.
 Customers do not know what is in and out of
stock and often times have problems with getting
the product in their hand
Problems Cont'd
 To much paper! If we reduced floor space and
put made up a database for the customer's
information it would reduce time, cost, and
money.
 No ability to cancel orders because there is no
feedback about the product being shipped.
Problems Cont'd
 ACME is losing large amounts of money because
poor communication between employees,
managers, and customers.
 Too many delays. Between shipping, canceling,
and ordering products money is being lost in
huge amounts.
Opportunities
 From 1990 to 2005 they grew from 2 employees
to 120 and from 1 barn to 3 warehouses. With a
new system that is always ready to expand on…
What is to come in another 15 years?
 With room for growth the system should never
fall out or date again with the proper care from
ACME.
Opportunities Cont'd
 With a new paperless system employees will not
be confused on helping with an order.
 Customers will have an easy to use interface with
only on time to register. Customer information
will be stored on our end incase they ever want
to return.
Opportunities Cont'd
 With customers given notice about what is going
on with their product, they will not hesitate to
think of ACME again in the future.
 With a reliable system it should reduce on
unnecessary money spent towards canceling and
back-orders.
Constraints
 We are going to try and keep the budget under
$50,000.
 They want this system ASAP.
 ACME wants a system that will be able to grow
and expand with the business. Therefore we need
to make a system that can easily be updated and
able to grow for the future.
Design
 The following is our Context Diagram and 0
Diagram.
 Any questions about data flow or the entities can
be found in the data dictionary at the end of the
paper.
Shipping
4. Shipping Order
2. Order
0
Warehouse
3. Confirmation
8. Order Shipped
7. Bill
5. Billing Order
Order Process
1. Place Order
Billing
Customer
6. Bill Receipt
9. Product
1. Order Placed
15. Ready to Ship
16. Send
Product
Customers
14. Get Ready to Send
1
Shipping
Fill Order
Warehouse
4.Complete
Order
9. Bill to Customer
6. Order Confirmation
3
Billing
7. Order Sent
8. Bill Sent
Apply
Payment
13. Readied
Product
Create
Invoice
11. Ready Product
5. Completed Invoice
2. Check Status
2
10. Order
Ready to
Prepare
3/12
Check/Get
Product
Inventory
Recommendations
 Computer making everything automatic
 Scanning system to keep track of information
coming in and out.
 Database of customer information and account
history.
 No cancelation through ACME. If a customer has
an issue with a product they can send it back for
an exchange.