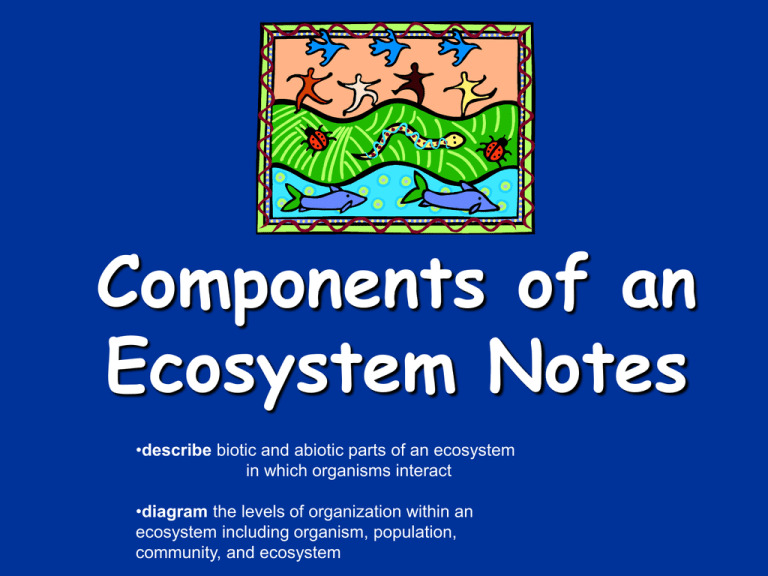 Components of an
Ecosystem Notes
•describe biotic and abiotic parts of an ecosystem
in which organisms interact
•diagram the levels of organization within an
ecosystem including organism, population,
community, and ecosystem
An ecosystem is a
group of living and
non-living things
that interact with
each other.
All of the living
things, in an
ecosystem are
called biotic
factors.
Examples:
plants,
animals,
fungi,
bacteria,
etc…
All of the nonliving
things are called
abiotic factors.
Examples:
sunlight, soil,
rocks, water,
temperature,
clouds, gases
etc…
Ecosystems
can be large (prairie)
or small (puddle).
The Texas
prairie
Scientists examine
levels of the ecosystem
to help them
understand it as a
whole. The basic levels
of organization are
Organism  population  community  ecosystem
Levels of
Organization
in an
Ecosystem
Organism
Population
Community
Ecosystem
Organism:
A living thing.
Population:
All of the organisms
of the same type
(species) that live in
an area at the
same time.
Community:
All of the organisms
that live together in
an area.
Ecosystem:
All of the organisms living
in the same area and their
nonliving environment.