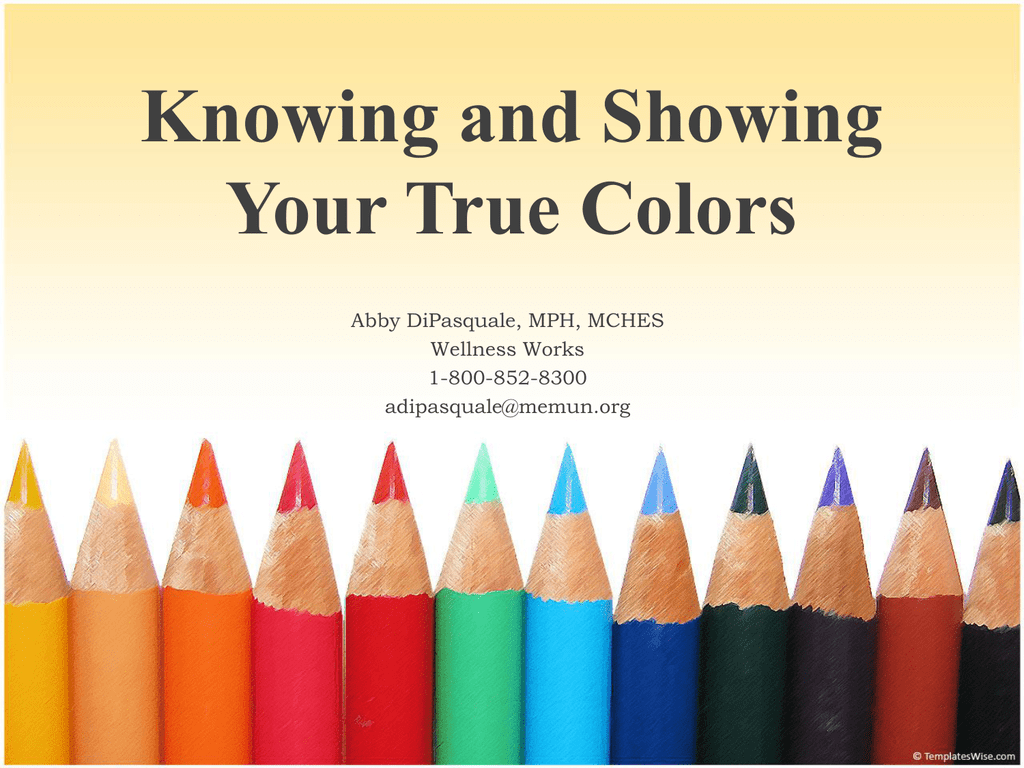 Knowing and Showing
Your True Colors
Abby DiPasquale, MPH, MCHES
Wellness Works
1-800-852-8300
[email protected]
Knowing True Colors
• Imagine the people you interact with daily.
• Do you always understand how and why they do
what they do?
• We all have different ways of doing things, so how
do we bring out the best in each other instead of
driving each other crazy?
That is the power of knowing your True Colors!
The Steps
•
•
•
•
•
Identify
Clarify
Modify
Apply
Verify
Identify
• Rank each group of words.
1= least like you and 4=
most like you.
• For each question you
must have a 1,2, 3, and 4.
• Focus on how you are
when you are most "you"not how you wish you were
or how others say you are.
• Add up all numbers in the
"a", "b", "c" and "d" and
total at the bottom.
Clarify
• Circle 3-5 words from the quiz that you identify with the
most.
• Turn to the first page of your Color and read the brief
description written there…does this sound like you?
• Don't read the whole book- not yet anyway!
Predictable
 Be Prepared
 Be Prepared
 Be Prepared
Gold
Follows Rules
Duty and Responsibility
Optimistic
Relationships
Blue
Driven by Emotions
Peacemaker
Caretaker
Pushes Boundaries
Playful
Orange
Spontaneous
Variety
Why?
Strategic
Green
Innovative
Intellectual
Determined
"We don't see things as
they are; we see them
as we are."
- Anaïs Nin
Modify
• We don't want to change or hide our colors, we want to
show them!
• But how do we meet them where they are and where we
are?
• Take a moment to consider that their reality may be valid
and you may benefit from understanding it!
Apply to Gold
The Gold Style:
What You Should Do:
• Purposeful, plans ahead
• Respectful, appropriate
• Supportive of policies and
rules
• Detail oriented,
chronological
• Loyal, devoted
• Be prepared, give details
• Stay on target, be
consistent
• Show respect
• Don't interrupt
• Recognize their
contributions
Apply to Blue
The Blue Style:
What You Should Do:
• Friendly, helpful,
empathetic
• Optimistic
• Expressive with emotion
• Fostering or maintaining
harmony
• May use metaphors to
embellish points
•
•
•
•
•
Acknowledge them
Show appreciation
Include them
Have patience
Don't "bark" orders
Apply to Orange
The Orange Style:
What You Should Do:
• Casual, playful
• Spontaneous, now
oriented
• Fast-paced, changes
subjects quickly
• Straightforward
• Active, involved, mobile
• Use "sound bites"
• Move with them while
they multitask
• Appreciate their flair
• Allow options for
flexibility
• Lighten up
Apply to Green
The Green Style:
What You Should Do:
• Logical and objective
• Includes facts and
information
• Big picture, conceptual
• Questioning, critiquing
• Wry sense of humor
•
•
•
•
Allow them to ponder
Skip the "small talk"
Avoid redundancy
Give big picture or point
first, then fill in details if
asked
• Don't misinterpret their
need for info as
interrogation
Verify
• The more aware we are of our own personality and that of
others, the better we are at adapting and modifying our
interactions.
• Check with the other personalities to determine how they
view a situation and identify solutions.
• Look at it from a new perspective and keep and open
mind!
Continue to Explore and
Learn About Your True
Colors!