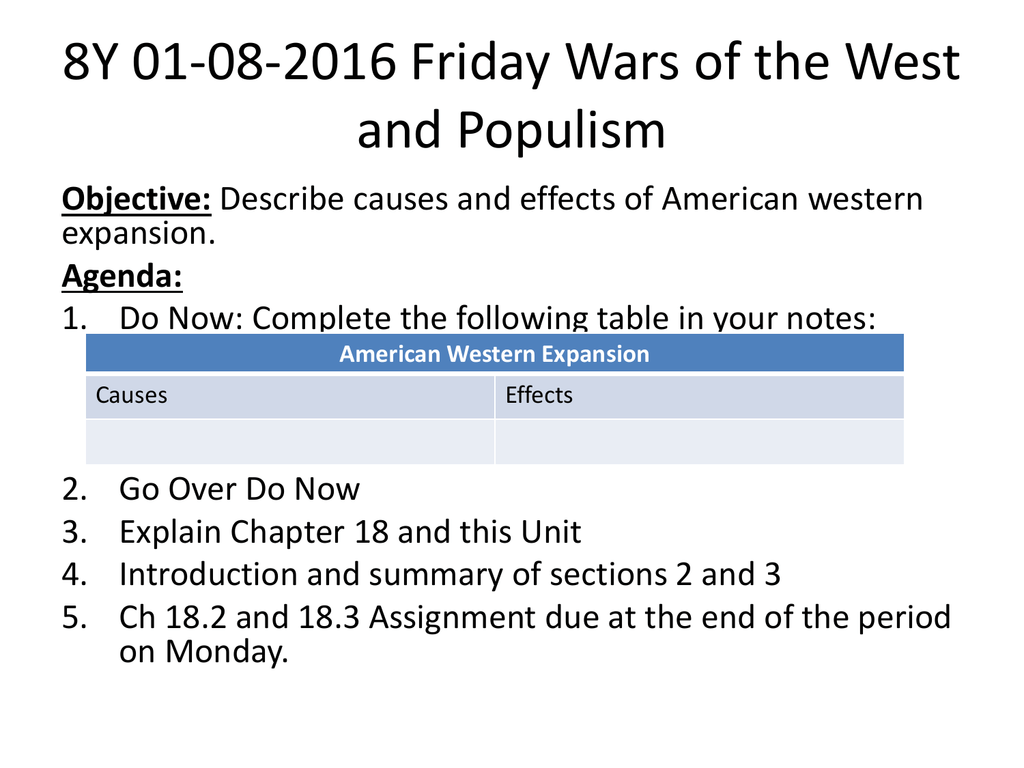 8Y 01-08-2016 Friday Wars of the West
and Populism
Objective: Describe causes and effects of American western
expansion.
Agenda:
1. Do Now: Complete the following table in your notes:
American Western Expansion
Causes
2.
3.
4.
5.
Effects
Go Over Do Now
Explain Chapter 18 and this Unit
Introduction and summary of sections 2 and 3
Ch 18.2 and 18.3 Assignment due at the end of the period
on Monday.
American Western Expansion
Causes
Effects
Gold was discovered in the Sierra Nevada
Mountains
Hunters killed the buffalos in the Great
Plains  Natives had to rely on American
supplies, wars.
People were looking for money and
opportunity
Americans needed food
America was growing (size and
population)
Cowboys created the Texas Long Horn,
cattle drive  farmers get mad and invent
the barbed wire  cattle drive dies out
Military attack Natives  many conflicts
 Most Great Plains Indians die or are
forced into reservations
Transcontinental RR is built 
transportation is easier  transferred
supplies  connected West and East  a
lot more people went to the frontier
(tripled towns in the US)
RR  doubled the U.S. population
Unit 3 Growing America
Chapter 18 Americans Move West
Chapter 19 The Industrial Age
Chapter 20 Immigrants and Urban Life
Assignments for each chapter:
- Film and viewing guide
- Section Main ideas, big ideas, key terms and people, notes
- comprehension questions/quizzes
- chapter review
Unit Assessment:
Project to be determined.
Chapter 18.2 and 18.3
18.2 Wars for the West: Native Americans and
the U.S. government came into conflict over
land in the West.
18.3 Farming and Populism: Settlers on the
Great Plains created new communities and
unique political groups.