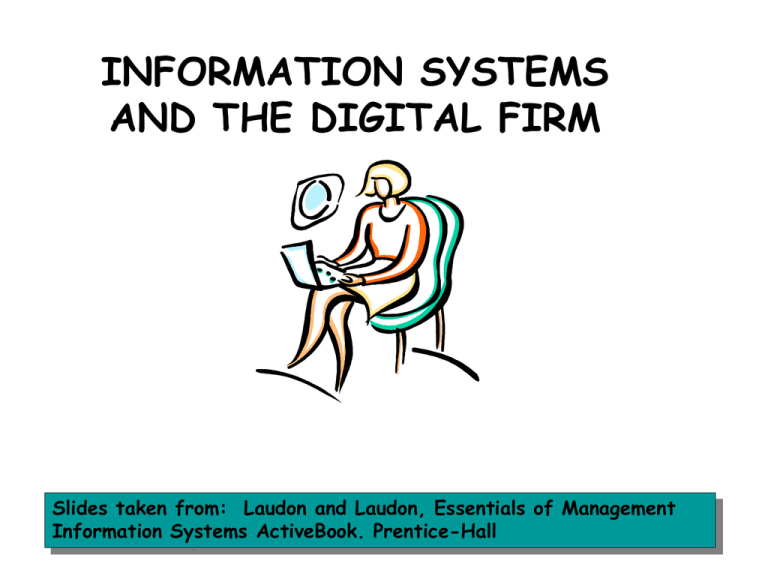 INFORMATION SYSTEMS
AND THE DIGITAL FIRM
Slides taken from: Laudon and Laudon, Essentials of Management
Information Systems ActiveBook. Prentice-Hall
What Is an Information System?
Data and Information
Functions of an Information System
The Widening Scope of
Information Systems
New Options for Organizational
Design
 Flattening organizations
 Separating work from location
 Reorganizing work-flows
 Increasing flexibility
 Redefining organizational boundaries
What are information system implications?
TOWARD THE DIGITAL FIRM
Types of Information Systems
MAJOR TYPES OF SYSTEMS
 Transaction Processing Systems (TPS)
 Office Automation Systems (OAS)
 Knowledge Work Stations (KWS)
 Management Information Systems (MIS)
 Decision Support Systems (DSS)
 Executive Support Systems (ESS)
STRATEGIC ROLE OF INFORMATION
SYSTEMS: TWO VIEWS
 Strategic info system can change the environment to
gain competitive advantage
 Information technology is becoming a commodity -- Advances are easily replicated
 Nicholas Carr states many firms overspend on
information systems and the systems themselves
are becoming utilities like electricity or the
railroads. Agree??
INFORMATION TECHNOLOGY
AND TELECOMMUNICATIONS
Change firm structure
Network rather than hierarchical
Restructure existing industries
Create new industries
Examples
Financial services: Information accessibility
Manufacturing: Increased flexibility
Retailing: Quick response
Questions -How have information technology and
information systems changed the
nature of human resources?
Hiring
Retaining
Administering
Managing
Planning
Questions
 Why are information systems essential in business today?
What trends in the global business environment have made
information systems so important.
 For your companies, what is the relationship between the
organization and its information system? How has this changed
over the past ten years? How do you foresee it changing in the
future?
 How has the web changed your company's information systems
applications?
 How have the information systems where you work affected
management processes? What are some examples?
 Will faster and cheaper computers eliminate information
system problems? What problems will disappear and what new
problems will arise?
Questions
 Information systems raise the bar on customer expectations.
How can organizations stay competitive yet hold IT investments
in check? In the long run, is IT more of a hindrance than help?
 What is customer relationship management? Why is it
important to a business? How do information systems facilitate
customer relationship management?
 What are enterprise systems? How do they change the way an
organization works?
 Information partnership occurs when two or more firms share
data for mutual advantage. What are some examples of the
benefits of partnering between a company and its suppliers? Its
customers? Its competitors?
 Can information systems still yield strategic advantage for a
firm? Or are information systems now a commodity that anyone
can quickly duplicate?