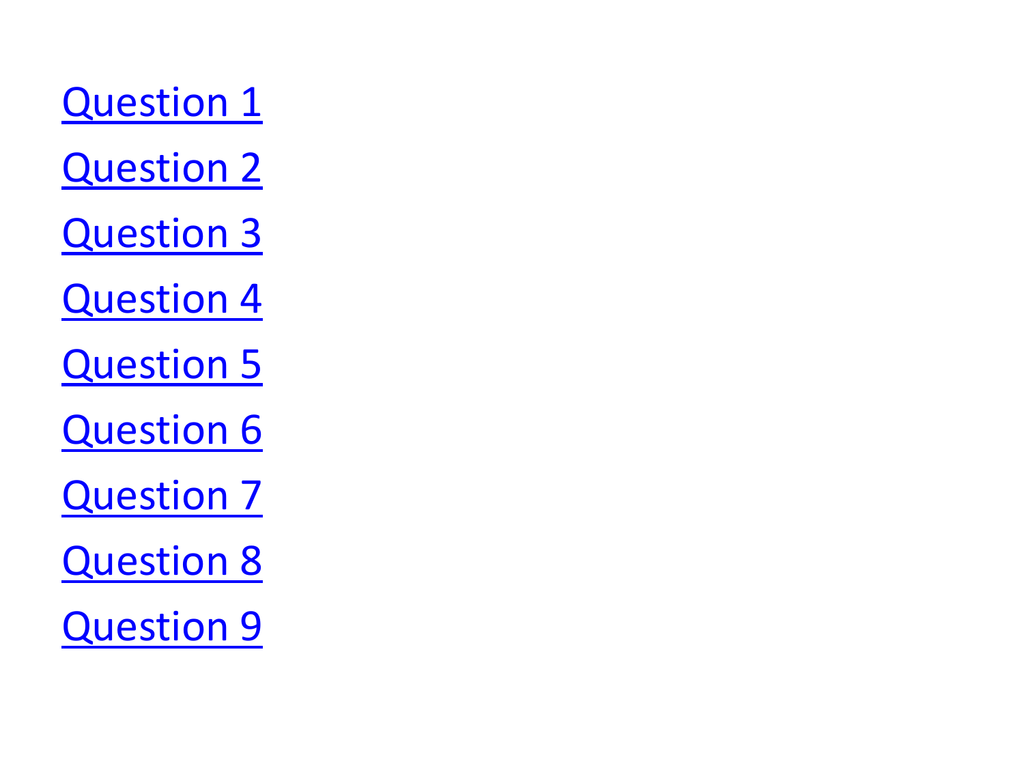 Question 1
Question 2
Question 3
Question 4
Question 5
Question 6
Question 7
Question 8
Question 9
1. How did Max meet Freak?
• In kindergarten
• In 7th grade
• They were neighbors
• He helped Freak
2. What did Freak used to be known as
in kindergarten?
•
•
•
•
Robot
Crutches
Grandpa
Freak not Kevin
3. In kindergarten, Max was a little
jealous of Freak. Why?
• Because he wanted his crutches
• Because he wanted to be called what Freak
was known as
• Because he wanted to have a brain
• None of the above
4. How did Freak and Max become
Freak the Mighty?
• They ran away from Blade
• They went on an "adventure" and Freak held
the sword of Armor
• They stuck together for so long
• None of the above
5. Christmas is here! Freak and Max
are celebrating together. What does
Freak do?
• An invention of the mind
• Gets Max a journal
• Makes some kind of electronic device Max
could use
• Makes something that looks like a rocket ship
6. In Freak's dictionary, what does the
word "Food" mean? (give the most
detailed)
•
•
•
•
Human fuel
Junk
UFO
All of the above
7. Tests have proven that Max is
•
•
•
•
Dyslexic
Disabled
Both
None!
8. In Freak's dictionary, the word
"butthead" means
• One who can sneeze a hotdog through his
nose
• Another name for Max
• Another name for Blade (Tony D.)
• One who's head is shaped like a rear end (not
to mention his brain)
9. What did Freak "lie" about?
•
•
•
•
Him having a bionic body
Him researching about some medication
Him having a heart too big for his body
Him having a brain too big for his body
Some words I like…
A
AARDVARK, a silly looking creature that eats ants
AARGH, what aardvarks say when they eat ants
B
BOATS, shoes big enough to fit Maxwell Kane
C
CRETIN, another name for Blade
More words I like…
F
FEALTY, loyalty with an "F"
FOOZLE, to make a stupid mistake
FORMICIDAE, a type of insect never found in
Kevin's pants
G
GOON, a 4 letter word for Max in a bad mood
GRUEL, whatever you want more of
A little more words I like…
H
HAMMERHEAD, a know it all
HERSTORY, the past from the female point of
view
HIEROGLYPHICS, Max's handwriting
I
IDEA, a seed you plant in your head
Couple of more words I like…
J
JITTERBUG, a nervous cockroach
K
KEVIN, a unit of measurement equal to 70 cm
KONG, another word for falling down
M
MASSIVES, fat heads who assume that the TV tells
the truth
MEGAPOD, Max's shoe size
Few more words I like…
N
NEANDERTHALS, what we all were before
plumbing was invented
O
OBFUSCATE, a needlessly confusing word for
needlessly confusing
OBSTINATE, Kevin when he knows he's right
Continuing of Freak's dictionary…
R
ROUND TABLE, where King Arthur passes out the
snack food
S
SPASTIC, how the Fair Gwen talks when she's
nervous
T
TELLURIAN, another word for earthling
Last page
U
UNICORN, a horse who makes a point
Z
ZAG, what you do after you zig
ZED, a Z in England
ZEST, the zing in an orange
ZIG, what you do before you zag
ZING, what you taste when you bite into an orange
ZIT, adolescent eruption, not to be confused with a
teenage volcano
ZOO, an eighth grade English class
Correct!
Wrong!