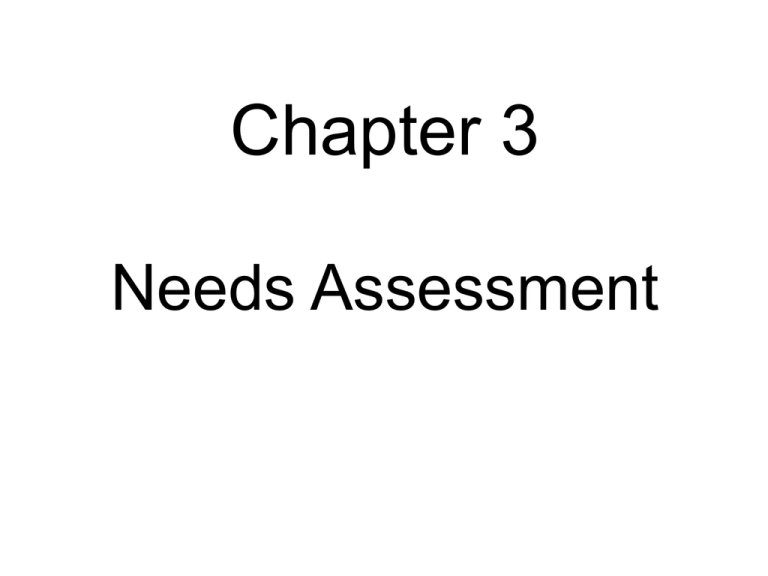 Chapter 3
Needs Assessment
Objectives
1.
2.
3.
4.
5.
6.
7.
8.
Discuss the role of organization analysis, person analysis, and
task analysis in needs assessment.
Identify different methods used in needs assessment and identify
the advantages and disadvantages of each method.
Discuss the concerns of upper-level and midlevel managers and
trainers in needs assessment.
Explain how person characteristics, input, output, consequences,
and feedback influence performance and learning.
Create conditions to ensure that employees are receptive to
training.
Discuss the steps involved in conducting a task analysis.
Analyze task analysis data to determine the tasks in which people
need to be trained.
Explain competency models and the process sued to develop
them.
Training Pressure Points
•Performance Problems
•Technical Change
•Internal Customer Complaints or Request
•Work Re-design
•New legislation
•Customer or Product Change
•Basic Skill Deficiencies
Organizational Analysis
Person Analysis
Is it a training problem?
•How does training fit with the firm's strategy
goals?
•Does the firm have the resources to buy or
develop training?
•Do manager and employees support training?
Task Analysis
Identify tasks
Identify knowledge and skills
Needs Assessment Techniques
•
•
•
•
•
•
Observation
Questionnaires
Interviews
Work Sample
Technical Manuals
Group Discussion
Three levels of Needs
Assessment
• Organizational Analysis
• Person Analysis
• Job Analysis
Factors that influence individual
performance and learning
• Person Characteristics
– Basic skills
– Cognitive Ability
– Self-Efficacy
•
•
•
•
Input
Output
Consequences
Feedback
Steps to a Task Analysis
1.
2.
3.
4.
A job or cluster of jobs are selected.
A preliminary list of tasks is developed.
The preliminary list is validated by SMEs.
KSAOs required to perform each task
are identified.
Task Analysis survey asks :
• How frequently is task performed?
• How important is task in getting the job
done?
• How much training (complexity) is needed?
• What knowledge, skill, and abilities are
needed to accomplish the task?
• What are the conditions and standards?
Competency Models
1. Identify the job to be analyzed.
2. Identify changes that might change
competency needs.
3. Identify Effective and ineffective performers.
4. Identify the competencies associated with
effective and ineffective performance.
5. Validate the model.