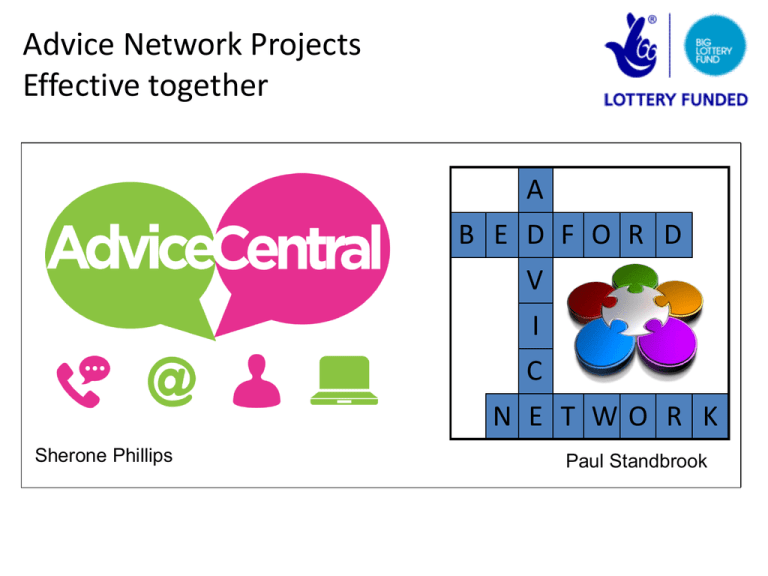 Advice Network Projects
Effective together
A
B E D F O R D
V
I
C
N E T WO R K
Sherone Phillips
Paul Standbrook
ASTF Programme
Overview
• Joint national initiative between The Cabinet Office and The
Big Lottery Fund
• To create an advice service improvement programme and the
funding for that
• A large number of two year projects, base in Unitary Authority
Areas
• A staggered approach to project start dates
Common Aims
for all Projects
• Advice organisations to work more closely and more
effectively with each other and with other service
providers, to improve outcomes for clients
• Advice services to build and evidence their resilience and
their ability to meet changing needs
• Advice services to engage in modern, innovative and
enterprising service models and to identify and access
diverse sources of funding.
What is the need?
CONFUSED
CLIENT!
AD HOC
LINKS
ALL ADVICE
PROVIDERS
Who - AdviceCentral
Our partnership, based on our locality of Central Bedfordshire, is
made up of;
Age UK – Bedfordshire
CAB – Ampthill and District
CAB – Dunstable and District
CAB – Leighton Linslade
DRC –Bedfordshire
What - Outcomes
1: same results accessed by different channels providing high quality, rapid
and early intervention to residents anywhere in Central Bedfordshire, seeking
advice on social welfare issues. (no 'door' will be a 'wrong door').
2: Ability to record the customer's needs, as well as the help and advice
given, from the first contact and be able to show the difference the service
given has made to the individual's life.
3: closer working provides a timely and specialist face to face service closer
to the customer, where they want /need to see someone rather than
travelling great distances to go to an agency's office.
4: Customers receive an immediate response to their enquiry through their
access choice (telephone, web, face to face) managed through the pathway
by a trained advisor.
How
AdviceCentral will;
• Develop a single point of Access through a hub that deals
with all social and welfare advice enquiries in Central
Bedfordshire
• Create a process supported by an IT system that will allow
trained advisors to arrange an appointment with a specialist
advisor in any of the partners venues
• Set up different ways to access the hub
• Train Volunteers to be able to deliver a triage service
• Test & evaluate the model to make sure that the plan,
systems and processes work
When
1. Process stages and flows devised – February 2014
2. Process detail in full – May 2014
3. IT system designed and procured – May 2014
4. IT system tested – Sept 2014
5. Portal, Website and Telephone point operational –
November 2014
4. Full roll out November 2014
6. Monitoring – ongoing
7. Evaluation June – November 2015
Who - Bedford Advice Network
Bedford Advice Network
Project Themes:
•
Effectiveness - To develop a common triage and referral process
•
Prevention - To provide a range of educational workshops focussing on
the most common issues people encounter
•
Shared Resources - To create a physical advice hub at 7a St Paul's
Square
•
Accessibility - To create a virtual advice hub where services can be
accessed through a variety of channels
Effectiveness
A common referral and triage process for existing
advice agencies
•
A training event has taken place and partners are now
cascading learning to front line staff and volunteers.
•
An electronic Network Manual is being drafted to support
the process.
•
Partners will maintain the accuracy and currency of
information about their services.
Prevention
A range of educational workshops to increase
skills and knowledge, focussing on the most
common issues people encounter
•
Partners are delivering pre-retirement, Best Energy Deal
and Financial Capability workshops to clients and staff of
various agencies
•
Pre-tenancy meetings are taking place with individuals and
families intending to take up social housing tenancies
Shared Resources
A physical Advice Hub where multiple services can
be provided.
•
The Hub is now available for booking free of charge to
agencies which provide free advice and support to local
people
•
The venue is working well and hosts meetings, interviews
and training events for a range of local organisations
•
Wireless Broadband has now been installed and is available
free of charge
Accessibility
A virtual advice hub where services can be accessed through a variety
of channels, including rural community workers, social media and
telephone.
•
We are training volunteers to man a new Telephone Triage service,
which will go live in May 2014. Volunteers will identify key issues, assess
need, provide information and refer or signpost promptly to the
relevant agencies
•
We are designing an accessible web portal and we are in discussion
with AdviceCentral, who are investigating options around fully secure IT
systems which may be of benefit to both projects
•
We are working closely with AdviceCentral to ensure that the projects
reduce duplication and share learning and resources where possible.
Effective Together –
Programme Aim
'Any'
Advice
Network
A.N.Other
advice
agency
Thank You for listening
Any questions?