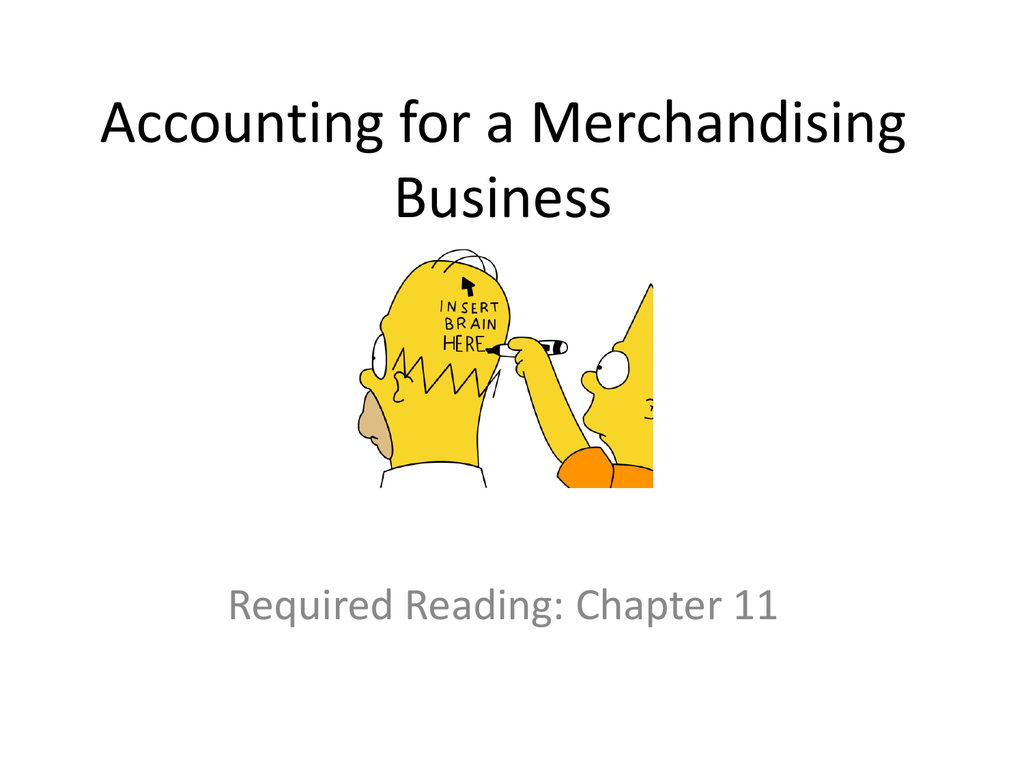 Accounting for a Merchandising
Business
Required Reading: Chapter 11
Terms
• Service Business – Business that sell services
rather than goods. Example: Dentist, Roofer,
Travel Agent. To this point in the course, we
have only looked at service businesses.
• Merchandising Business – Business that buys
goods and then sells them at a profit.
Example: Clothing Store, Car Dealer.
Merchandising Terms
• Manufacturer – A business that converts raw
materials to finished goods.
• Wholesaler – A business that buys finished
goods from a manufacturer and sells them to
retailers. Otherwise called a "distributor" or a
"middleman".
• Retailer – A business that buys finished goods
from wholesalers and sells them to the public.
Service vs. Merchandising
• Services are not tangible.
Therefore, there is no inventory
kept. Once the opportunity to sell a
service is past, it is gone forever.
• Merchandise is tangible. Therefore,
inventory that is not sold today can
be sold at a later point, even if that
means taking a reduced price.
Therefore…..
• Merchandise inventory has value and it is
owned – it must be accounted for as an ASSET
on the BALANCE SHEET
AND…
• Merchandise inventory represents an outflow
of resources to produce revenue, so it must be
accounted for on the INCOME STATEMENT.
Inventory
+
=
=
Beginning Inventory
Merchandise Purchased
Total goods available for sale
Merchandise Sold
Ending Inventory
The inventory figure here will go on the balance
sheet as a current asset.
AND…
+
=
Cost of beginning inventory
Cost of merchandise purchased
Cost of ending inventory
Cost of merchandise sold
This figure will go to the income statement in a
new section called "Cost of goods sold".