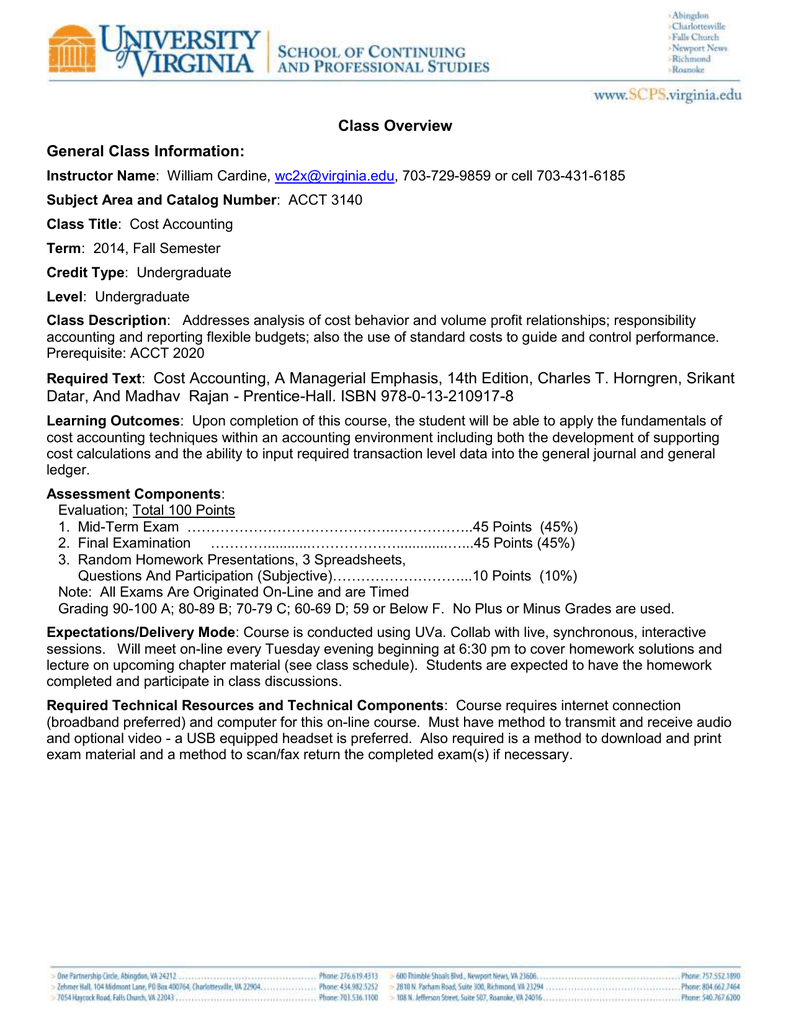 Class Overview
General Class Information:
Instructor Name: William Cardine, [email protected], 703-729-9859 or cell 703-431-6185
Subject Area and Catalog Number: ACCT 3140
Class Title: Cost Accounting
Term: 2014, Fall Semester
Credit Type: Undergraduate
Level: Undergraduate
Class Description: Addresses analysis of cost behavior and volume profit relationships; responsibility
accounting and reporting flexible budgets; also the use of standard costs to guide and control performance.
Prerequisite: ACCT 2020
Required Text: Cost Accounting, A Managerial Emphasis, 14th Edition, Charles T. Horngren, Srikant
Datar, And Madhav Rajan - Prentice-Hall. ISBN 978-0-13-210917-8
Learning Outcomes: Upon completion of this course, the student will be able to apply the fundamentals of
cost accounting techniques within an accounting environment including both the development of supporting
cost calculations and the ability to input required transaction level data into the general journal and general
ledger.
Assessment Components:
Evaluation; Total 100 Points
1. Mid-Term Exam ……………………………………..……………..45 Points (45%)
2. Final Examination …………...........……………….............…...45 Points (45%)
3. Random Homework Presentations, 3 Spreadsheets,
Questions And Participation (Subjective)………………………...10 Points (10%)
Note: All Exams Are Originated On-Line and are Timed
Grading 90-100 A; 80-89 B; 70-79 C; 60-69 D; 59 or Below F. No Plus or Minus Grades are used.
Expectations/Delivery Mode: Course is conducted using UVa. Collab with live, synchronous, interactive
sessions. Will meet on-line every Tuesday evening beginning at 6:30 pm to cover homework solutions and
lecture on upcoming chapter material (see class schedule). Students are expected to have the homework
completed and participate in class discussions.
Required Technical Resources and Technical Components: Course requires internet connection
(broadband preferred) and computer for this on-line course. Must have method to transmit and receive audio
and optional video - a USB equipped headset is preferred. Also required is a method to download and print
exam material and a method to scan/fax return the completed exam(s) if necessary.