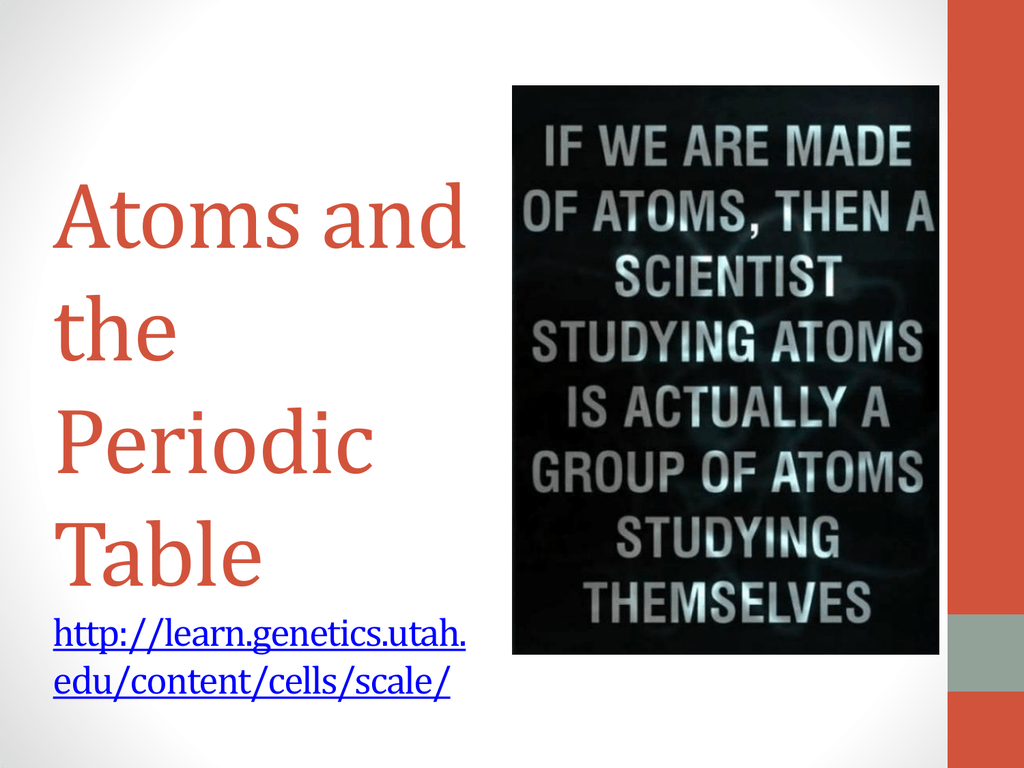 Atoms and
the
Periodic
Table
http://learn.genetics.utah.
edu/content/cells/scale/
Atomic Theory…So there were these
scientists who thought the world was made of
things we couldn't see
• The structure of the atom is still being studied-that's why it's
a theory
• Some scientists you may hear about: Democritus, Dalton,
Rutherford, Thomson, Bohr, Millikan, Chadwick, Meitner,
Schrodinger, Heisenberg, Seaborg, Curie….
ATOMS ARE:
• The smallest part of a pure substance you can have that is still
that substance
• A "pure substance" is made of one type of material (atom)
• The building blocks of each of the 118 elements on the periodic
table. Each element is made up of their own group of identical
atoms.
• For example: the element gold (Au) is ONLY made of gold atoms
• Able to combine to form larger and more complex substances
(we'll get to them in a bit)
• Made of even smaller particles: protons, neutrons, electrons
(these are made up of even smaller particles)
• Still mysterious!! We don't know how all the parts work
completely
ELEMENTS ARE:
• Made of atoms
• Only breakable into the smaller atoms that make them
up
• Organized by characteristic properties on THE PERIODIC
TABLE OF ELEMENTS
• Each element has it's own box
• Each element has numbers and symbols unique to
themselves
• Natural and man-made
• There are 92 naturally occurring elements
• There are 26 man-made or synthetic elements-how do
we do this?
THE PERIODIC TABLE, YOUR NEW
BEST FRIEND!!
How do we read it?
ATOMIC NUMBER:
• Elements are
organized by it
• Will tell you about
the particles that
make up an atom
ATOMIC MASS:
• Seems to go in
order, but be
careful
• Will tell you about
the particles that
make up an atom
2
He
Helium
4.0026
SYMBOL
• Shorthand way to
write element
• Very specific in
terms of
capitalization
• Use exactly as
portrayed on
Periodic Table!!!
NAME
• What the element is
called
• Some symbols
match the names
To be
continued….
Up next,
organization
of periodic
table!