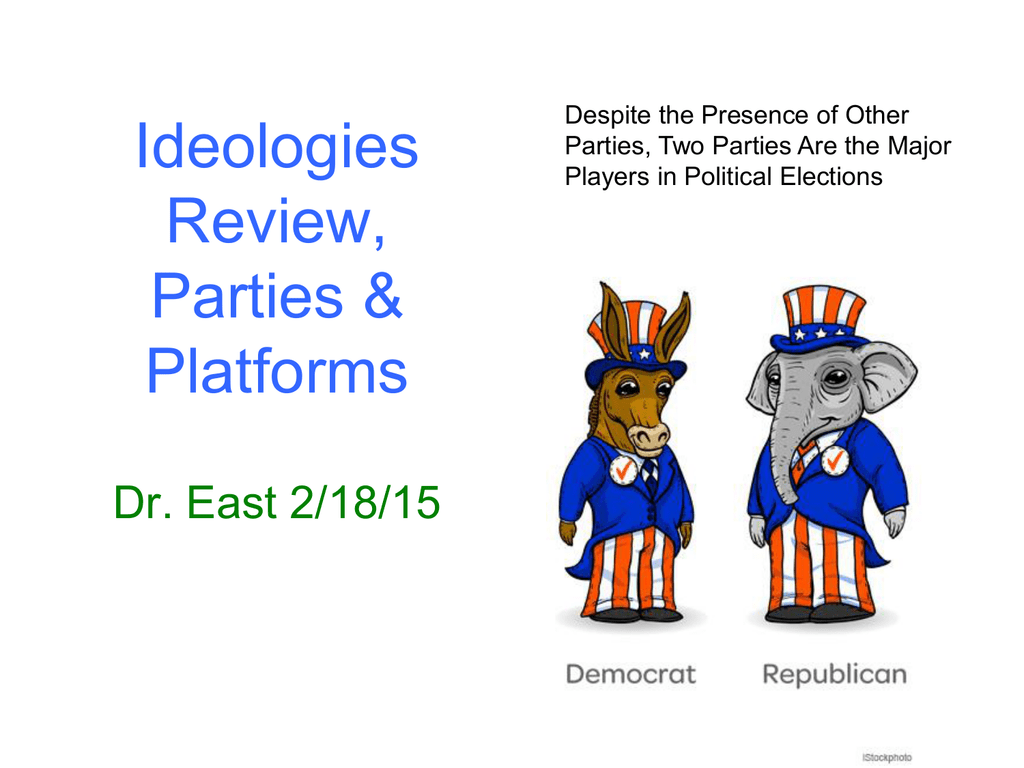 Ideologies
Review,
Parties &
Platforms
Dr. East 2/18/15
Despite the Presence of Other
Parties, Two Parties Are the Major
Players in Political Elections
Remember: Modern Conservatives
• Tend to want smaller government or less
expansion of government programs
• Reduce dependency on government
• Often believe that individuals and families, and
independent charities should meet human
needs… gov. programs are hard to control and
don't actually work that well
• Often believe that large gov. programs are
fiscally irresponsible and not truly responsive to
people and society's long term needs
Remember: Modern Liberals
• Often advocate for larger or more
expansive government programs and the
use of federal power to promote economic
stability between groups in the US
populace.
• Tend to support new or progressive
ideals, new kinds of relationships,
individual choices, and large government
backed societal changes (like New Deal
agencies or National Health Insurance)
Remember: Subdividing the Conservatives
• Social Conservatives – typically are
those that are more traditional in their
views toward marriage, relationships,
religious practice, and personal
accountability
• Fiscal Conservatives – typically are
those that champion free market
capitalism, lower government taxes, and
less regulation of economy
Modern Political Spectrum
Party Identification
Growing Party Polarization &
Ideological Partisanship
Between the Two Major Parties
Intense Ideas Relate to more Substantive
Political Participation
Ideology of Independents
Major Third Parties
http://en.wikipedia.org/wiki/Third_party_%28United
_States%29
•
Graphic Source:
http://teamrussell4norwich.com/li
bertarian-party-best-ofdemocrat-republican/
Take the Party Voting Quiz for
the Last Election
• http://2012election.procon.org/view.resour
ce.php?resourceID=004491
Platform
Comparisons:
Main Two
Parties…
Ideas on
Abortion
On
Energy
On
Immigration
On
Taxes
…On
Marriage
Since 2012, Dems
won part of this
argument over
DOMA (Defense of
Marriage Act) in
2013 parts of it
were declared
illegal by Supreme
Court
FYI: 2013, Supreme Court Ruling on DOMA
The Supreme Court's first rulings on same-sex marriage
produced historic gains for gay rights Wednesday: full
federal recognition of legally married gay couples and an
opening for such unions to resume in the nation's mostpopulous state.
The divided court stopped short of a more sweeping ruling
that the fundamental right to marry must be extended to
gay couples no matter where they live.
But in striking down a key part of the 1996 Defense of
Marriage Act (DOMA), the court declared that gay couples
married in states where it is legal must receive the same
federal health, tax, Social Security and other benefits that
heterosexual couples receive.