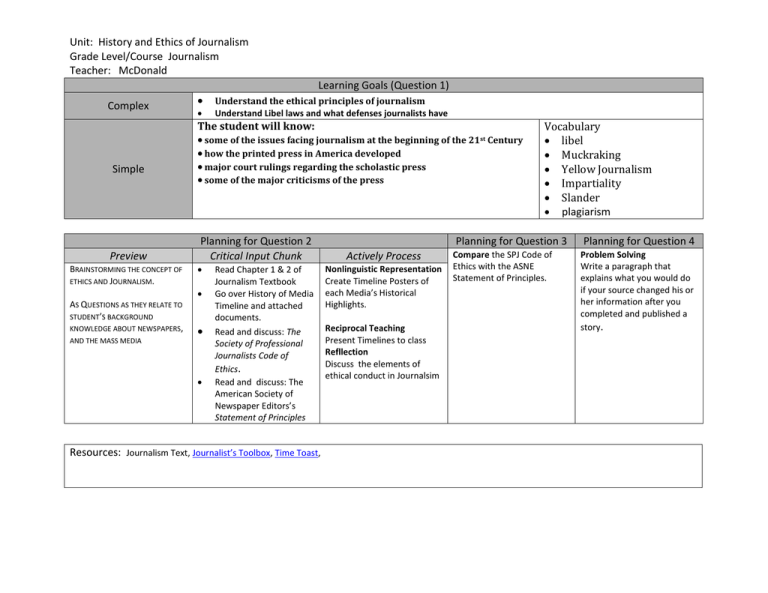 Unit: History and Ethics of Journalism
Grade Level/Course Journalism
Teacher: McDonald
Learning Goals (Question 1)
Complex
Simple
Preview
BRAINSTORMING THE CONCEPT OF
ETHICS AND JOURNALISM.


The student will know:
 some of the issues facing journalism at the beginning of the 21st Century
 how the printed press in America developed
 major court rulings regarding the scholastic press
 some of the major criticisms of the press
Planning for Question 2
Critical Input Chunk


AS QUESTIONS AS THEY RELATE TO
STUDENT'S BACKGROUND
KNOWLEDGE ABOUT NEWSPAPERS,
AND THE MASS MEDIA
Understand the ethical principles of journalism
Understand Libel laws and what defenses journalists have


Read Chapter 1 & 2 of
Journalism Textbook
Go over History of Media
Timeline and attached
documents.
Read and discuss: The
Society of Professional
Journalists Code of
Ethics.
Read and discuss: The
American Society of
Newspaper Editors's
Statement of Principles
Resources: Journalism Text, Journalist's Toolbox, Time Toast,
Vocabulary
 libel
 Muckraking
 Yellow Journalism
 Impartiality
 Slander
 plagiarism
Planning for Question 3
Actively Process
Nonlinguistic Representation
Create Timeline Posters of
each Media's Historical
Highlights.
Reciprocal Teaching
Present Timelines to class
Refllection
Discuss the elements of
ethical conduct in Journalsim
Compare the SPJ Code of
Ethics with the ASNE
Statement of Principles.
Planning for Question 4
Problem Solving
Write a paragraph that
explains what you would do
if your source changed his or
her information after you
completed and published a
story.