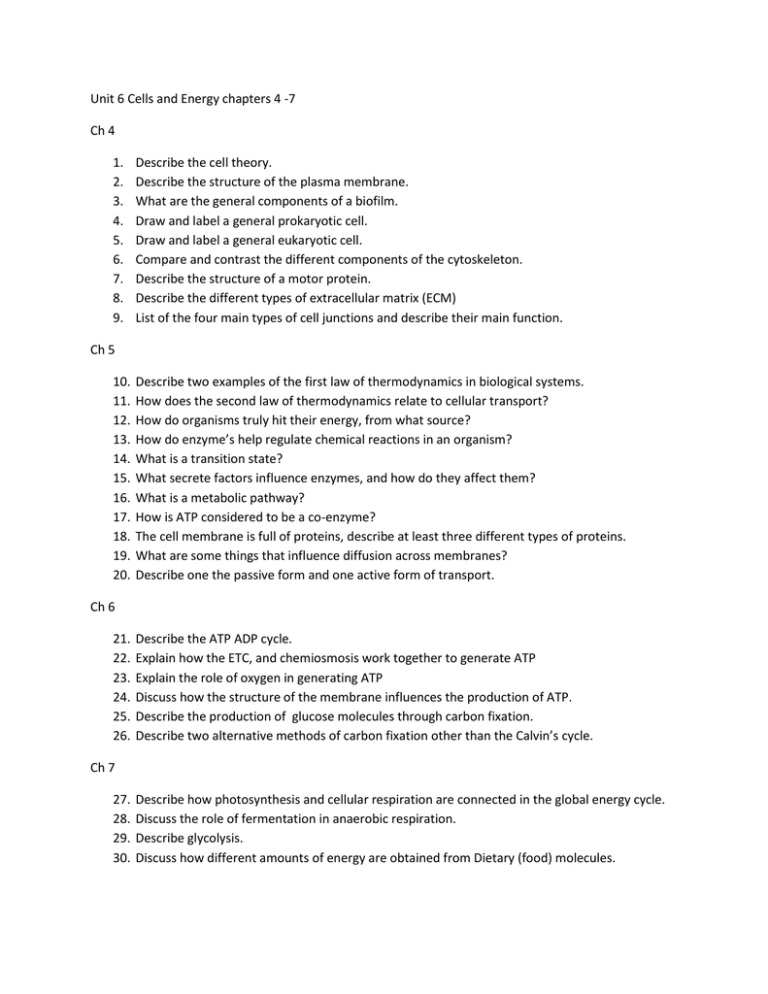 Unit 6 Cells and Energy chapters 4 -7
Ch 4
1.
2.
3.
4.
5.
6.
7.
8.
9.
Describe the cell theory.
Describe the structure of the plasma membrane.
What are the general components of a biofilm.
Draw and label a general prokaryotic cell.
Draw and label a general eukaryotic cell.
Compare and contrast the different components of the cytoskeleton.
Describe the structure of a motor protein.
Describe the different types of extracellular matrix (ECM)
List of the four main types of cell junctions and describe their main function.
Ch 5
10.
11.
12.
13.
14.
15.
16.
17.
18.
19.
20.
Describe two examples of the first law of thermodynamics in biological systems.
How does the second law of thermodynamics relate to cellular transport?
How do organisms truly hit their energy, from what source?
How do enzyme's help regulate chemical reactions in an organism?
What is a transition state?
What secrete factors influence enzymes, and how do they affect them?
What is a metabolic pathway?
How is ATP considered to be a co-enzyme?
The cell membrane is full of proteins, describe at least three different types of proteins.
What are some things that influence diffusion across membranes?
Describe one the passive form and one active form of transport.
Ch 6
21.
22.
23.
24.
25.
26.
Describe the ATP ADP cycle.
Explain how the ETC, and chemiosmosis work together to generate ATP
Explain the role of oxygen in generating ATP
Discuss how the structure of the membrane influences the production of ATP.
Describe the production of glucose molecules through carbon fixation.
Describe two alternative methods of carbon fixation other than the Calvin's cycle.
Ch 7
27.
28.
29.
30.
Describe how photosynthesis and cellular respiration are connected in the global energy cycle.
Discuss the role of fermentation in anaerobic respiration.
Describe glycolysis.
Discuss how different amounts of energy are obtained from Dietary (food) molecules.