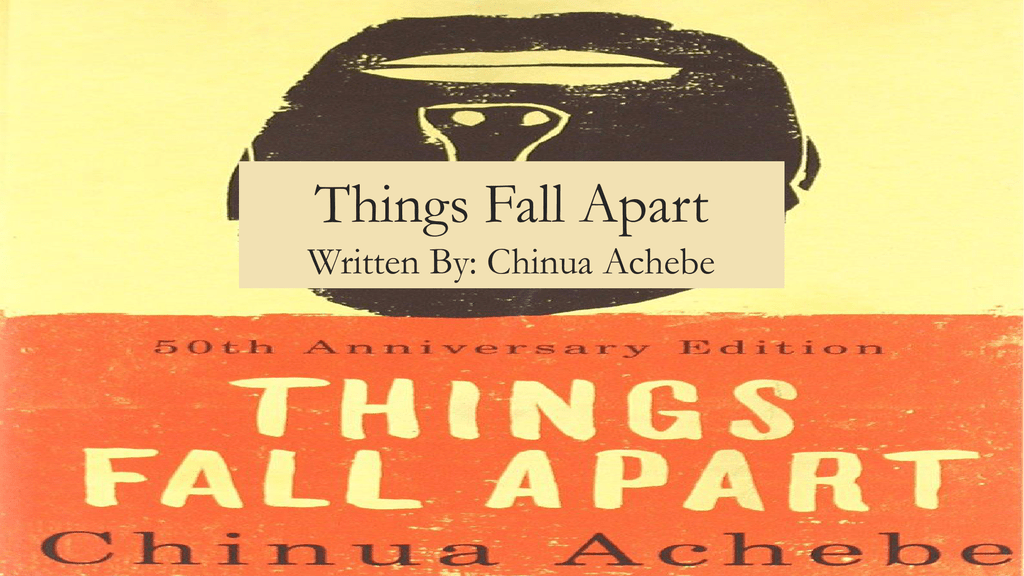 Things Fall Apart
Written By: Chinua Achebe
Overview
Things Fall Apart, written by Chinua Achebe in 1958 discusses the conflict brought
on by changes in Okonkwo's village Umuofia, from traditional tribal customs to
Christianity forced upon him and his people by European settlers to the village. It
tells the story of Africa being colonized by the British from a very personal standpoint
of one whose life and outlook are being dramatically altered.
Okonkwo
• Played by: Terry Crews
• Most Stubborn Clan Leader Award
Obierika
• Played by: Robert De Niro
• Best Friend Award
Nwoye
• Played by: Jaden Smith
• Laziest Son Award
Ezinma
• Played By: China Anne Mcclain
• Best Daughter Award
Mr. Brown
• Played By: Kevin Pollak
Ekwefi
• Played by: Halle Berry
• Best Second Wife Award
Ikemefuna
• Played by: Kwesi Boakye
• Best Adopted Son Award
About The Author
• Born: November 16, 1930, Ogidi, Anambra, Nigeria
• Died: March 21, 2013, Boston, Massachusetts
• Awards: Man Booker International Prize, Peace Prize of the German Book
Trade, St. Louis Literary Award
• Education: University of London, University of Ibadan
Other Works
•
•
•
•
•
•
•
No Longer at Ease, 1960
The Sacrificial Egg and Other Stories, 1962
Arrow of God, 1964
A Man of the People, 1966
Chike and the River, 1966
Beware, Soul-Brother, and Other Poems, 1971
How the Leopard Got His Claws (with John
Iroaganachi), 1972
• Girls at War, 1973
• Christmas at Biafra, and Other Poems, 1973
• Morning Yet on Creation Day, 1975
The Flute, 1975
The Drum, 1978
Don't Let Him Die: An Anthology of Memorial
Poems for Christofer Okigbo (editor with Dubem
Okafor), 1978
Aka Weta: An Anthology of Igbo Poetry (coeditor), 1982
The Trouble With Nigeria, 1984
African Short Stories, 1984
Anthills of the Savannah, 1988
Hopes and Impediments, 1988
Childhood
• Achebe was born in the Igbo (formerly spelled Ibo) town of Ogidi in eastern
Nigeria on November 16, 1930. His father was an instructor in Christian
catechism for the Church Missionary Society. Nigeria was a British colony
during Achebe's early years, and educated English-speaking families like the
Achebes occupied a privileged position in the Nigerian power structure. His
parents even named him Albert, after Prince Albert, the husband of Queen
Victoria of Great Britain. (Achebe himself chose his Igbo name when he
was in college.)
Career
• After graduating with a Bachelor of Arts degree in 1953, Achebe joined the Nigerian
Broadcasting Corporation as a producer of radio talks.
• In 1956, he went to London to go the British Broadcasting Corporation (BBC) Staff School.
• While in London, he submitted the manuscript for Things Fall Apart to a publisher, The novel
was published in 1958 by Heinemann.
• Fame came almost instantly. Achebe has said that he never experienced the life of a struggling
writer.
• Upon returning to Nigeria, Achebe rose rapidly within the Nigerian Broadcasting Corporation.
As founder and director of the Voice of Nigeria in 1961, Achebe and his colleagues aimed at
developing an identity through radio programs that talked Nigerian affairs and culture.
Test
•
•
•
•
•
•
1) Who is Okonkwo's son?
7) Where did Chinua Achebe die?
2) Who is Okonkwo's second wife?
8) Who was Okonkwo adopted son?
3) When was Chinua Achebe Born
9) Where does the story take place?
4) Who is Okonkwo's best friend?
10) Who is Okonkwo's daughter?
5) Were was Chinua Achebe born?
6) What 2 universities did Chinua Achebe attend?