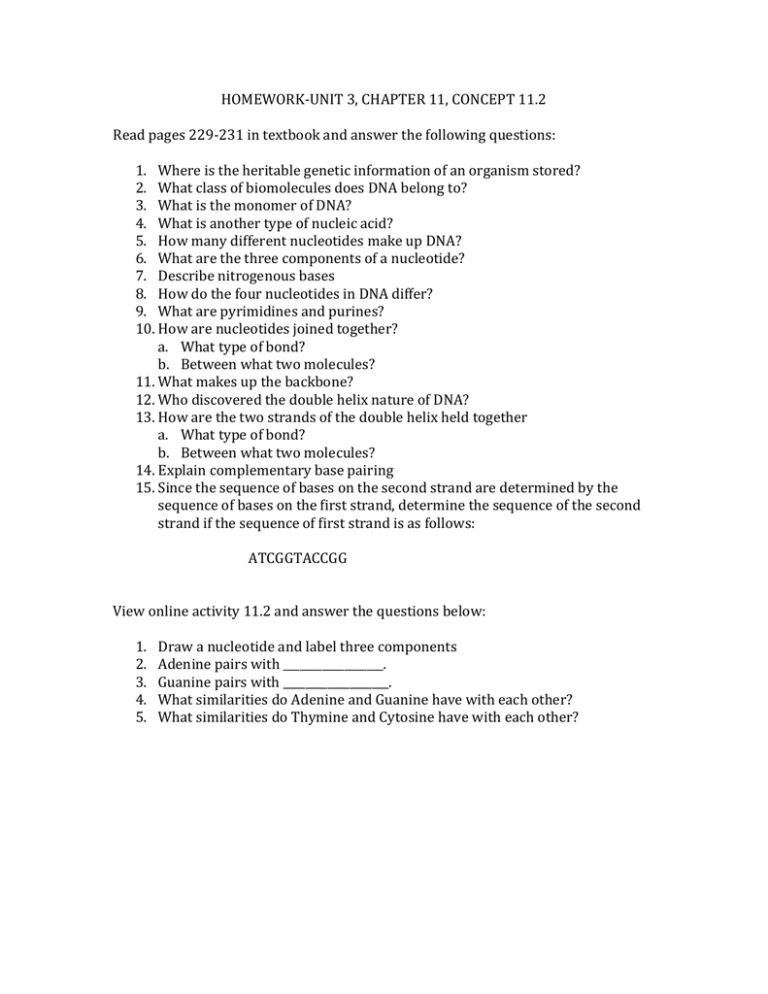 HOMEWORK-UNIT 3, CHAPTER 11, CONCEPT 11.2
Read pages 229-231 in textbook and answer the following questions:
1. Where is the heritable genetic information of an organism stored?
2. What class of biomolecules does DNA belong to?
3. What is the monomer of DNA?
4. What is another type of nucleic acid?
5. How many different nucleotides make up DNA?
6. What are the three components of a nucleotide?
7. Describe nitrogenous bases
8. How do the four nucleotides in DNA differ?
9. What are pyrimidines and purines?
10. How are nucleotides joined together?
a. What type of bond?
b. Between what two molecules?
11. What makes up the backbone?
12. Who discovered the double helix nature of DNA?
13. How are the two strands of the double helix held together
a. What type of bond?
b. Between what two molecules?
14. Explain complementary base pairing
15. Since the sequence of bases on the second strand are determined by the
sequence of bases on the first strand, determine the sequence of the second
strand if the sequence of first strand is as follows:
ATCGGTACCGG
View online activity 11.2 and answer the questions below:
1.
2.
3.
4.
5.
Draw a nucleotide and label three components
Adenine pairs with __________________.
Guanine pairs with ___________________.
What similarities do Adenine and Guanine have with each other?
What similarities do Thymine and Cytosine have with each other?