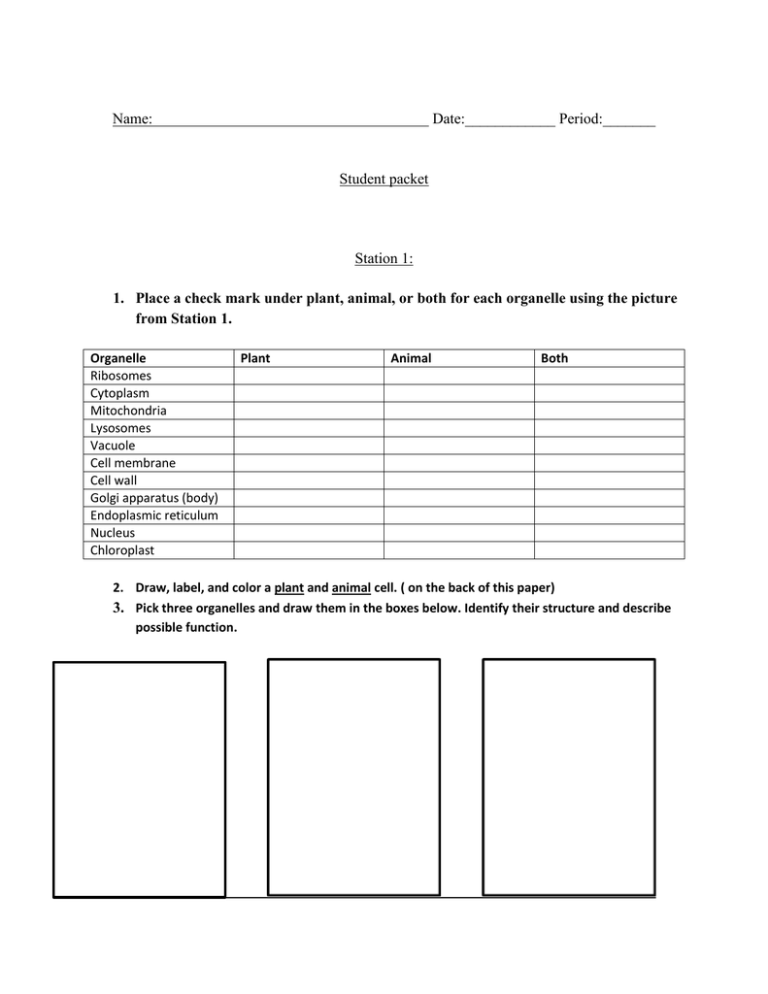 Name:
Date:____________ Period:_______
Student packet
Station 1:
1. Place a check mark under plant, animal, or both for each organelle using the picture
from Station 1.
Organelle
Ribosomes
Cytoplasm
Mitochondria
Lysosomes
Vacuole
Cell membrane
Cell wall
Golgi apparatus (body)
Endoplasmic reticulum
Nucleus
Chloroplast
Plant
Animal
Both
2. Draw, label, and color a plant and animal cell. ( on the back of this paper)
3. Pick three organelles and draw them in the boxes below. Identify their structure and describe
possible function.
Station 2
Label the diagram using picture from station 2.
Using the "Organelles" article from station 2: please answer the following questions and
sketch a picture to help support your structure descriptions ( answer the questions on
line paper)
1. What is the function of mitochondria?
2. How big are mitochondria compared to other organelles within the cell, justify why
mitochondria are the size they are?
3. What is the structure of the Golgi Apparatus and what is its function?
4. What is the difference between smooth and rough ER?
5. Where the nucleus is found and justify why it is found there?
6. What is the function of the nucleus do?
7. What does the cytoskeleton do?
8. What is the structure of cytoplasm and what dis the function of cytoplasm?
9. What is the structure of lysosomes and what is the function of the lysosome?
10. What is the structure of ribosomes and what is their function?
11. What is the structure of a cell wall and explain why only plant cells have a cell wall?