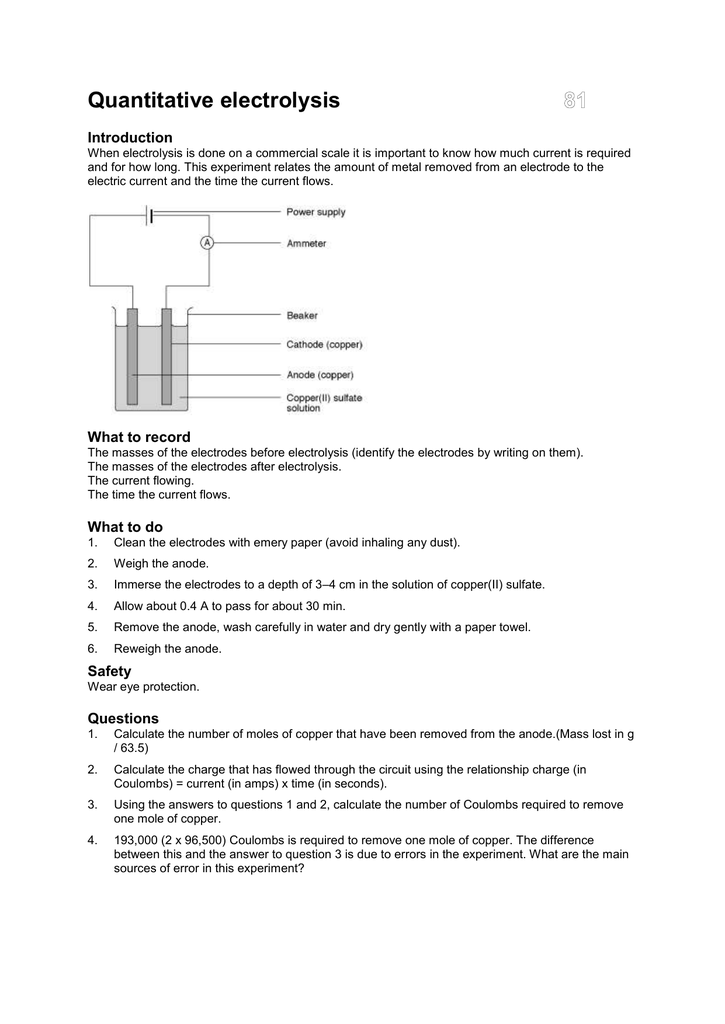 Quantitative electrolysis
Introduction
When electrolysis is done on a commercial scale it is important to know how much current is required
and for how long. This experiment relates the amount of metal removed from an electrode to the
electric current and the time the current flows.
What to record
The masses of the electrodes before electrolysis (identify the electrodes by writing on them).
The masses of the electrodes after electrolysis.
The current flowing.
The time the current flows.
What to do
1.
Clean the electrodes with emery paper (avoid inhaling any dust).
2.
Weigh the anode.
3.
Immerse the electrodes to a depth of 3–4 cm in the solution of copper(II) sulfate.
4.
Allow about 0.4 A to pass for about 30 min.
5.
Remove the anode, wash carefully in water and dry gently with a paper towel.
6.
Reweigh the anode.
Safety
Wear eye protection.
Questions
1.
Calculate the number of moles of copper that have been removed from the anode.(Mass lost in g
/ 63.5)
2.
Calculate the charge that has flowed through the circuit using the relationship charge (in
Coulombs) = current (in amps) x time (in seconds).
3.
Using the answers to questions 1 and 2, calculate the number of Coulombs required to remove
one mole of copper.
4.
193,000 (2 x 96,500) Coulombs is required to remove one mole of copper. The difference
between this and the answer to question 3 is due to errors in the experiment. What are the main
sources of error in this experiment?