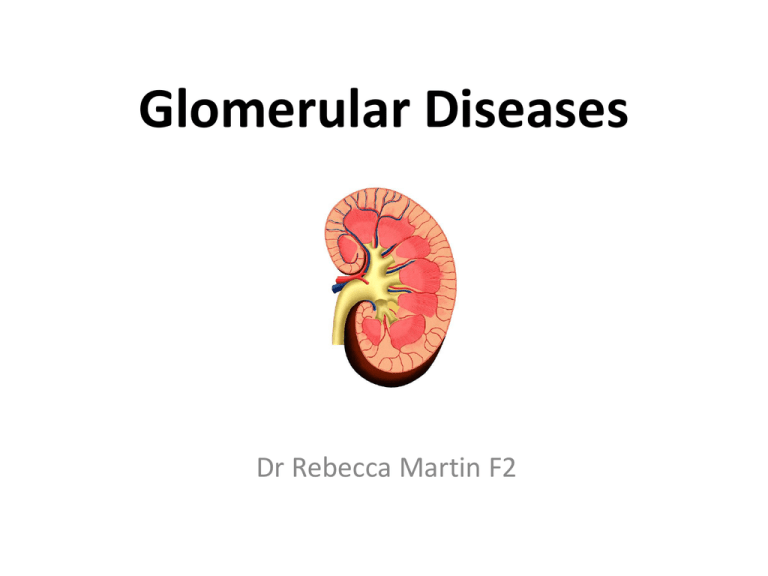 Glomerular Diseases
Dr Rebecca Martin F2
Learning objectives
1. Appreciate the fact that glomerular diseases fall
onto a wide spectrum
2. Be able to define the nephritic and nephrotic
syndromes
3. Understand the pathology of 4 key glomerular
diseases which serve as archetypal examples of
nephritic and nephrotic syndrome
4. Know how to assess and manage a patient with
suspected glomerular disease
Exercise 1: Histology of the glomerulus
Bowman's
Capsule
Capillaries
Endothelial
cells
Mesangium
Podocytes
(Foot
processes)
(GBM)
Terminology
Glomerulonephritis = inflammation of the glomeruli
'Glomerulopathy' is a more accurate term
NEPHRITIC SYNDROME
Collection of symptoms and signs
associated with inflammatory
glomerular disorders
NEPHROTIC SYNDROME
Collection of symptoms and signs
associated with proliferative
glomerular disorders
• Haematuria
• Hypertension
• Oliguria
• (Oedema)
• Overt proteinuria (> 3.5g/24h)
• Hypoalbuminaemia (< 30g/L)
• Oedema
Spectrum of glomerular diseases
SLE
IgA nephropathy
Minimal
change
nephropathy
Membranous
nephropathy
Diabetic
nephropathy
Post-infective
glomerulonephritis
Haematuria
Proteinuria
* Adapted from Davidson's Principles and Practice of Medicine, 20th Edition
Presenting features of glomerular
disease
SYMPTOMS
• Asymptomatic
• Fatigue, lethargy
• Haematuria
• Frothy urine
• Swelling
• Oliguria
SIGNS
• Hypertension
• Oedema
• Positive urine dipstick for
protein/blood
• Signs of related pathology
Exercise 2: Glomerular diseases
Match the conditions to their histological and clinical features
Glomerular diseases
CONDITION
HISTOLOGICAL FEATURES
CLINICAL FEATURES
Minimal change
nephropathy
Usually normal histology
Good response to steroids
Membranous nephropathy
Thickened GBM
Commonest cause of
nephrotic syndrome in
adults
IgA nephropathy
Increased mesangial matrix Common cause of ESRF
Post-infective
glomerulonephritis
Diffuse proliferation of
endothelial/mesangial
cells, infiltration by
neutrophils
Usually resolves
spontaneously
Glomerular diseases 1
Minimal change nephropathy
-
Commonest cause of nephrotic syndrome in children
Accounts for 25% adult nephrotic syndrome
Proteinuria usually remits on high dose steroids
Does not progress to CKD
Issues: nephrotic syndrome and complications of treatment
Membranous nephropathy
- Commonest cause of nephrotic syndrome in adults
- 1/3 spontaneous resolution, 1/3 remain in nephrotic state,
1/3 progress to CKD
- Watch and wait/steroids/cyclophosphamide
Glomerular diseases 2
IgA nephropathy
- Common cause of ESRF
- Commonest cause of nephritic syndrome
- Acute exacerbations can occur, particularly with respiratory
infections
- Mild variant associated with HSP in children
- Poor response to immunosuppressive therapy
Henoch-Schonlein Purpura
• Systemic vasculitis
• 3-10 years M:F 2:1
• Skin rash, arthralgia, abdominal pain
• 40% glomerulonephritis (IgA nephropathy)
Glomerular diseases 3
Post-infective glomerulonephritis
-
More common in children, now rare in developed world
10 day latency, usually after streptococcal throat infection
Renal function improves spontaneously after 10-14 days
Management by fluid and sodium restriction
Rapidly progressive glomerulonephritis
General term
Extreme inflammatory nephritis
Loss of renal function over days to weeks
Biopsy can show necrotising lesions in glomerulus
Goodpasture's disease > SLE > IgA nephropathy.
Diabetic nephropathy
•
•
•
•
•
Commonest cause of ESRF in UK
30% with T1DM develop after 20 years
Poor glycaemic control strongest risk factor
Microalbuminuria is earliest indicator
Treatment with good glycaemic control and ACEi
Thickening of GBM
Microalbuminuria (Albumin: creatinine ratio > 2.5 M > 3.5 F)
Increased mesangial matrix
Nodular deposits
Glomerulosclerosis and loss
of glomeruli
Heavy proteinuria
Exercise 3: Case based discussion
24 year old male presents to medical outpatient clinic
More tired than usual
No systemic symptoms on questioning
Only thing he has noticed is his urine is frothy
Group 1: What else would you like to ask in the history?
Group 2: What would you examine?
Group 3: What investigations would you perform?
Investigations in glomerular disease
Bedside tests
Urine dip
Laboratory tests
FBC, U&E, CRP, ESR, HbA1C, complement, ANCA, ANA, antidsDNA, anti-GBM, ASOT
Urine microscopy, urine albumin:creatinine ratio, 24h protein
Throat/skin swabs
Imaging
Renal ultrasound
Invasive tests
Renal biopsy
Management of glomerular diseases
•
•
•
•
•
•
•
Refer to a nephrologist!
Control hypertension (BP <130/80)
Tight control of blood glucose if appropriate
Restrict fluid and salt intake if proteinuria
Watch and wait?
Steroids?
Immunosuppressants?
Summary
•
•
•
•
Nephritic and nephrotic syndromes
Archetypal diseases for each
Key investigations to perform
Management principles
Learning at home
• Please link this evening's learning to
rheumatology teaching
• SLE and Goodpasture's disease (anti-GBM) are
also causes of glomerulopathy
• These are potential causes of rapidly
progressive glomerulonephritis
Thank you
Any questions?