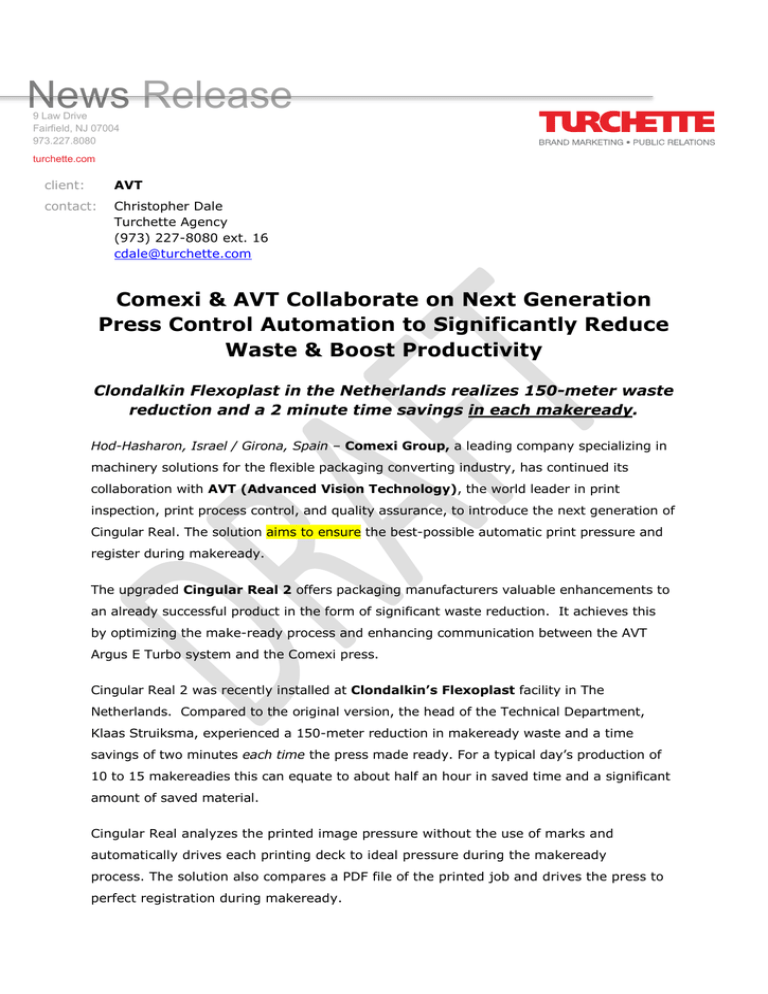 News Release
9 Law Drive
Fairfield, NJ 07004
973.227.8080
turchette.com
client:
AVT
contact:
Christopher Dale
Turchette Agency
(973) 227-8080 ext. 16
cdale@turchette.com
Comexi & AVT Collaborate on Next Generation
Press Control Automation to Significantly Reduce
Waste & Boost Productivity
Clondalkin Flexoplast in the Netherlands realizes 150-meter waste
reduction and a 2 minute time savings in each makeready.
Hod-Hasharon, Israel / Girona, Spain – Comexi Group, a leading company specializing in
machinery solutions for the flexible packaging converting industry, has continued its
collaboration with AVT (Advanced Vision Technology), the world leader in print
inspection, print process control, and quality assurance, to introduce the next generation of
Cingular Real. The solution aims to ensure the best-possible automatic print pressure and
register during makeready.
The upgraded Cingular Real 2 offers packaging manufacturers valuable enhancements to
an already successful product in the form of significant waste reduction. It achieves this
by optimizing the make-ready process and enhancing communication between the AVT
Argus E Turbo system and the Comexi press.
Cingular Real 2 was recently installed at Clondalkin's Flexoplast facility in The
Netherlands. Compared to the original version, the head of the Technical Department,
Klaas Struiksma, experienced a 150-meter reduction in makeready waste and a time
savings of two minutes each time the press made ready. For a typical day's production of
10 to 15 makereadies this can equate to about half an hour in saved time and a significant
amount of saved material.
Cingular Real analyzes the printed image pressure without the use of marks and
automatically drives each printing deck to ideal pressure during the makeready
process. The solution also compares a PDF file of the printed job and drives the press to
perfect registration during makeready.
Cingular Real 2 is the result of Comexi's and AVT's lengthy experience improving the
efficiency of converters within the flexible packaging industry. Both Cingular Real and the
new upgraded version can operate on AVT's Argus E Turbo solutions, which enables
customers to enjoy speeds up to three times faster with significantly enhanced system
resolution. The result is the highest-possible resolution at previously unattainable
production speeds for best-in-class inspection with no quality compromise or lost data.
Supported by a dedicated LED illumination technology, the solution's camera provides an
unprecedented combination of high-resolution and high-volume quality control.
According to Comexi, "The Cingular Real has become an essential part in Comexi
flexographic presses for those converters striving to achieve maximum efficiency. By
now, the upgraded Cingular Real 2 further improves its original version, enabling
customers to reduce time and material waste while maintaining the register adjustment
according to 100% impression."
"Along with our partners at Comexi, AVT is committed to the continuous development of
innovative solutions that save our customers time, materials and, ultimately, money,"
said Amir Sheinman VP Marketing of AVT. "The Cingular Real 2 installation at Clondalkin
Flexoplast exemplifies the sort of impact our print process control and inspection
solutions can provide".
###
About Clondalkin Group
Clondalkin Group is an international producer of high value added packaging products
and services, with over 35 production locations in eight countries throughout Europe and
North America and annual sales in excess of €700 million.
About Comexi
Comexi Group is a family company with worldwide presence and more than 450
employees. It has been committed to machinery manufacturing for the flexible packaging
industry since 1954. Through sustainable innovation, we are committed to the research
and the technological design aimed at creating products that are efficient, reliable,
energy intelligent and environmentally sustainable. Comexi Group is made up of six
trademarks, each one specialized in different converting processes. Comexi Flexo (flexo
printing); Comexi Offset (offset printing); Comexi Acom (gravure printing); Comexi
Nexus (lamination); Comexi Proslit (slitting and rewinding) and Comexi Enviroxi (logistics
and environmental management solutions)
About AVT
AVT is the global leader in print process control, quality assurance, and press control for
the packaging, labels, and commercial print industries. Backed by state-of-the-art
technology and field-proven solutions, more than 7,000 AVT systems are installed at
customer sites worldwide.
AVT is headquartered in Hod-Hasharon, Israel with sales, marketing, and support offices
in the United States, Europe and China. For more information, visit www.avt-inc.com.