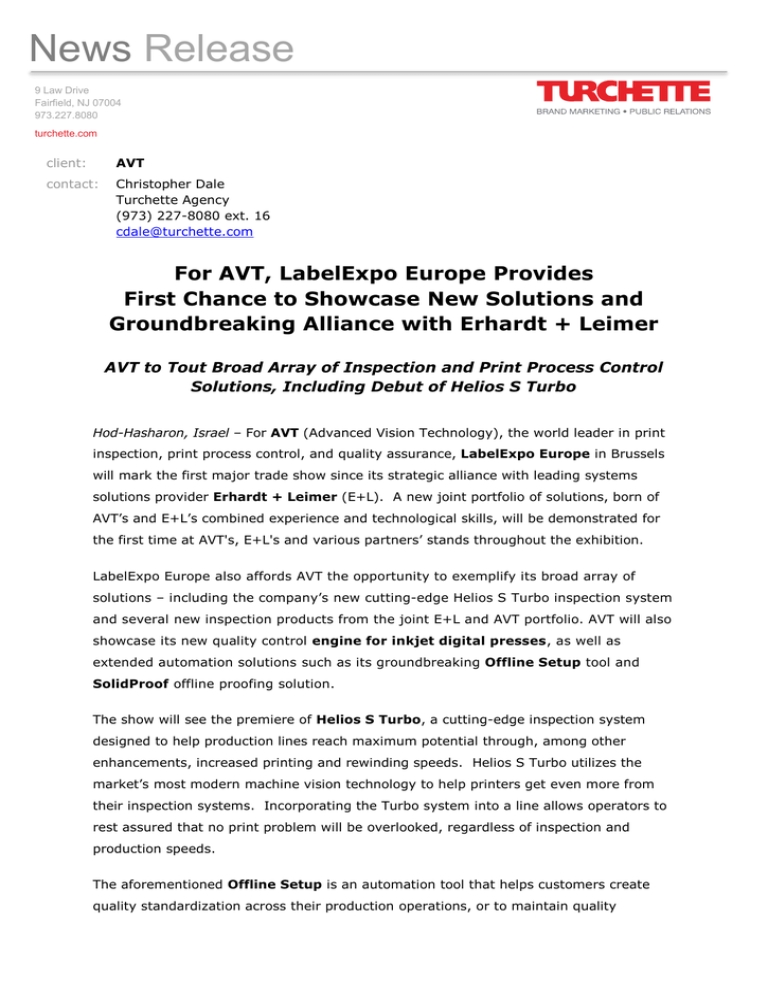 News Release
9 Law Drive
Fairfield, NJ 07004
973.227.8080
turchette.com
client:
AVT
contact:
Christopher Dale
Turchette Agency
(973) 227-8080 ext. 16
cdale@turchette.com
For AVT, LabelExpo Europe Provides
First Chance to Showcase New Solutions and
Groundbreaking Alliance with Erhardt + Leimer
AVT to Tout Broad Array of Inspection and Print Process Control
Solutions, Including Debut of Helios S Turbo
Hod-Hasharon, Israel – For AVT (Advanced Vision Technology), the world leader in print
inspection, print process control, and quality assurance, LabelExpo Europe in Brussels
will mark the first major trade show since its strategic alliance with leading systems
solutions provider Erhardt + Leimer (E+L). A new joint portfolio of solutions, born of
AVT's and E+L's combined experience and technological skills, will be demonstrated for
the first time at AVT's, E+L's and various partners' stands throughout the exhibition.
LabelExpo Europe also affords AVT the opportunity to exemplify its broad array of
solutions – including the company's new cutting-edge Helios S Turbo inspection system
and several new inspection products from the joint E+L and AVT portfolio. AVT will also
showcase its new quality control engine for inkjet digital presses, as well as
extended automation solutions such as its groundbreaking Offline Setup tool and
SolidProof offline proofing solution.
The show will see the premiere of Helios S Turbo, a cutting-edge inspection system
designed to help production lines reach maximum potential through, among other
enhancements, increased printing and rewinding speeds. Helios S Turbo utilizes the
market's most modern machine vision technology to help printers get even more from
their inspection systems. Incorporating the Turbo system into a line allows operators to
rest assured that no print problem will be overlooked, regardless of inspection and
production speeds.
The aforementioned Offline Setup is an automation tool that helps customers create
quality standardization across their production operations, or to maintain quality
standards between different jobs and runs. By standardizing quality thresholds and
addressing the needs for production processes automation, the system helps raise the
bar of overall print quality. Offline Setup enables enhanced setup consistency and
suitability between operators, where all settings are made by the same operator for all
AVT inspection systems.
Another solution showcased is SolidProof, an offline proofing system that provides 100%
assurance for wide web, narrow web and sheet-fed applications, ensuring that no critical
errors have been overlooked in the print production process. The solution automatically
eliminates conversion errors and undetected defects during the pre-press stage; in doing
so, it drastically reduces the need for manual inspection and can bring waste levels to
near-zero. This solution is part of the new AVT Offline proofing line that also includes
SoftProof and CloudProof.
Digital Inspection and Inkjet quality control Engines
At LabelExpo Europe, AVT also will showcase its new print quality control engine for
inkjet digital presses, one which provides digital printers with a closed loop solution for
inkjet printing quality by analyzing its actual performance through the run, and engaging
in ongoing communication with the press.
AVT also will showcase a solution that provides full automated inspection and verification
throughout the entire digital printing process. This combination-product solution includes
the aptly-named ZeroSet Automated Inspection Workflow, which addresses market needs
for inspection on shorter runs and better support for digital printing presses. ZeroSet
makes possible universal inspection – meaning even very short runs can be automatically
inspected – leading to a direct improvement in overall quality control for jobs that,
previously, may have been left uninspected.
###
About AVT
AVT is the global leader in print process control, quality assurance, and press control for
the packaging, labels, and commercial print industries. Backed by state-of-the-art
technology and field-proven solutions, more than 7,000 AVT systems are installed at
customer sites worldwide.
AVT is headquartered in Hod-Hasharon, Israel with sales, marketing, and support offices
in the United States, Europe and China. For more information, visit www.avt-inc.com.