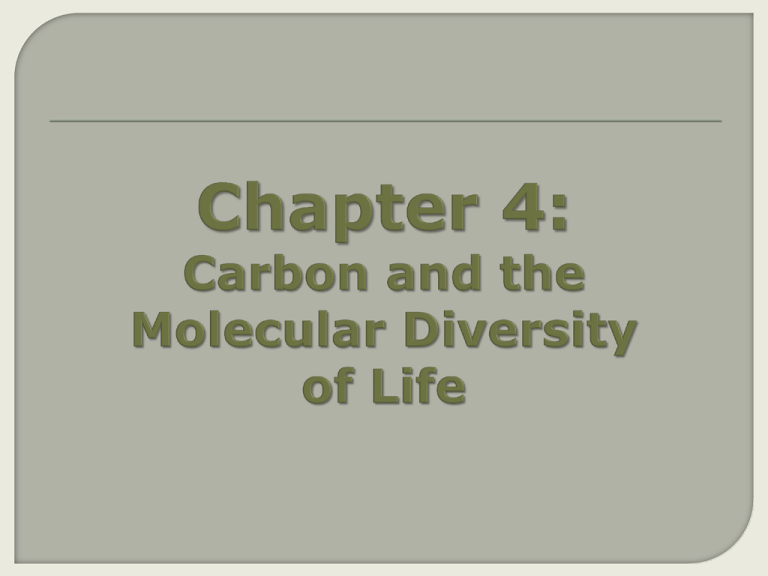  1.d.1
– There are several hypotheses
about the natural origin of life on
Earth, each with supporting scientific
evidence (4.1).
 2.a.3 – Organisms must exchange
matter with the environment to grow,
reproduce, and maintain organization
(4.1 & 4.2).
 The
study of carbon compounds.
 Usually involves the study of living
things
 Carbon: +4 or
 Hydrogen: +1
 Oxygen: -2
 Nitrogen: -3
-4
 Organic
molecules
made of only
carbon and
hydrogen.
 Forms
4 covalent bonds
(because it has 4
valence e-)
 Molecular shape is
tetrahedral
 Bonds very easily to
itself
Can
form nearly 10 million
compounds
15 known isotopes: C-14 (age of
fossils), C-13, C-12
Naturally occurring in hardest
(diamonds) and one of softest
(graphite) forms on Earth
 Very
small size (capable of forming
multiple bonds)
 Major economic use—petroleum,
other fossil fuels
 Others: pencil "lead", steel, charcoal,
medicine
 Compounds
with the same molecular
formula but have different structures.
 Result: Different molecular and
chemical properties.
No
Yes
Yes
No
1.
2.
3.
Structural
Geometric (cis/trans)
Enantiomers
 Different
in covalent arrangements
of their atoms.
Butane
Isobutane
 Same
covalent partnership but differ
in spatial arrangements.
 Arise from the inflexibility of double
bonds.
 Also known as cis/trans isomers
 Molecules
that are
mirror images
of each other.
 Usually
involve an
asymmetric
carbon.
 Organisms
are sensitive to even the
most subtle variations in molecular
architecture.
 This is why isomers (and their
shape/characteristics) are critical to
biochemistry
 Cells
can't distinguish between two
isomers.
 One is an effective drug.
 The other causes birth defects.
 Used (in 1970s) as a "cure" for
morning sickness
A
group of atoms attached to a
carbon skeleton.
 Have consistent properties.
 Their number and kind give
properties to the molecule.
A
hydrogen atom bonded to an
oxygen atom.
Ex. -OH
 Very polar. Allows the material to be
hydrophilic.
 Forms alcohols.
A
carbon atom joined to an oxygen
atom by a double bond.
Ex. - C=O
 Polar tendencies
 Two types of Carbonyl Group
compounds:
• Aldehydes
• Ketones
A
carbonyl group at the end of a
carbon skeleton.
Ex. - C=O
H
 Sometimes written as
- CHO
A
carbonyl group in the middle of a
carbon chain.
Ex.
-C-C-C||
O
 Group
with a carbon double
bonded to an oxygen and to a
hydroxyl group.
Ex.
- C=O
|
OH
 Written as: -COOH
 Also called Carboxylic Acids
• Donate H+ (acid).
• Form many weak organic acids.
 Nitrogen
bonded to two hydrogens.
Ex. – N-H
|
H
 Forms compounds called amines.
 Act as a base.
 IF combined with
carboxyl, can act as
an acid!
• Ex: amino acids
 Sulfur
bonded to a hydrogen.
Ex. -SH
 Forms compounds called thiols.
 Help with protein structure.
 Acidic properties
 Phosphorus
with four oxygens.
Ex. -PO4
 Has a net -2 charge.
 Sometimes written as "Pi".
 Involved with energy transfers.
 Carbon
bonded to three hydrogens.
- CH3
 Very non-polar and hydrophobic.
 Ex: fossil fuels (any other
hydrocarbon)
 Identify
what is meant by organic
chemistry.
 Recognize the valences for the major
elements of organic molecules.
 Recognize various types of isomers.
 Identify the functional groups and
their structure and properties.