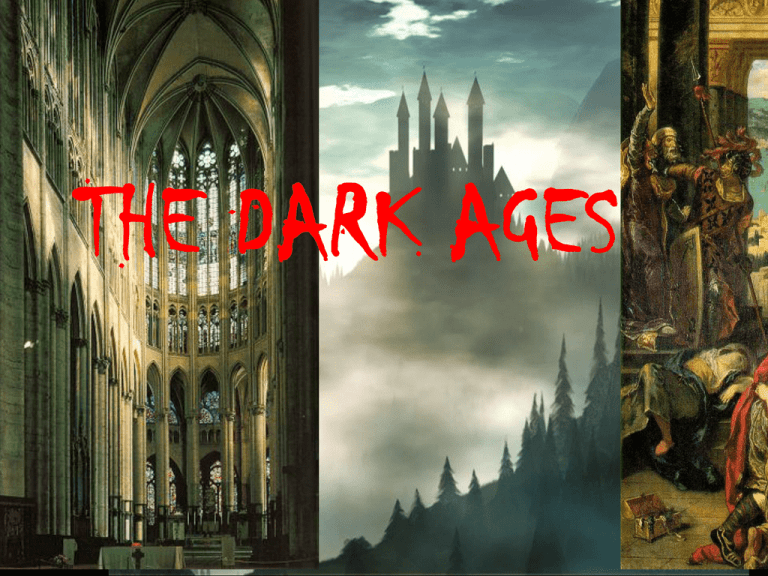 THE DARK AGES
ESSENTIAL QUESTION
How did Europe change
after the fall of the
Roman Empire?
`
Some Information
• I will call this: Europe, Medieval
Europe, Middle Ages or Dark
Ages.
• Covers about 500 AD -1500 AD
• Most of our influences in this
country are European.
LOST EMPIRE
• When Rome fell in 476, knowledge, law,
culture, and technology fell with it.
• The army was lost, leaving the people with
no protection.
• Europe broke up into a bunch of kingdoms
each with their own laws and leaders.
SURVIVAL
• People lived in small villages and
nearly everyone had to farm to
provide enough food. (agriculture!)
• If everyone is farmer, there are no
artists, lawyers, teachers, etc.
• This made the loss of knowledge
even worse.
GEOGRAPHY
• Europe is bordered by water.
• Highly populated.
• 1/3 of the land is good for farming. (that's a lot!)
• Forests provided plenty of wood (natural
resources)
3 ZONES
• South- warm temp, seasonal rain – excellent
farming.
• North – slightly
heavily
natural resources.
colder,
forested – lots of
• Scandinavia – very
cold, relied
on the
ocean for food and
resources, very different from the other two.
SOCIETY
PEASANT LIFE
Peasant - small farmers or farm
laborers of low social rank
.
FOOD
•
Everything had to be boiled because of the "fertilizer"
used in the fields.
• Main food was pottage.
• You'd take whatever food you could and boil it. Yummy!
Things lost from the Roman Empire
Good zones to live in
and why
Thing people had to do
before eating their food
(Food people ate)
ESSENTIAL QUESTION
What role did the Christian Church
play in the Dark Ages?
The
Church
CHURCH INFLUENCE
• If the church commanded something – give
money, go to war, etc.– you did it.
• If you disobey them they might send you to
Hell!
• They were the law! (10 commandments
focus)
CHURCH RESPONSIBILITIES
• Churches provided:
- Help for the poor.
- Education.
- Entertainment.
- Salvation.
VOCABULARY TO KNOW:
• Excommunication- removing someone's
membership to a church. (kick them out!)
• Salvation- the removal of the penalties of sin.
• Cathedral- a large church building
Cathedrals
CATHEDRALS
•
The cathedrals were
like amusement parks!
• They were unlike any other buildings – even
the castles.
• They took decades to build but could bring in
tourists and money.
• It was a matter of pride but also a sign of their
faith in God.
HOW?!?!
• They used thousands of tons of rocks.
• Hundreds and hundreds of workers for up to
50 years.
• Very dangerous - many died in the process.
• Whatever technology there was in the Dark
Ages went into these buildings.
ESSENTIAL QUESTION
Describe the governments
that arose in the Dark Ages.
CHRISTIANITY
• Since there was no true emperor to follow, the
church essentially became the leader of
Europe.
• Monasteries popped up all over Europe
spreading the word of God.
• This began to give people the sense of
community needed for a strong nation.
THE BIRTH OF KINGS
THE KING
• After Rome fell, Europe split up into small
states ruled by kings.
• They were not elected.
• Instead, they were born as kings and
considered "chosen by God." (divine right)
THE VIKINGS
VIKINGS
• A group from
Scandinavia in
northern Europe.
• The land there is often frozen over so very
little food was available.
• Eventually their population got so big they
had to go south to find food – and they did
not go peacefully!
THE VIKINGS
• The arrival of Viking raiders destroyed this
unity.
• The people once again focused purely on
survival.
• Trade stopped, learning stopped, the Dark
Ages were back in full force.
ESSENTIAL QUESTION
What is Feudalism and why
was it used?
ECONOMICS
FEUDALISM
• Feudalism- a system of rule where people trade
their work for protection
• One guy owns the land, another works on it.
• Each group of people had specific jobs to
complete.
FEUDALISM
The Feudal
System
King
Lords
Nobles/Barons
Knights
Peasants/Serfs
King
Lords
Nobles
protection
land (fiefs)
Knights
protection
Peasants
labor (work)
EXAMPLE
Peasants get: ______
Knights get: ______
Nobles get: ______
2 x 100
Tacos
(200)
4 x 50
Tacos
(200)
100
Tacos
100
Tacos
100
Tacos
4 x 50
Tacos
(200)
100
Tacos
100
Tacos
100
Tacos
100
Tacos
100
Tacos
Imagineland
2.
To
nobles
to support
him
the
4.1.
5.
3.Peasants
The
Taxes
Theget
King
nobles
ultimately
are
officially
divide
allowed
end
owns
their
to
uplive
land
going
all
of
on
and
the
the
to
king
divides
his
land
and
puts
nobles
land
land
the
use
of
and
king.
that
thebuild
to
country.
Peasants
pay
farms.
knights
He
work,
They
usually
who
pay
knights
then
builds
taxes
inthe
charge
of
their
own
protect,
protect
ato
large
nobles
the
nobles
castle
land
collect,
in
and
and
hisserve
can't
capital
kingarea.
leave.
the
gets
city.
king.
rich.
WHY?
• No Roman Empire means no Roman Army.
• No army means no protection.
• People willingly (usually…) gave up their
land to be protected.
• It was all about survival.
AND SO…
• People turned to feudalism for
protection.
• Landowners hired knights to
protect the peasants who agreed
to work for the landowners.
• This further divided Europe.