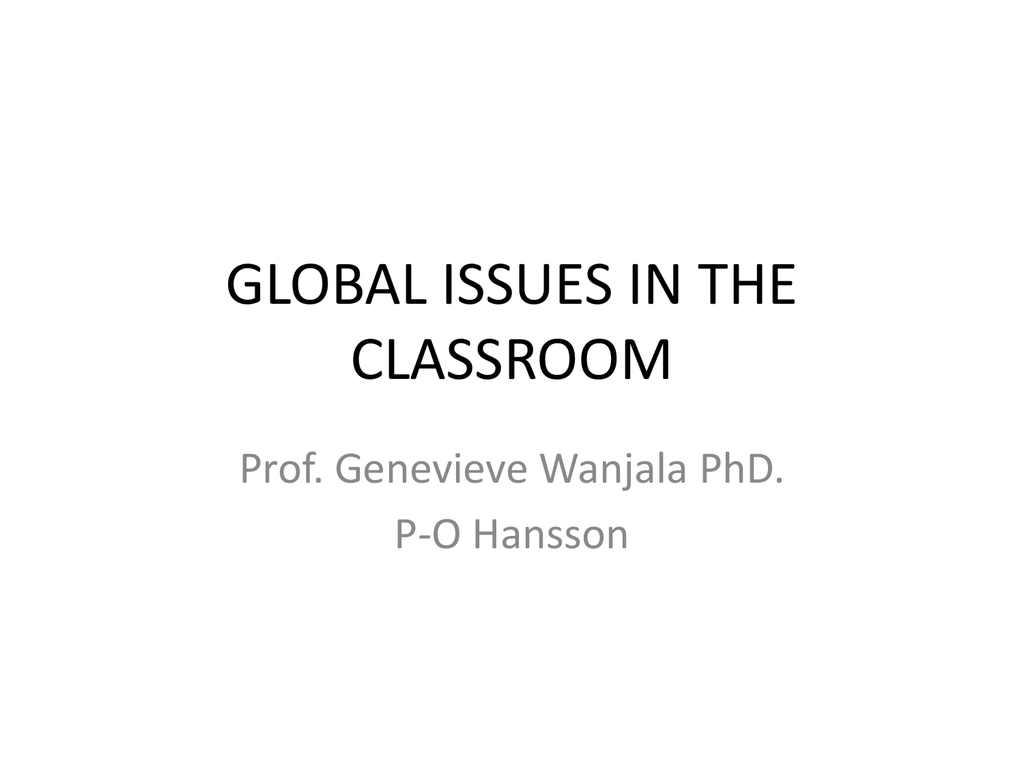 GLOBAL ISSUES IN THE
CLASSROOM
Prof. Genevieve Wanjala PhD.
P-O Hansson
INTRODUCTION
• How and to what extent do these regional and
global interactions affect the behavior of
those of us who are involved in education ;
particularly our behavior in the classroom? To
answer this question appropriately , we need
to have a clear understanding of what
globalization really is.
GLOBALIZATION DEFINED
• globalization can be used to refer to those
spatial and temporal processes of change
which underpin a transformation in the
organization of human affairs by linking
together and expanding human activity across
regions and continents. [WIKIPEDIA]
• a process of world shrinkage of distance
getting shorter and things moving closer
[Larson]
GLOBALIZATION AND EDUCATION
• The quality and quantity of education
determine whether and how a country can
participate in the processes of globalization.
Slowly and surely , a type of education has
been appearing in our pronouncements and
policy documents , that is , global education.
What , then , are the global issues in the
classroom?
GLOBAL ISSUES IN THE CLASSROOM
•
•
•
•
•
create global citizens
knowledge and understanding
values and attitudes
skill and processes
action and participation
TEACHING WITH A GLOBAL
PERSPECTIVE
• Learning Processes
• To what extent do we have inclusive
classrooms where we encourage participation
for all?
• What methods/techniques do we use to do
this? [Student-centred learning ? Experiential
learning? Inquiry-based learning?]
• How do facilitate Inter-activity ; building self
esteem?
TEACHING WITH A GLOBAL
PERSPECTIVE CONTD.
• Dealing with controversial issues
• How do we facilitate students to balance study
with critical appraisal ?
• How do we enable students to develop
individual informed opinions?
• How do we ensure students acquire skills to
formulate arguments using evidence?
• How do we nurture students' commitment to
human rights?
TEACHING WITH A GLOBAL
PERSPECTIVE CONTD
• Practising active citizenship
To what extent do facilitate students'
• involvement in community activities and
campaigns?
• identify , investigate and evaluate alternative
courses of action?
• devise strategies to overcome barriers to active
participation?
• reflect and evaluate effectiveness of action?