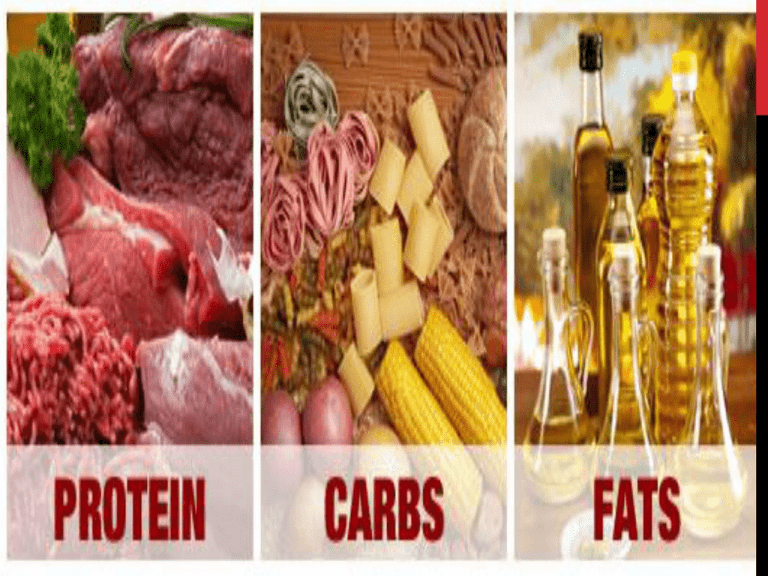 I CAN…
 Name all the three classes of nutrients that supply
my body with energy
 Compare and contrast the roles of carbohydrates,
fats, and proteins within my body
 Explain how my body obtains energy from food
 Classify foods according to the nutrient source
they provide.
DID YOU
KNOW????
The food you
eat becomes
ENERGY!!
Click Here for Video Clip
The chemical process in
which your body breaks
down food to release
energy is METABOLISM
SO WHAT'S THE DEAL
WITH CALORIES?
DON'T LET CALORIES
CONFUSE YOU!!!
Calories are
needed for
everything: Work,
Play, and even
Sleep!!!!!!
WHERE DO CALORIES
COME FROM????
CALORIES COME
FROM….
Carbohydrates
Proteins
Fats
CARBOHYDRATES
TWO TYPES OF CARBOHYDRATES
Main source of fuel for
the body
One Gram of Carbs =
4 Calories
Complex
Carbohydrates
provide fiber which
essential for keep
the digestive
system healthy
PROTEINS
There are
types for
of Proteins One Gram of Protein
Proteins
are two
important
provides
Calories
Proteins
made
of Amino
whichFour
are the
repairing are
muscle
in up
tissue.
TheyAcids
building
of tissue
Your complete
also helpblocks
promote
growthgrowth.
of
proteins
come
from
mostly animal sources (meat,
bones, skin,
and
cartilage
poultry, & dairy products. Incomplete proteins do not
contain all of the bodies essential amino acids and
generally come from plant sources.
What types of diets might individuals have to worry about getting all of
their essential amino acids?
FATS
Saturated Fats
Unsaturated Fats
Fats in foods provide
flavor, gives us a
In our bodies fat keeps
sense of fullness, and
us insulated, provides a • Usually
liquid or soft at
• Usually solid at room
most importantly
energy reserve, and
room
temperature
temperature
help our bodies
helps protect our internal
transport vitamins in
organs
the bloodstream
• Linked with obesity,
• Offer protection from heart
heart disease, and
disease
high cholesterol
One gram of Fat is equal to Nine Calories
MORE INFORMATION
FROM THE CDC
IN CLOSING….
• Carbohydrates, Fats, and Proteins
provide calories in food.
• A process called metabolism creates
energy by breaking down food.
• There are a variety of food sources that
provide carbohydrates, fats, and
proteins. (Examples)
• What is the main role of carbohydrates in
your body? Fats? Proteins?