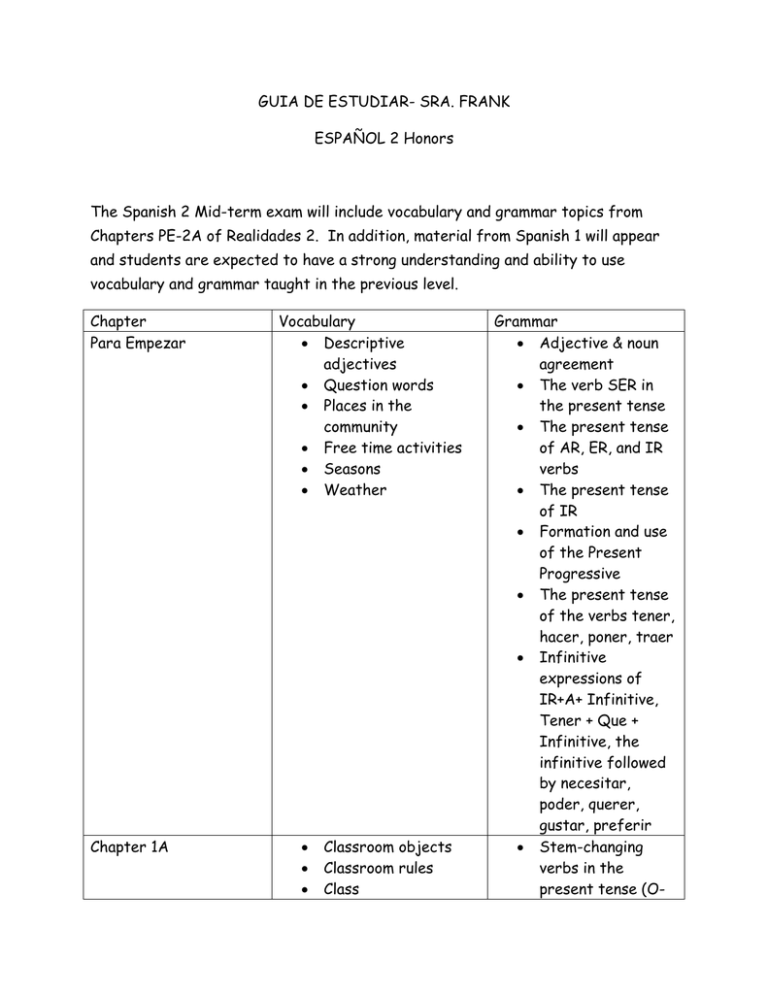 GUIA DE ESTUDIAR- SRA. FRANK
ESPAÑOL 2 Honors
The Spanish 2 Mid-term exam will include vocabulary and grammar topics from
Chapters PE-2A of Realidades 2. In addition, material from Spanish 1 will appear
and students are expected to have a strong understanding and ability to use
vocabulary and grammar taught in the previous level.
Chapter
Para Empezar
Chapter 1A
Vocabulary
 Descriptive
adjectives
 Question words
 Places in the
community
 Free time activities
 Seasons
 Weather



Classroom objects
Classroom rules
Class
Grammar
 Adjective & noun
agreement
 The verb SER in
the present tense
 The present tense
of AR, ER, and IR
verbs
 The present tense
of IR
 Formation and use
of the Present
Progressive
 The present tense
of the verbs tener,
hacer, poner, traer
 Infinitive
expressions of
IR+A+ Infinitive,
Tener + Que +
Infinitive, the
infinitive followed
by necesitar,
poder, querer,
gustar, preferir
 Stem-changing
verbs in the
present tense (O-
activities/responsibili
ties
Chapter 1B





Extracurricular
activities
Athletic activities
Music and Drama
activities
Describing the
internet





Chapter 2A




Items used to get
ready
Actions to get ready
Special events
Emotions






UE, E-IE and E-I)
Affirmative and
negative words
Making
comparisons with
Tan+ Adjective +
Como
Making
Comparisons with
Tanto + Noun +
Como
The conjugations
and uses of the
verbs Saber and
Conocer
Describing length
of time of an
action using Hace +
Time and Desde +
Hace
Reflexive verbs (in
present, preterit,
with infinitive
expressions and
present
progressive)
Comparison of the
Verbs SER and
ESTAR
Possessive
Adjectives
Preterit of Regular
AR, ER and IR
verbs
Preterit of –CAR,
-GAR and –ZAR
verbs
Preterit
of
IR

stem-changing
verbs
Preterit
irregular verbs
of
THE FORMAT OF THE EXAM:
All modalities of language will be used for the mid-term; speaking, reading, writing,
and listening along with vocabulary and grammar usage.
The speaking and writing portions of the exam will be conducted the week of
January 6-10, 2014.
The exam format the day of the exam will be a 100 question scantron including
listening, reading, vocabulary and grammar. Please come prepared with a #2 pencil.