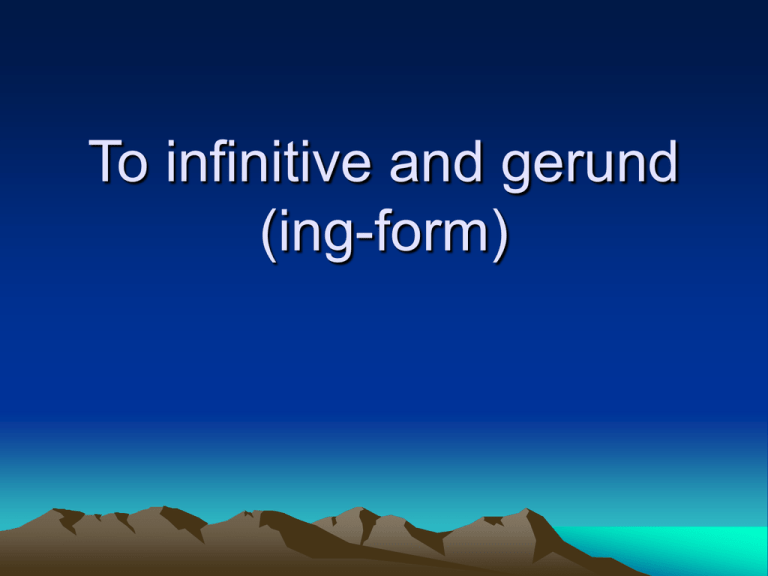 To infinitive and gerund
(ing-form)
We can use either to-infinitive or
an –ing form after these verbs
•
•
•
•
Begin
Continue
Start
Intend
Examples
•
•
•
•
They began mixing with the wrong people
They began to mix with the wrong people.
She intends buying a new house.
She intends to buy a new house.
These verbs are followed by toinfinitive
•
•
•
•
•
•
•
Agree
Choose
Decide
Plan
Promise
Refuse
Want
examples
• "At last I realized I had destroyed my life"
he said,"but I didn't want to destroy my
daughter's too, so I chose to live a new life
with her."
These verbs are followed by-ing
form
Admit
Avoid
Consider
Deny
Enjoy
Risk
Suggest
Examples
• I really enjoy protecting people and
catching thieves.
• The teacher suggested taking the students
to the zoo.
• My feet started shaking and there was a
pain in my chest.
• I suggested cutting down on my meals.
More about -ing
•
•
•
•
•
•
Used as a noun
Dancing will help me get slimmer.
After a preposition
I am thinking of getting a new mobile.
As an adjective
Your working hour will be from nine to five
More examples
• I am thinking of being a policeman. I would
like to have an exciting job like this.
• My sister can be really silly and annoying
• The lyrics are touching. They can touch
my heart and make me smile or cry.