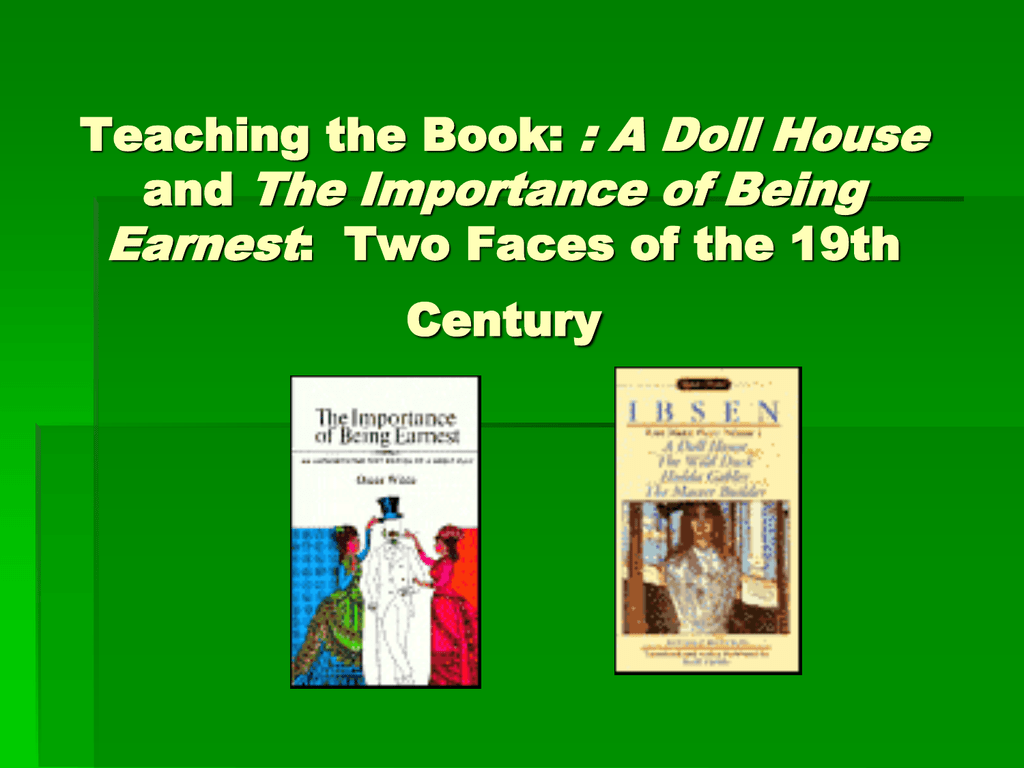 Teaching the Book: : A Doll House
and The Importance of Being
Earnest: Two Faces of the 19th
Century
Comedy versus Tragedy:
Two Sides of the Same Coin
 The Greeks watch tragedies in the morning
and comedies in the afternoon.
 The plays often dealt with the same themes
and social concerns.
 A Doll House and The Importance of Being
Earnest deal with similar social concerns:
marriage, religion, child rearing, class
structure, gender expectations
 One aims to elicit pity and terror while the other
laughter
Serious in the Comic?
 Algernon: I really don't see anything
romantic in proposing. It is very romantic
to be in love. But there is nothing
romantic about a definite proposal. Why,
one may be accepted. One usually is, I
believe. Then the excitement is all over.
The very essence of romance is
uncertainty. If ever I get married, I'll
certainly try to forget the fact.
What is serious?
 What is the serious topic embedded in
this quotation?
 Which devices of comedy does Wilde
employ?
 What impact do the literary devices have
on meaning and tone?
 What type of person does Algernon seem
to be? How do you know?
Two Bourgeoisie Boys
Ibsen (1828-1906)
Wilde (1854-1900)
 NORWEGIAN
 SOCIAL CRITIC OF MIDDLE
CLASS
 FATHER LOST FORTUNE
 IRISH
 SOCIAL CRITIC OF
ARISTOCRACY
 OFTEN IN DEBT TRYING TO
MAINTAIN ARISTOCRATIC
TASTES
 FATHER HAD ILLEGITIMITE
CHILDREN
 DRAMATIST - COMEDIES
 FATHER HAD ILLEGITIMITE
CHILDREN
 DRAMATIST - TRAGEDIES
Genre Matters
 Fiction
 Multiple points of
view
 Drama
 Point of view usually
limited to characters
 Easy to change
settings
 Bound to a degree
by setting
 Easy for individual
imagination to make
meaning
 Imagination bound
by director's choices
Genre Matters
 Easy to employ
animals as
characters and other
supernatural
phenomenon
 Individual often must
make own meaning
 Reader can be
distracted
 More difficult to elicit
a willing suspension
of disbelief
 Audience responses
collectively add to
the play's meaning
and tone
 Theater shuts out
distractions for
approximately two
hours
Comedy versus Tragedy:
Two Sides of the Same Coin
 Tragedy and comedy are arbitrary classifications that
the western world has used since the time of Aristotle.
 Both have, however, changed over time, reflecting the
tastes of the culture and time period in which they were
written and performed.
 Furthermore, most comedies have tragic elements, and
most tragedies have comic moments.
 As with any classification, boundaries blur.
 Use accepted tenets of each as touchstones for
categorizing, comparing, and analyzing literature.
From the 1993 Exam
 The true test of comedy is that it shall
awaken thoughtful laughter." - George
Meredith

Choose a novel, play, or long poem in
which a scene or character awakens
"thoughtful laughter" in the reader. Write
an essay in which you show why this
laughter is "thoughtful" and how it
contributes to the meaning of the work.
From the 2002 Exam
 In the following excerpt from a recent
British novel, the narrator, a young man
in his early twenties, is attending a play
with his new girlfriend Isabel when she
unexpectedly discovers that her parents
are in the theater. Read the passage
carefully. Then write an essay in which
you analyze how the author produces a
comic effect.