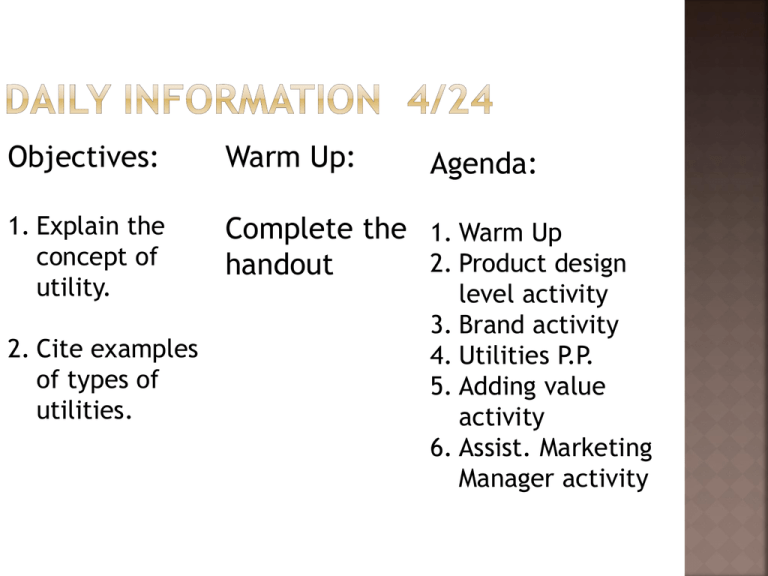 Objectives:
Warm Up:
1. Explain the
concept of
utility.
Complete the 1. Warm Up
2. Product design
handout
2. Cite examples
of types of
utilities.
Agenda:
level activity
3. Brand activity
4. Utilities P.P.
5. Adding value
activity
6. Assist. Marketing
Manager activity
Marketing supports competition and offers
benefits to consumers
 The
meaning of economic utility
 The five economic utilities and how to
distinguish the four that are related to
marketing
 See
how the functions of marketing
add value to products.
 See
how marketing activities
promote competition by leading to
lower prices and new and improved
products.
 The
attributes of a product or
service that make it capable of
satisfying consumers' wants and
needs
The Benefits of Marketing and
the Five Utilities
The Benefits of Marketing and the Five Utilities
Economic Benefits of Marketing
Economic Benefits of Marketing
Possession
Time
Form
Information
Place
Economic Benefits of Marketing
Form Utility
Changing raw materials into usable goods or
putting parts together to make them more useful
Place Utility
Having a product where customers can buy it
Time Utility
Having a product or service available at a certain
time of year or a convenient time of day
Possession
Utility
The exchange of a product for money
Information
Utility
Communication with consumer
 Marketing
activities add value to products
and increase demand.
 When demand is high, manufacturers can
make products in larger quantities, which
reduces the unit cost of each product. This is
because the of fixed costs.
 Example: the cost of rent on a building is the
same whether the company produces 10
units or 10,000 units.
Fixed cost for manufacturing widgets are
$25,000. Determine the fixed cost per unit
when the quantity produced is:
a)
b)
5,000
75,000
a)
$5.00
a)
$.33
 New
and improved products are another
result of increased competition
generated by marketing.
 As businesses continue to look for
opportunities to better satisfy customers'
wants and needs, the result is a larger
variety of goods and services.
 Can
anyone name a new product that is
currently being advertised?
 What is new and different about this
product?
 Where did you get your information? Did it
comes from personal knowledge of the
product or an advertisement.
 How did you hear about the product?
The
functions of marketing add
value to a product by making it
more useful. This added value is
also called…
Explain
the role that marketing
plays in an economy.
How
does increased demand for
a product help lower its price to
consumers?