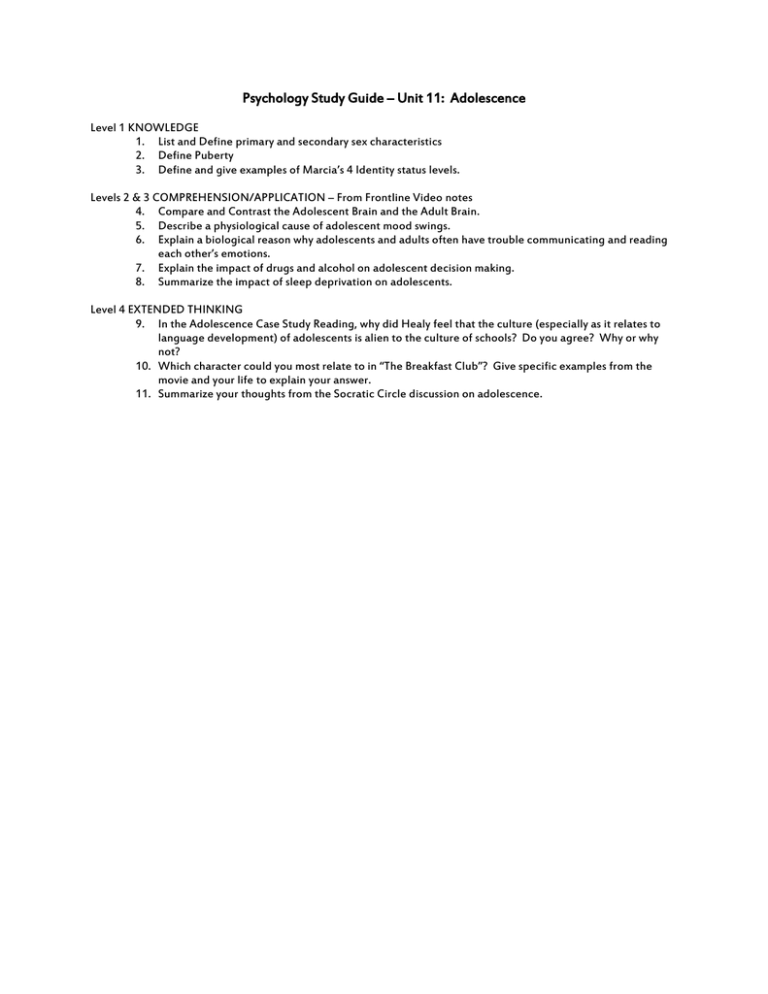 Psychology Study Guide – Unit 11: Adolescence
Level 1 KNOWLEDGE
1. List and Define primary and secondary sex characteristics
2. Define Puberty
3. Define and give examples of Marcia's 4 Identity status levels.
Levels 2 & 3 COMPREHENSION/APPLICATION – From Frontline Video notes
4. Compare and Contrast the Adolescent Brain and the Adult Brain.
5. Describe a physiological cause of adolescent mood swings.
6. Explain a biological reason why adolescents and adults often have trouble communicating and reading
each other's emotions.
7. Explain the impact of drugs and alcohol on adolescent decision making.
8. Summarize the impact of sleep deprivation on adolescents.
Level 4 EXTENDED THINKING
9. In the Adolescence Case Study Reading, why did Healy feel that the culture (especially as it relates to
language development) of adolescents is alien to the culture of schools? Do you agree? Why or why
not?
10. Which character could you most relate to in "The Breakfast Club"? Give specific examples from the
movie and your life to explain your answer.
11. Summarize your thoughts from the Socratic Circle discussion on adolescence.