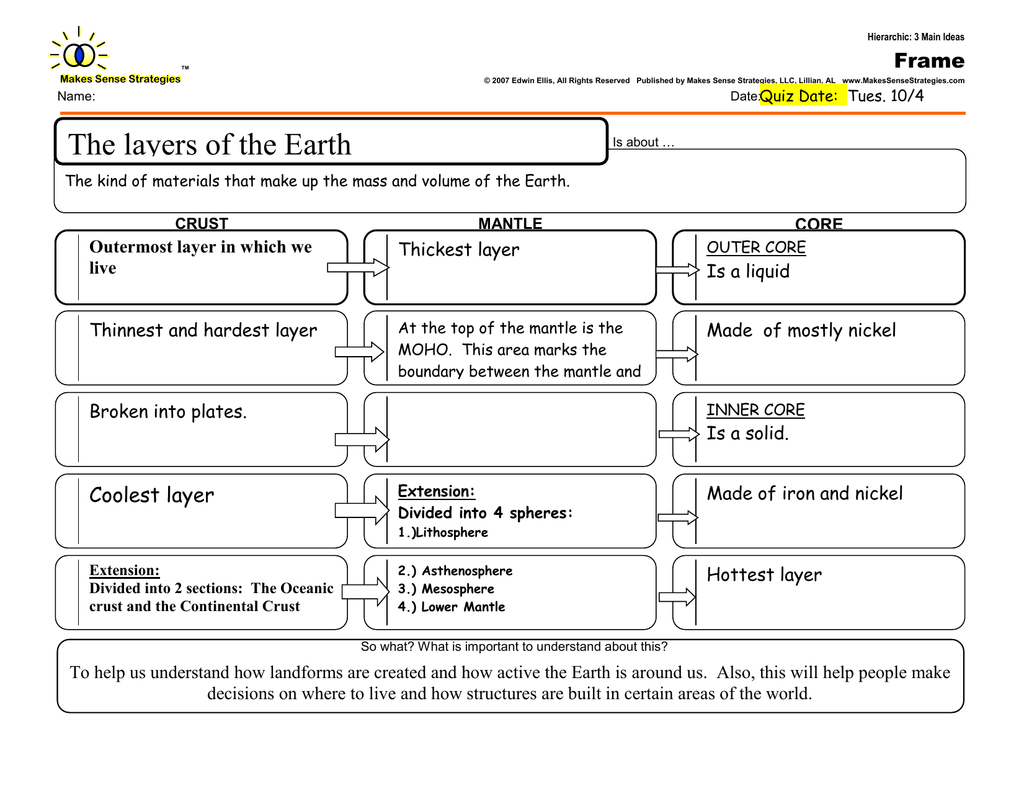 Hierarchic: 3 Main Ideas
TM
Makes Sense
Sense Strategies
Strategies
Makes
Frame
s
© 2007 Edwin Ellis, All Rights Reserved Published by Makes Sense Strategies, LLC, Lillian, AL www.MakesSenseStrategies.com
Date:Quiz
Name:
The layers of the Earth
Date: Tues. 10/4
Is about …
The kind of materials that make up the mass and volume of the Earth.
CRUST
MANTLE
CORE
Outermost layer in which we
live
Thickest layer
OUTER CORE
Thinnest and hardest layer
At the top of the mantle is the
MOHO. This area marks the
boundary between the mantle and
the crust.
Made of mostly nickel
Broken into plates.
Coolest layer
Is a liquid
INNER CORE
Is a solid.
Extension:
Divided into 4 spheres:
Made of iron and nickel
1.)Lithosphere
Extension:
Divided into 2 sections: The Oceanic
crust and the Continental Crust
2.) Asthenosphere
3.) Mesosphere
4.) Lower Mantle
Hottest layer
So what? What is important to understand about this?
To help us understand how landforms are created and how active the Earth is around us. Also, this will help people make
decisions on where to live and how structures are built in certain areas of the world.