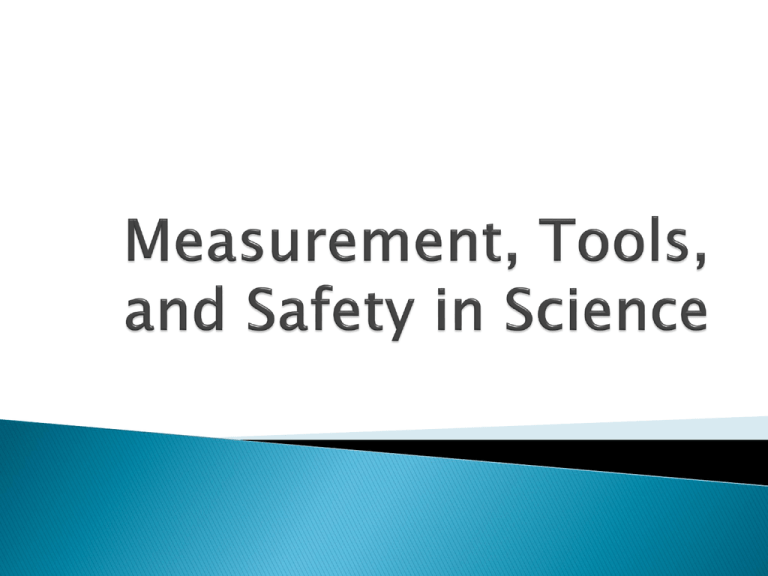 



Measurement is a description of an object
using numbers and units
Units in the US (for example: inches, gallons,
and Fahrenheit) are different from units used
by scientists
Scientists use the metric system also known as
the International System of Units (SI for short)
The SI system is used by scientists for
consistency

Degrees Celsius or Kelvin
Meters
Liters
Grams

Complete Part 1 on your worksheet now.

Answers: 1. C



2. B
3. D
4. A


In order for scientists to perform
measurements we use tools.
What are some tools used by scientists for
measurement?
◦
◦
◦
◦
◦
◦


Rulers
Balances
Graduated cylinders
Beakers
Thermometers
Droppers
Complete Part 2 on your worksheet now
Answers: 1. D
2. E
3. C
4. A 5. B
6. F



Complete Parts 3 and 4 on your worksheet
now
Answers Part 3: 1. A
2. B
3. C
4. C
5. B
6. D
Answers Part 4:
1. A
2. B
4. C
5. B
6. D
3.C

Some important things to note:
◦ During labs it is important to listen and follow all
directions both verbal and written
◦ There should be no fooling around when lab
equipment is involved
◦ The safety contract must be followed at all times
AND must be signed before you will be allowed to
complete any lab experiments tomorrow.
◦ Let's go over the safety contract now.
Please complete Part 5 of your handout now.
 Answers:
1a. Carry the microscope from underneath and on
the neck.

1b. Do not eat using laboratory equipment and do
not eat in the lab
1c. Wear safety gear, keep lab area clear, point test
tube away from students.

Part 6 is your HW tonight.