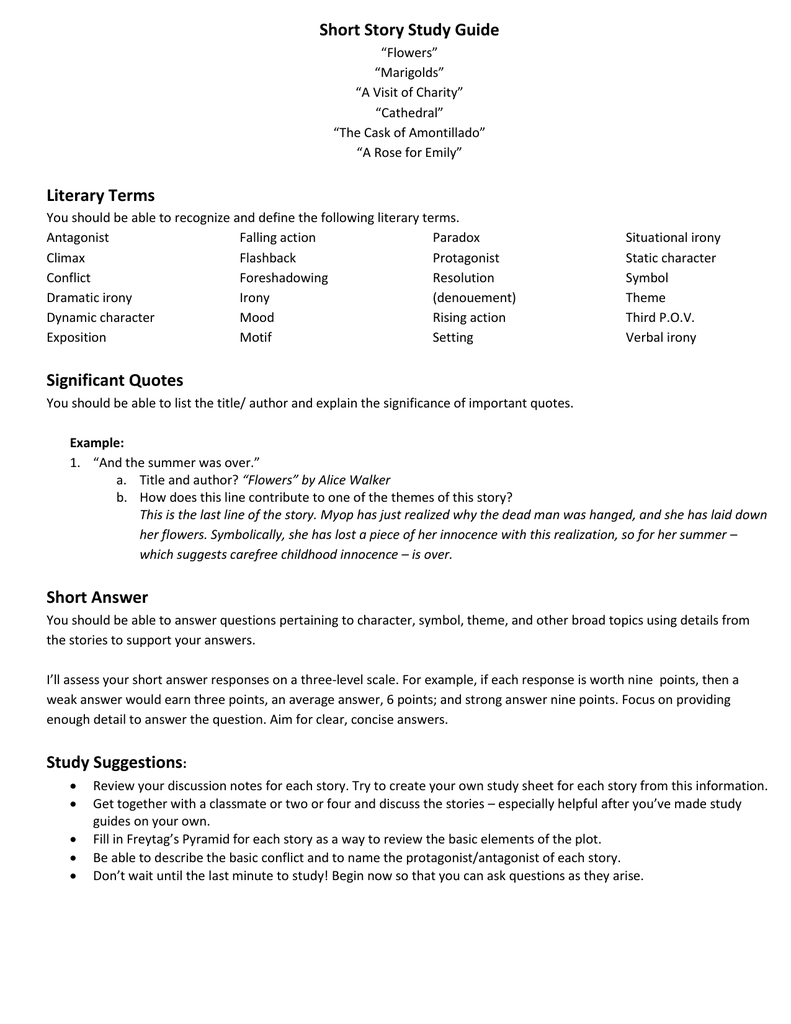 Short Story Study Guide
"Flowers"
"Marigolds"
"A Visit of Charity"
"Cathedral"
"The Cask of Amontillado"
"A Rose for Emily"
Literary Terms
You should be able to recognize and define the following literary terms.
Antagonist
Falling action
Paradox
Climax
Flashback
Protagonist
Conflict
Foreshadowing
Resolution
Dramatic irony
Irony
(denouement)
Dynamic character
Mood
Rising action
Exposition
Motif
Setting
Situational irony
Static character
Symbol
Theme
Third P.O.V.
Verbal irony
Significant Quotes
You should be able to list the title/ author and explain the significance of important quotes.
Example:
1. "And the summer was over."
a. Title and author? "Flowers" by Alice Walker
b. How does this line contribute to one of the themes of this story?
This is the last line of the story. Myop has just realized why the dead man was hanged, and she has laid down
her flowers. Symbolically, she has lost a piece of her innocence with this realization, so for her summer –
which suggests carefree childhood innocence – is over.
Short Answer
You should be able to answer questions pertaining to character, symbol, theme, and other broad topics using details from
the stories to support your answers.
I'll assess your short answer responses on a three-level scale. For example, if each response is worth nine points, then a
weak answer would earn three points, an average answer, 6 points; and strong answer nine points. Focus on providing
enough detail to answer the question. Aim for clear, concise answers.
Study Suggestions:





Review your discussion notes for each story. Try to create your own study sheet for each story from this information.
Get together with a classmate or two or four and discuss the stories – especially helpful after you've made study
guides on your own.
Fill in Freytag's Pyramid for each story as a way to review the basic elements of the plot.
Be able to describe the basic conflict and to name the protagonist/antagonist of each story.
Don't wait until the last minute to study! Begin now so that you can ask questions as they arise.