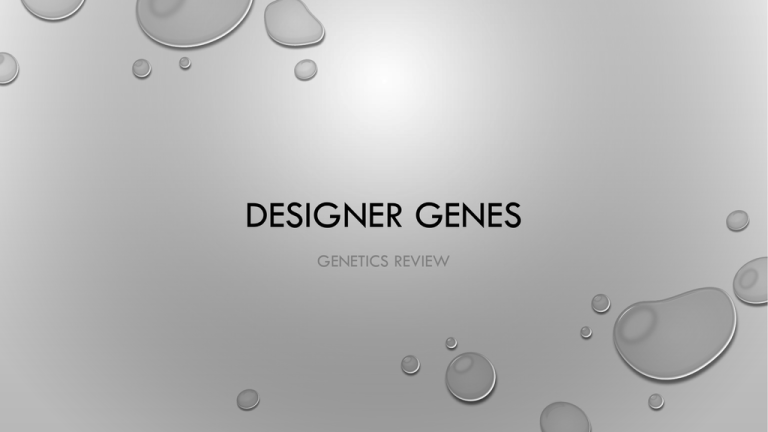 DESIGNER GENES
GENETICS REVIEW
QUESTIONS?
• 1) WHAT IS GENETICS?
• 2) WHAT ARE GENES?
• 3)WHAT ARE CHROMOSOMES?
• 4)WHAT IS DNA?
• 5)HOW DOES A BABY GET HER OR HIS GENES?
• 6)HOW MANY CHROMOSOMES WILL EACH NEW BABY HAVE?
• 7)WHAT IS HEREDITY?
• 8)WHAT IS A TRAIT?
• 9)HOW IS A BABY'S SEX DETERMINED?
• CHROMOSOME - A THREADLIKE STRUCTURE OF NUCLEIC ACIDS AND PROTEIN FOUND IN THE
NUCLEUS OF MOST LIVING CELLS, CARRYING GENETIC INFORMATION IN THE FORM OF
GENES.
• DEOXYRIBONUCLEIC ACID (DNA) : AN EXTREMELY
LONG MACROMOLECULE THAT IS THE MAIN COMPONENT
OF CHROMOSOMES AND IS THE MATERIAL THAT TRANSFER GENETIC
CHARACTERISTICS IN ALL LIFE FORMS, CONSTRUCTED OF TWO NUCLEOTIDE STRANDS COILED
AROUND EACH OTHER IN A LADDER LIKE ARRANGEMENT
WITH THE SIDEPIECES COMPOSED OF ALTERNATING
PHOSPHATE AND DEOXYRIBOSE UNITS AND THE RUNGS
COMPOSED OF THE PURINE AND PYRIMIDINE BASES
ADENINE, GUANINE, CYTOSINE, AND THYMINE
• GENE: A DISTINCT SEQUENCE OF NUCLEOTIDES FORMING PART OF A CHROMOSOME, A UNIT
OF HEREDITY THAT IS TRANSFERRED FROM A PARENT TO OFFSPRING AND IS HELD TO
DETERMINE SOME CHARACTERISTIC OF THE OFFSPRING.
DRAW A CHROMOSOME
DRAW A GENE OF A CHROMOSOME
DRAW A DNA STRIP OF THE GENE
GENES AND HEREDITY
• WHAT IS A TRAIT?
• WHAT IS A DOMINANT TRAIT?
• WHAT IS A RECESSIVE TRAIT?
• WHAT IS A GENOTYPE?
• WHAT IS PHENOTYPE?
• WHAT DOES HOMOZYGOUS MEAN?
• WHAT DOES HETEROZYGOUS MEAN?