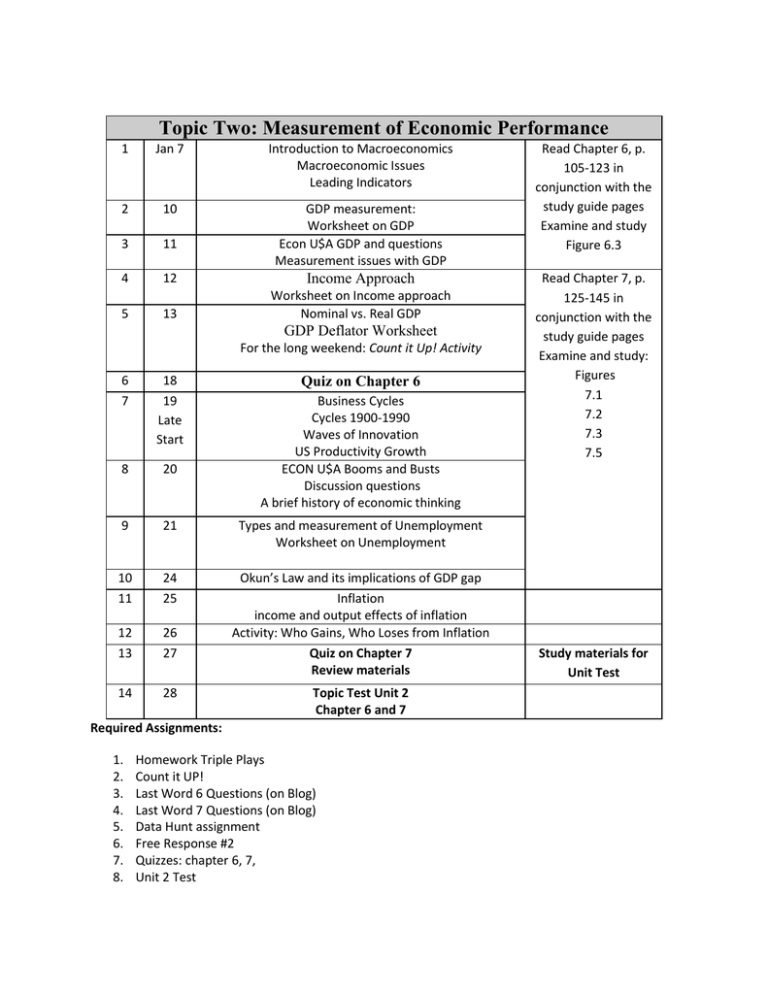 Topic Two: Measurement of Economic Performance
1
Jan 7
Introduction to Macroeconomics
Macroeconomic Issues
Leading Indicators
2
10
3
11
GDP measurement:
Worksheet on GDP
Econ U$A GDP and questions
Measurement issues with GDP
4
12
Income Approach
13
Worksheet on Income approach
Nominal vs. Real GDP
5
GDP Deflator Worksheet
For the long weekend: Count it Up! Activity
Quiz on Chapter 6
6
7
18
19
Late
Start
8
20
9
21
Types and measurement of Unemployment
Worksheet on Unemployment
10
11
24
25
12
13
26
27
Okun's Law and its implications of GDP gap
Inflation
income and output effects of inflation
Activity: Who Gains, Who Loses from Inflation
Quiz on Chapter 7
Review materials
14
28
Business Cycles
Cycles 1900-1990
Waves of Innovation
US Productivity Growth
ECON U$A Booms and Busts
Discussion questions
A brief history of economic thinking
Topic Test Unit 2
Chapter 6 and 7
Required Assignments:
1.
2.
3.
4.
5.
6.
7.
8.
Homework Triple Plays
Count it UP!
Last Word 6 Questions (on Blog)
Last Word 7 Questions (on Blog)
Data Hunt assignment
Free Response #2
Quizzes: chapter 6, 7,
Unit 2 Test
Read Chapter 6, p.
105-123 in
conjunction with the
study guide pages
Examine and study
Figure 6.3
Read Chapter 7, p.
125-145 in
conjunction with the
study guide pages
Examine and study:
Figures
7.1
7.2
7.3
7.5
Study materials for
Unit Test
Measurement of Economic Performance
Topic I: Gross Domestic Product and
National Income Concepts
A. Measuring GDP, 4-Sector Circular Flow
Model, and Flow versus
Stock
1. Expenditure Approach [C+I+G+(XIM)] where
C = Personal Consumption Expenditures
I = Gross Private Investment
G = Government Consumption Expenditures
and Gross Investment
X-IM = Net Exports
2. Income Approach (W+I+R+P) where
W = Compensation of Employees
I = Net Interest
R = Rental Income of Persons
P = Profits
(Non-income adjustments)
3. Problems with calculating GDP—
Nonmarket transactions, distribution, kind
and quality of products.
4. Changing Nominal GDP (NGDP) to
Real GDP (RGDP). How and why?
5. Other national accounts: Net National
Product (NNP), National Income (NI),
Personal Income (PI), and Disposable
Income (DI).
Topic II: Unemployment and Business
Cycles
A. The Roller Coaster — The four phases of the
business cycle
B. Total Spending and How It Affects the
Business Cycle
C. Unemployment — Defined
D. Problems with the Unemployment Rate —
Who is counted and who isn't?
E. Types of Unemployment
1. Seasonal, frictional, structural, cyclical
2. Which type(s) affect the unemployment
rate?
F. Full Employment — What is it? What are the
implications if achieved?
G. The GDP Gap — Explaining lost potential
Topic III: Inflation
A. The Meaning and Measurement of Inflation
B. The Consumer Price Index (CPI) and How It Is
Computed
C. Problems with the CPI
D. Other Indexes: Producer Price Index
E. Consequences of Inflation: shrinking incomes,
changes in wealth, effect on interest rates
F. Demand-Pull and Cost-Push Inflation
Key concepts
1.
2.
3.
4.
5.
6.
7.
8.
9.
10.
Describe the macroeconomic performance in the United States and other countries-GDP,
inflation, unemployment and other indicators
Define Gross Domestic Product by expenditure and income approaches
Distinguish between nominal GDP and real GDP
Explain the limitations of GDP measures in terms of well-being.
Define unemployment; list sources and types
Define labor force participation rate and calculate the unemployment rate
Define the full employment level of GDP
Distinguish between actual and potential GDP
Explain the calculation of price indices—GDP deflator, CPI, PPI
Use price indices to calculate real wages and real interest rates
Graphs to be included in Index Card Stack:
1. Circular flow diagram showing firms, households, and government. Rest of the world may be
included as an option.
2. Demand pull inflation model.