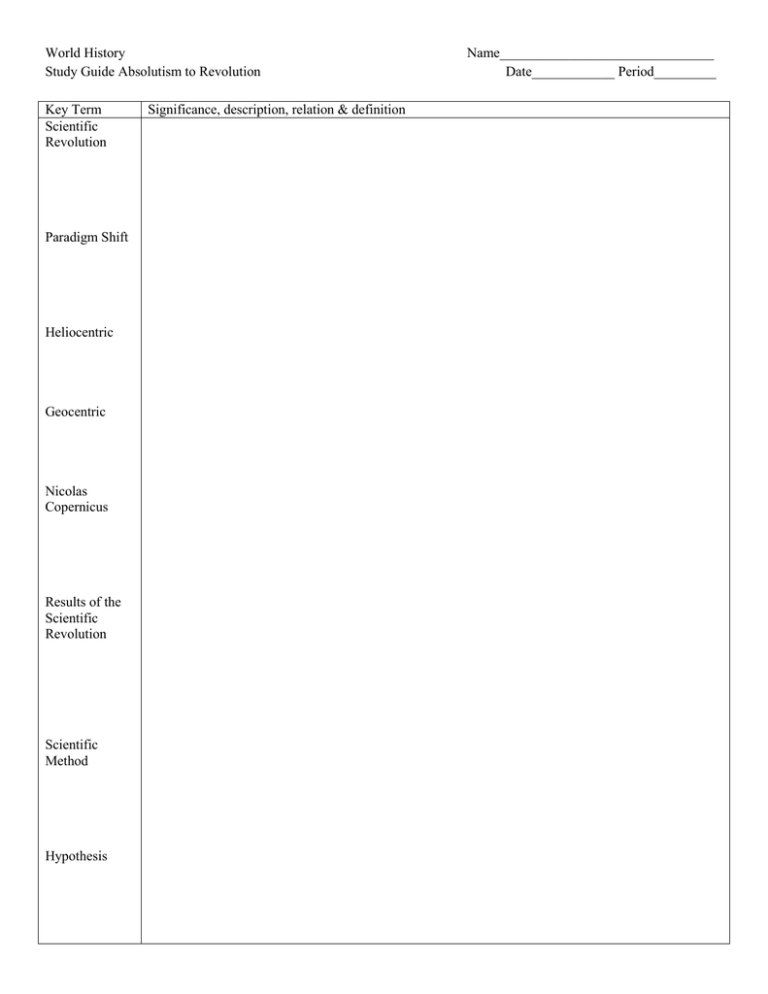 World History
Study Guide Absolutism to Revolution
Key Term
Scientific
Revolution
Paradigm Shift
Heliocentric
Geocentric
Nicolas
Copernicus
Results of the
Scientific
Revolution
Scientific
Method
Hypothesis
Significance, description, relation & definition
Name_______________________________
Date____________ Period_________
Absolute
Monarchy
Elizabeth I of
England
Phillip II of
Spain
Lois XIV of
France
Peter I of
Prussia
The
Enlightenment
Thomas
Hobbes &
Leviathan
John Locke &
Two Treatise
on Government
Voltaire
Rousseau
Montesquieu
Mary
Wollstonecraft
Causes of the
French
Revolution
King Louie
XVI
Marie
Antoinette
1st estate
2nd estate
3rd estate
Tennis Court
Oath
Robespierre &
the Reign of
Terror
Committee of
Public Safety
Impact of the
French
Revolution
Napoleon
Bonaparte
Extended Response Questions
There are 3 extended response questions that deal with the following historical figures
1. Thomas Hobbes & John Locke
2. Louis XVI & Marie Antoinette
3. Napoleon Bonaparte
You should be able to identify, briefly describe and explain their most important actions or the effect they had on their
societies.