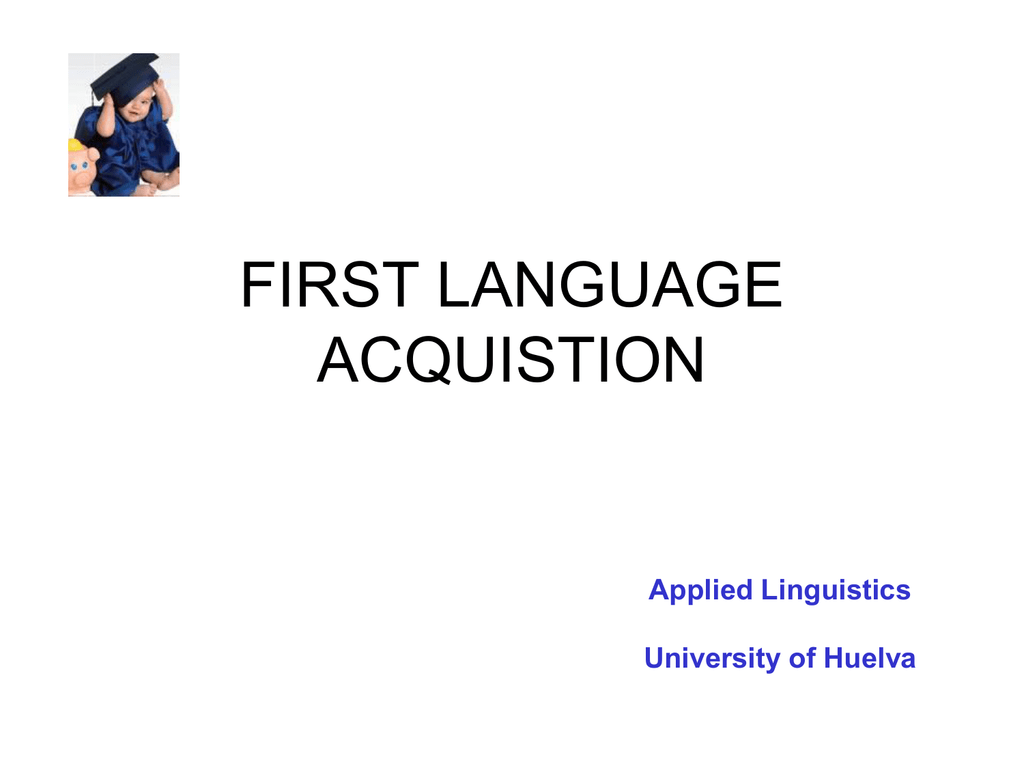 FIRST LANGUAGE
ACQUISTION
Applied Linguistics
University of Huelva
First language acquisition …??
• Do children have to be "taught" how to
speak?
• Do children generate creative
utterances?
• How long does it take a children to
become "fluent" in their native
language?
• What does it mean when a child says "I
seed the dog" or "Daddy eated his
supper" ?
Three theories:
 Behavioristic approach
Nativist approach
Interactionistapproach
Behavioristic approach
1. Operant conditioning: stimulus-response.
2. Mediation theory: linguistic stimulus
elicits a mediating response that is "selfestimulating".
3. Imitation and repetition.
Nativist theories
• Children do not need any kind of formal
teaching to learn to speak.
• Children are born with a natural
capacity to learn language.
• The brain contains systems for
recognizing patterns of sound.
Noam Chomsky's L-A-D
Chomsky's theory of the LAD
(Language Acquisition Device)
states that every human is
born with innate principles of
language.
Children learn language
spontaneously and speak
creatively.
The "poverty of the stimulus
theory" states that what
children hear is incomplete
and often ungrammatical, and
cannot account for the
creativity of their
utterances.
Environmentalist theories
• Environment shapes learning and
behavior
• Children react to their
surroundings
• Children learn language from
– Input
– Trial and error
– Error correction
Interactionist theories:
• Children require
interaction with a caregiver to develop language.
• Children follow the
attention of the caregiver and learn to direct
the attention of the caregiver.
• Communication is 3-way:
child, adult, object.
• Language structure
emerges from language
use.
• How is first language developed?
Nature or nurture?
Systematicity or variability?
Language and thought
Imitation
Critical period hypothesis:
• There is a critical period for language
learning.
• There is no agreement about how long
this sensitive period lasts.
• Genie – the American wild child –
provided evidence that language cannot
be learned after puberty.