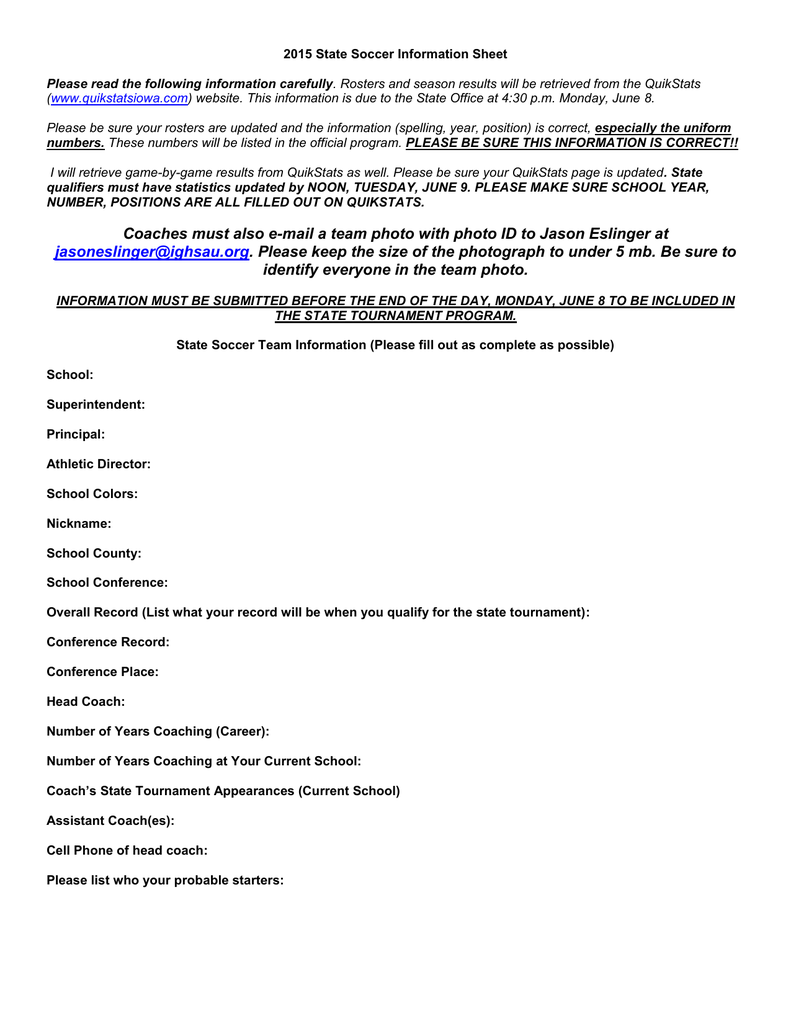 2015 State Soccer Information Sheet
Please read the following information carefully. Rosters and season results will be retrieved from the QuikStats
(www.quikstatsiowa.com) website. This information is due to the State Office at 4:30 p.m. Monday, June 8.
Please be sure your rosters are updated and the information (spelling, year, position) is correct, especially the uniform
numbers. These numbers will be listed in the official program. PLEASE BE SURE THIS INFORMATION IS CORRECT!!
I will retrieve game-by-game results from QuikStats as well. Please be sure your QuikStats page is updated. State
qualifiers must have statistics updated by NOON, TUESDAY, JUNE 9. PLEASE MAKE SURE SCHOOL YEAR,
NUMBER, POSITIONS ARE ALL FILLED OUT ON QUIKSTATS.
Coaches must also e-mail a team photo with photo ID to Jason Eslinger at
[email protected] Please keep the size of the photograph to under 5 mb. Be sure to
identify everyone in the team photo.
INFORMATION MUST BE SUBMITTED BEFORE THE END OF THE DAY, MONDAY, JUNE 8 TO BE INCLUDED IN
THE STATE TOURNAMENT PROGRAM.
State Soccer Team Information (Please fill out as complete as possible)
School:
Superintendent:
Principal:
Athletic Director:
School Colors:
Nickname:
School County:
School Conference:
Overall Record (List what your record will be when you qualify for the state tournament):
Conference Record:
Conference Place:
Head Coach:
Number of Years Coaching (Career):
Number of Years Coaching at Your Current School:
Coach's State Tournament Appearances (Current School)
Assistant Coach(es):
Cell Phone of head coach:
Please list who your probable starters:
Information about your team you would like to include in the program and possibly on TV: Include any highlights
about your coach (milestones achieved), players (college signees, etc) or interesting tidbits about your team (most wins
in school history, first ever state appearance, etc) that you think would be interesting to include in this year's program,
please include below.) Feel free to include as much as you would like – space may not permit me to include everything
submitted, but too much information is better than not enough.
WHEN YOU ARE COMPLETED WITH THIS FORM, SAVE, THEN E-MAIL AS AN ATTACHMENT TO JASON
ESLINGER ([email protected]).