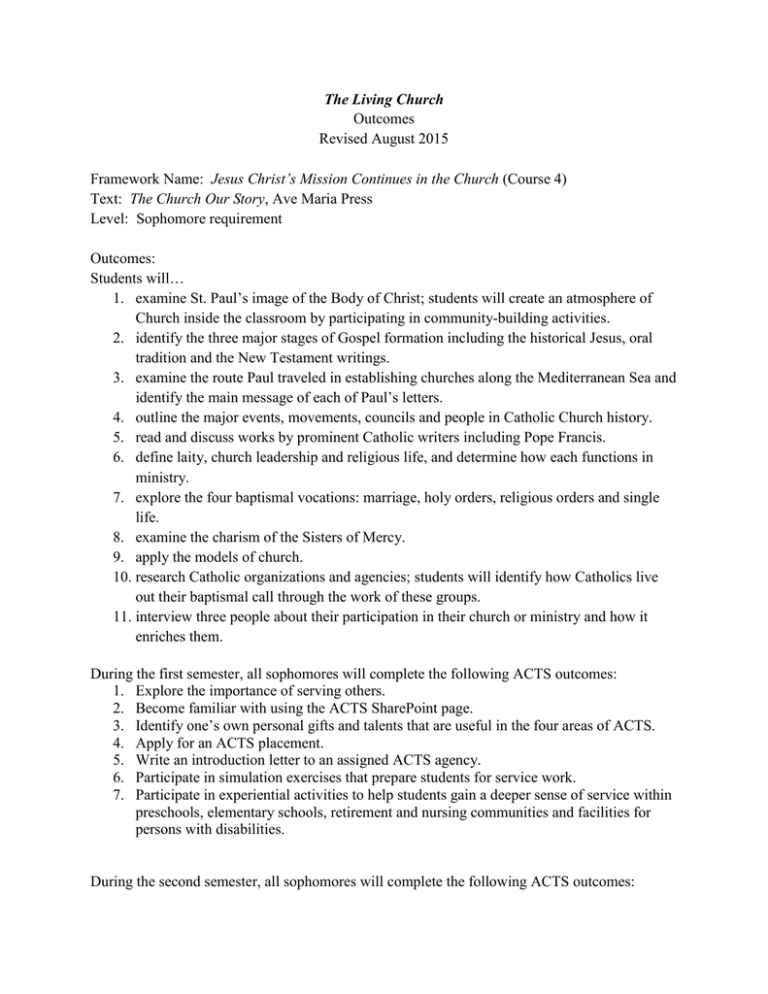 The Living Church
Outcomes
Revised August 2015
Framework Name: Jesus Christ's Mission Continues in the Church (Course 4)
Text: The Church Our Story, Ave Maria Press
Level: Sophomore requirement
Outcomes:
Students will…
1. examine St. Paul's image of the Body of Christ; students will create an atmosphere of
Church inside the classroom by participating in community-building activities.
2. identify the three major stages of Gospel formation including the historical Jesus, oral
tradition and the New Testament writings.
3. examine the route Paul traveled in establishing churches along the Mediterranean Sea and
identify the main message of each of Paul's letters.
4. outline the major events, movements, councils and people in Catholic Church history.
5. read and discuss works by prominent Catholic writers including Pope Francis.
6. define laity, church leadership and religious life, and determine how each functions in
ministry.
7. explore the four baptismal vocations: marriage, holy orders, religious orders and single
life.
8. examine the charism of the Sisters of Mercy.
9. apply the models of church.
10. research Catholic organizations and agencies; students will identify how Catholics live
out their baptismal call through the work of these groups.
11. interview three people about their participation in their church or ministry and how it
enriches them.
During the first semester, all sophomores will complete the following ACTS outcomes:
1. Explore the importance of serving others.
2. Become familiar with using the ACTS SharePoint page.
3. Identify one's own personal gifts and talents that are useful in the four areas of ACTS.
4. Apply for an ACTS placement.
5. Write an introduction letter to an assigned ACTS agency.
6. Participate in simulation exercises that prepare students for service work.
7. Participate in experiential activities to help students gain a deeper sense of service within
preschools, elementary schools, retirement and nursing communities and facilities for
persons with disabilities.
During the second semester, all sophomores will complete the following ACTS outcomes:
1. Examine the legal restrictions found within the four areas of service.
2. Share insights gained by working at an ACTS agency.
3. Research an assigned ACTS agency.
4. Actively participate in service at an assigned ACTS agency.
5. Identify responsibilities and goals while participating at an ACTS agency.
6. Create an original poem/prayer inspired by the students' involvement at an agency.
7. Provide a minimum of 2-3 pictures from an assigned ACTS agency.
8. Submit two pictures to the ACTS office for the closing video.
9. Plan and implement an ACTS activity.
10. Write an essay summarizing the ACTS experience.
11. Complete eleven reflections on the ACTS experience.
12. Maintain and submit ACTS portion of the Faith Journey Binders.
13. Evaluate the ACTS experience.
14. Participate in the ACTS closing prayer service.