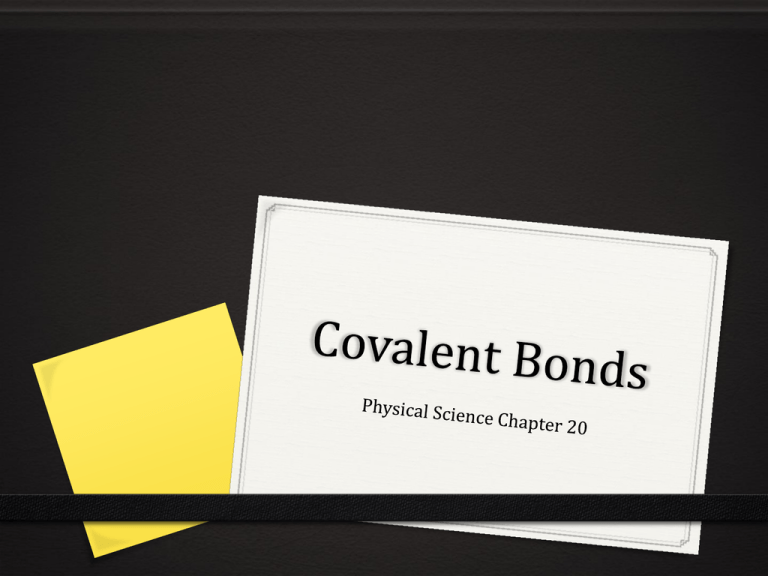 Covalent Bonds
 The attraction that forms between atoms when they share
electrons is known as a covalent bond.
A neutral particle that forms as a result of electron sharing
is called a molecule
A covalent bond forms between two nonmetals most
often.
 This happens because the elements
are close together in the periodic table.
Covalent Bond
 Atoms sharing one set of electrons forms a single
bond
Atoms can share more than one set of atoms to form
multiple bonds
Polarity
Molecules do not always share electrons equally
Depends on the:
Size of the atom
Charge of the nucleus
Total number of electrons the atom contains
Naming Covalent Compounds
Electron Sharing
You'll need to know these prefixes
Number of atoms
Prefix
1
Mono-
2
Di-
3
Tri-
4
Tetra-
5
Penta-
6
Hexa-
7
Hepta-
8
Octa-
Naming Binary Covalent Compounds
1. Write the name of the first element in the formula.
2. Then add the appropriate prefixes to say how many you have
of each.
CO2
Carbon (no prefix since it has a subscript of 1)
3. Write the name of the second element with the ending of –ide
with the appropriate prefix to say how many you have.
Oxygen = Oxide = dioxide
All together = Carbon dioxide
Special Notes:
 The last vowel of a prefix is dropped if the element begins with
a vowel
 Often the prefix mono - will be omitted for the first element.
Name these compounds
1. N2O
2. CF4
3. The chemical formula for water?
Answers
01. dinitrogen oxide
02. carbon tetrafloride
03. dihydrogen monoxide
More hints-Covalent compounds
0 Use the full name of the more metallic element
element (the one closest to the left side of the
periodic table)
0 Use the root with the less metallic element
(the one more on the right)
0 Covalent & Molecular compounds are the
same thing.
0 Tend to be liquids or gasses at room
temperature.