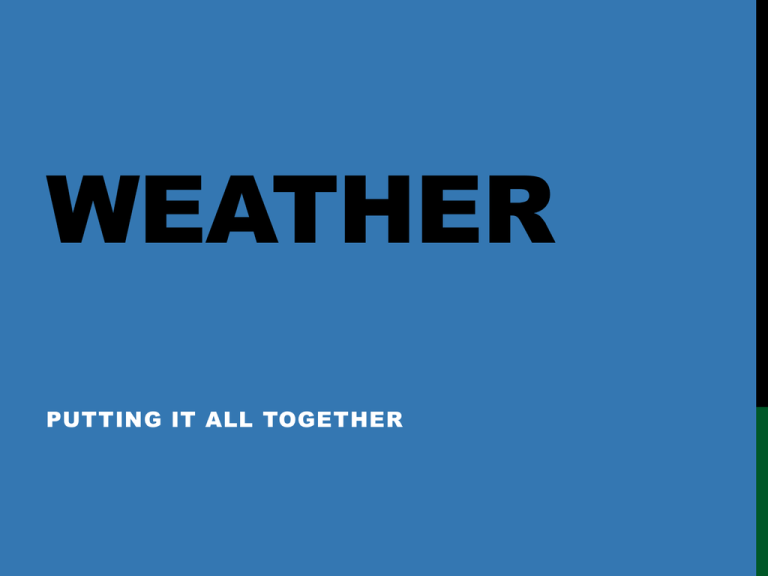 WEATHER
PUTTING IT ALL TOGETHER
FIRST,
WHAT DID
WE LEARN
SO FAR?
ON THE FOLLOWING
SLIDES…
There will be a 1 minute think session.
Then, a 1 minute talk session.
A group will be randomly selected.
Each member of the group must answer a question.
Correct answers are worth 1 point.
THE ATMOSPHERE
I will evaluate the effect humans have on
the atmosphere.
 1. The atmosphere is divided up …
 2. The Earth is naturally warmed by …
 3. Global warming is …
 4. A question you could investigate is …
EARTH'S MOTION AND SEASONS
I will analyze the seasonal changes in each
hemisphere.
 1. The difference between rotation and
revolution is …
 2. Earth's axis is tilted at …
 3. Seasons on Earth occur because …
 4. We would experience one extreme
season if …
WATER IN THE ATMOSPHERE
I will analyze the effects of humidity on the
atmosphere, including cloud formation and
precipitation.
 1. Types of precipitation include …
 2. Clouds form when …
 3. A high relative humidity means …
 4. Renovations at LV affect the water
cycle by …
THE WEATHER WATCH
PROJECT TAUGHT YOU
THAT…
 The type of cloud is an indicator of weather.
 Give an example.
 Rain and humidity meant a drop in air pressure.
 Why?
 Weather tends to move in the same direction
across the USA.
 Which direction?
 Forecasting is tricky.
 Why?
DRAW A STATION MODEL
FOR CURRENT
CONDITIONS IN P'VILLE.
sample
THE FACTORS THAT
AFFECT WEATHER
PROJECT TAUGHT US…
 Humidity vs. Pressure
 Pressure vs. Temperature
 Humidity vs. Temperature
 Wind speed vs. Pressure
100
32
31
80
30
60
29
humidity%
40
28
pressure (in)
27
20
26
0
25
1
3
5
7
9 11 13 15 17 19 21 23 25 27 29 31
ON THE FOLLOWING
SLIDES OF NEW STUFF…
Sit with your teams and get your notebooks out.
LEARNING TARGET
I WILL ANALYZE THE EFFECTS THAT
CHANGES IN AIR PRESSURE HAVE ON
DIFFERENT LOCATIONS.
AIR
PRESSURE
J S Miller
Bill Nye
1. THE BASICS
o What is air pressure?
o The weight of the atmosphere as it pushes down on
Earth's surface
o How is air pressure measured and what is standard?
o A barometer measures air pressure in the following
units:
o
o
o
o
14.7 pounds per square inch
29.92 inches or 760 mm of Mercury
1013.2 millibars or about 1 bar
1 atm
At
Sea
Level
2. UNDERSTANDING
o What makes air pressure change?
o Humidity makes it decrease.
o Temperature makes it decrease.
o Wind makes it decrease.
o What makes the wind blow?
o The greater the pressure gradient, the stronger the wind.
o In other words, the greater the change in air pressure
between two locations the stronger the wind.
o WIND – the movement of air from high to low pressure
AIR PRESSURE IS SHOWN ON AN ISOBAR MAP.
WIND TENDS TO
Clockwise out
C. Clockwise in
3. SO WHAT?
o What are the purposes of isobars?
o Isobars show areas of equal pressure.
o High and low pressure systems can be identified.
o Wind direction can likely be determined.
o What can you conclude from the previous map?
CHECK FOR UNDERSTANDING
Answer me,
these
questions 3.
TAKE YOUR
TEAM TO A
NEW TABLE
1 MINUTE
LEARNING TARGET
I WILL PREDICT THE WIND CONDITIONS
FOR A GIVEN LOCATION.
WIND
1. THE BASICS
o What is the Coriolis Effect?
o The tendency of an object moving freely over Earth's
surface to curve away from its path of travel.
o What is the jet stream?
o A large, fast band of swiftly moving air in the upper
troposhere
o Our jet stream moves from west to east.
o Is the jet stream a result of a local wind or global
wind?
o Global wind
Do you know when the jet stream was discovered?
2. UNDERSTANDING
o Earth has different climates because…
o The topography and locations of water are different.
o The sun heats the Earth unevenly.
o Put an X next to the correct statement(s).
o ___ Air rises at the poles.
o ___ Air rises at the equator.
o ___ Air rises at our latitude (39 N).
3. SO WHAT?
o What flight is more efficient? Why?
o LA to DC
or
DC to LA
or
It doesn't matter.
o LA to DC is shorter and uses less fuel because it is with
the Westerlies wind belt and the jet stream.
o Explain how wind changes from day to night at the shore.
In other words, draw a sea breeze, then a land breeze.
o See next slides
CHECK FOR UNDERSTANDING
Answer me,
these
questions 3.
TAKE YOUR
TEAM TO A
NEW TABLE
1 MINUTE
LEARNING TARGET
I WILL INFER THE TYPE OF WEATHER THAT
PARTICULAR AIR MASSES CAN BRING.
AIR
MASSES
1. THE BASICS
o What characteristics could an air
mass have?
o Temperature
o Moisture
2. UNDERSTANDING
o Describe the following air masses.
o Continental polar (cP)
o Dry and cold
o Continental tropical (cT)
o Dry and warm
o Maritime polar (mP)
o Moist and cold
o Maritime tropical (mT)
o Moist and warm
o Continental arctic (cA)
o Dry and really cold
3. SO WHAT?
o How can a cP air mass bring clear
weather to one region while causing
heavy snow in another?
o cP air is cold and dry and thus brings
clear, cold weather to some regions.
o If cP air travels over water, however, its
moisture increases and it can cause
snow.
Do these result in high pressure or low pressure?
LEARNING TARGET
I WILL MAKE A WEATHER FORECAST BASED
ON FRONT INFORMATION.
FRONTS
1. THE BASICS
o What is a front?
o The boundary that separates opposing air
masses
o Name the types of fronts and include their map
symbols.
2. UNDERSTANDING
o What is the result of each of the front
types?
o See the next several slides
3. SO WHAT?
o A mid-summer cold front is currently in Ohio
and moving with the jet stream upper air flow in
the upper troposphere. What type of weather
will that likely bring us in a day or so? And
would this be welcomed by farmers?
o Thunderstorms are expected.
o If they are currently in a dry spell, the
thunderstorms might be welcomed, however, a
warm front or stationary front that brings a
prolonged, steady rain is best.
OVERVIEW VIDEO
CLICK HERE.
Logon to Safari Montage with your ID and p'word.