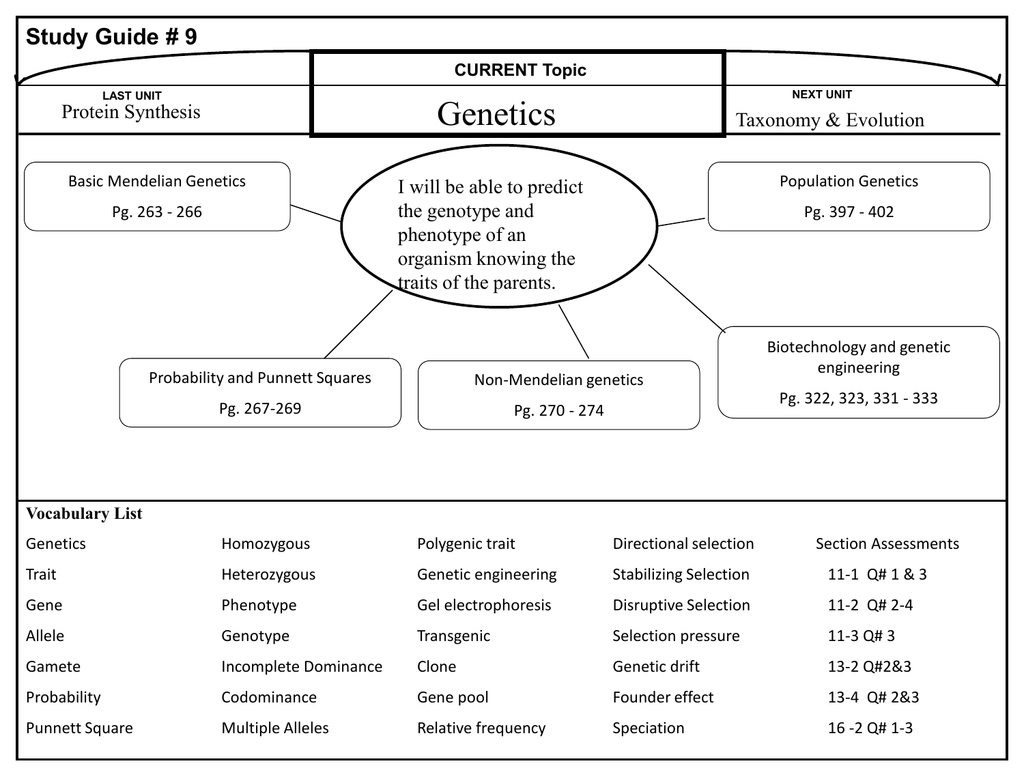 Study Guide # 9
CURRENT Topic
LAST UNIT
NEXT UNIT
CURRENT UNIT
Genetics
Protein Synthesis
Basic Mendelian Genetics
Pg. 263 - 266
Taxonomy & Evolution
Population Genetics
I will be able to predict
the genotype and
phenotype of an
organism knowing the
traits of the parents.
Pg. 397 - 402
Probability and Punnett Squares
Non-Mendelian genetics
Pg. 267-269
Pg. 270 - 274
Biotechnology and genetic
engineering
Pg. 322, 323, 331 - 333
Vocabulary List
Genetics
Homozygous
Polygenic trait
Directional selection
Section Assessments
Trait
Heterozygous
Genetic engineering
Stabilizing Selection
11-1 Q# 1 & 3
Gene
Phenotype
Gel electrophoresis
Disruptive Selection
11-2 Q# 2-4
Allele
Genotype
Transgenic
Selection pressure
11-3 Q# 3
Gamete
Incomplete Dominance
Clone
Genetic drift
13-2 Q#2&3
Probability
Codominance
Gene pool
Founder effect
13-4 Q# 2&3
Punnett Square
Multiple Alleles
Relative frequency
Speciation
16 -2 Q# 1-3
Things you need to know for the test
1. Distinguish between genes and alleles.
2. Be able to correctly set up and interpret a Punnett Square using a
word problem: If a homozygous tall pea plant is crossed with a
homozygous short pea plant, what is the genotypic and phenotypic
ratio?
3. Distinguish between genotype and phenotype.
4. Understand the difference between complete dominance, incomplete
dominance and co dominance. Give an example of each and solve
Punnett Squares for each.
5. What do scientists use electrophoresis for in the study of DNA?
6. What is a transgenic organism? How have transgenic organisms been
useful?
7. What is a clone?
8. What is selection pressure? Give an example.
9. What is relative frequency? Give an example.
10.List the types of isolation that cause speciation.
11.Describe speciation.
12.What is a bell curve?
13.Draw each type of selection bell curve.
14.Be able to tell what type of selection is happening in word problems.