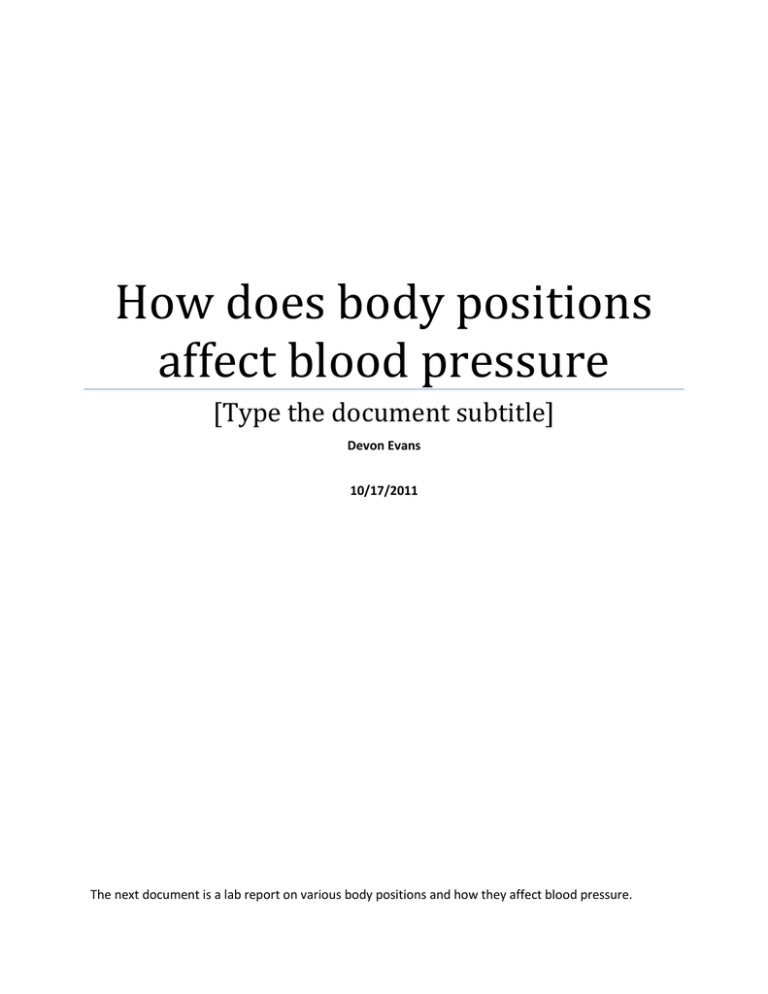 How does body positions
affect blood pressure
[Type the document subtitle]
Devon Evans
10/17/2011
The next document is a lab report on various body positions and how they affect blood pressure.
Lab Report
Problem statement: how does laying down affect my blood pressure?
Hypothesis: if we lie down on our backs then our blood pressure will decrease because are body
isn't doing any harsh work or moving, it's in a rested position.
Independent variable: laying down on our backs
Dependent variable: our blood pressure change
Controls: The controls of this experiment is our body position where going to do for the trials,
and resting position. Other controls are how we take our blood pressure, the time we lay on our
backs as a trial for. The way we lay down on our backs.
Materials
1.
2.
3.
4.
5.
An arm cuff to measure your blood pressure with.
A computer
2 desks to lay on top of or somewhere to lay flat on your back for the experiment
Clock or a timer to record how long your resting and trials are
Censor Daq
Procedure
1. First you want to gather materials.
2. Second hook up the arm cuff blood pressure measurer to the censor Daq, making sure it's
on channel one.
3. Next you want to hook up the censor Daq to the computer and pull up the program that
gives you measurements for blood pressure.
4. Now you want to make a graph for your data to be recorded on. (Make sure there's
enough room for at least 2-3 trials and resting positions.)
5. Put the 2 desks together so you lie on top of, or find a free space in your area that has
enough space to where you can lie down on your back comfortably.
6. Before you start to begin your trials you must do a resting trial sitting down in a chair for
4 minutes before you can begin your trial. Do this before each trial you start.
7. Make sure you have enough resting time typically before switching to trial then to
resting. (Preferably 1-3 minutes as a rest time.)
8. Record your trials and resting blood pressure on a graph.
Trial 1
Resting 1
Trial 2
Resting 2
Trial 3
Resting 3
112/80
96/71
141/88
107/73
120/88
110/87
My first resting heart rate was 99/70
Blood pressure
160
140
120
systolic
100
diastolic
systolic
80
diastolic
60
systolic2
diastolic2
40
20
0
rest trials
trial 1,2,3
Conclusion
My hypothesis was incorrect because for each and every trial I done it was more than the resting
rate. It was wrong because when I did my trials they were more than my resting trials which
meant that body position matters and will change your blood pressure by a lot. My results for the
resting and trial 1 were 99/70(Which was the resting) and the trial was 112/80 which proved my
hypothesis wrong. It was like that the rest of my trials on the graph my trials where always
higher than my resting.