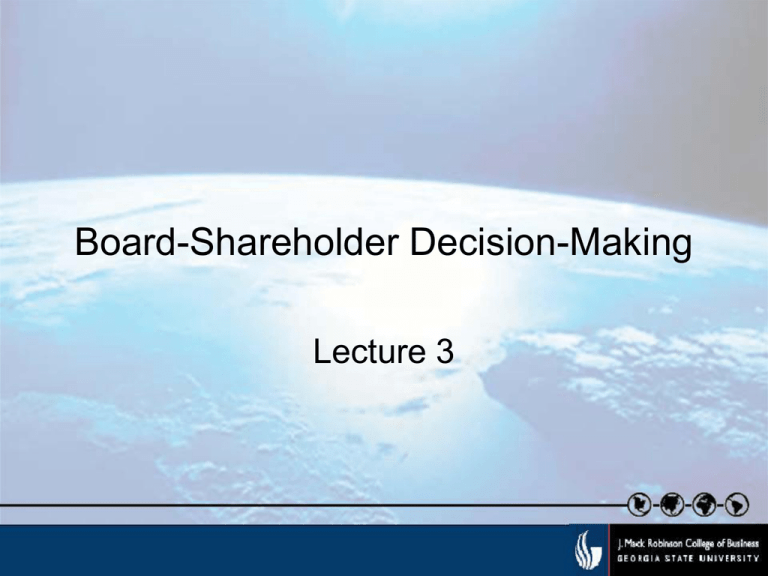 Board-Shareholder Decision-Making
Lecture 3
Boards-Shareholders-Management
What Do They Want in a CEO?
•
•
•
•
•
•
Vision?
Customer-centric?
Operating expertise?
Acquisitions/Divestitures?
Partnerships/Alliances?
Ability to Attract and Retain Talent?
– Enable others
– Build organizational relationships
• Intelligence?
Characteristics of Superior Leaders
•
•
•
•
•
•
Honesty?
Sets and communicates vision?
Business insight and strategy?
Inspiring?
Courageous?
Intelligent?
Characteristics of Superior Boards
• Attentive to "Independence"?
• Diversity of leadership experiences, functional
experiences, industry and geographic
perspectives?
• Strong on processes for making key "decisions"
• Understands the business-credible with
management?
• Good board chemistry and dynamics?
• Effective Board leadership?
• Sensitive to shareholder issues?
Financial Times Report
2002
• Of the 1500 NYSE listed companies
– 13% of the companies did not comply with the
rule that at least 51% of the board be
independent
– 52% of the companies did not comply with the
rule that independent directors comprise twothirds of a board
– Very few companies had strong leadershipIndependent chairman, lead or presiding
directors
Who Should Select
Corporate Directors?
•
•
•
•
Shareholders?
CEO/Management?
Independent Directors?
Others?
What Happens When A Crisis OccursWho's In Charge?
•
•
•
•
•
•
•
•
Real or threatened Legal Action
Government agitation
Activists shareholder agitation-individual
Institutional shareholder agitation
– Pension Funds
– Mutual Funds
– Hedge/Funds or Private Equity Funds
Unsolicited or hostile takeover offer
Whistleblower allegation
– Fraud
– HR Issues
Continuous poor performance
Product tampering or defect issue
Top Shareholder Issues
• Declassify Board of Directors
• Majority Voting
• Submit Shareholder rights plan to shareholders
(poison pill)
• Limit Executive Compensation
– Eliminate or reduce contributions to SERPs
• Expense Stock-based compensation
• "Sell the Company"
• Adopt a "Green" Strategy
Unsolicited Takeover Offer
Board-Management Process
• Management's view of "value"
– Future value to be produced by the strategic planMetrics?
• Bankers' view of "value"
– Assessment of management's plan-Metrics?
– Assessment of alternatives-Metrics?
• Decision?
– Reject the offer, stay the course
– Explore strategic alternatives
• One-on-one
• auction
SOX-Whistleblower Protection
"Now a federal offense punishable with
penalties up to10 years to retaliate against
anyone who provides truthful information
to law enforcement relating to the SEC or
possible federal offense."
Board Structure Dilemmas
• Number of members?
• Number and mix of committees?
–
–
–
–
Audit?
Compensation?
Governance and Nominating?
Others?
• Process decision-making?
– Board appointments
– Committee appointments
• Special Committee formation?