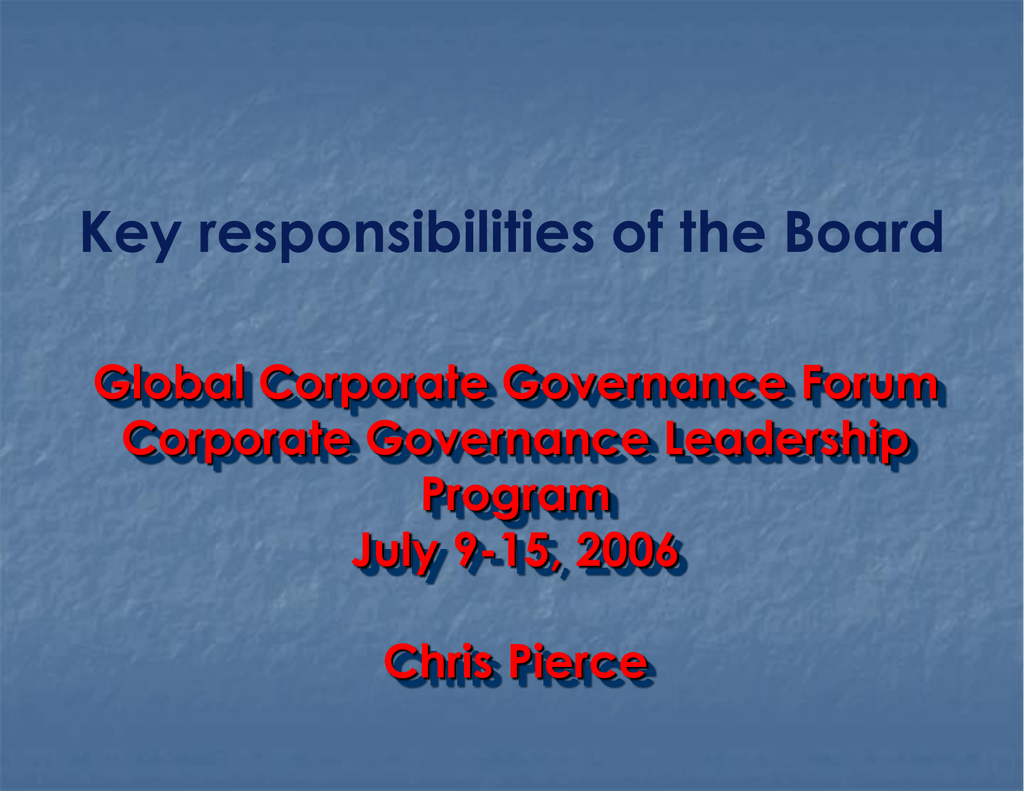 Key responsibilities of the Board
Global Corporate Governance Forum
Corporate Governance Leadership
Program
July 9-15, 2006
Chris Pierce







Monitoring management
Hiring and evaluating executives
Motivation and compensation
Ensuring compliance with the law
Monitoring relations with stakeholders
Strategic planning
Managing risk
The Board's Key Purpose
To ensure the company's prosperity by
collectively directing the company's
affairs, whilst meeting the appropriate
interests of its shareholders and relevant
stakeholders
Key Tasks of the Board

FORESIGHT
-
Establish Vision, Mission and Values

STRATEGIC THINKING -
Set Strategies and Structure

OVERSIGHT
-
Delegate to management

RESPONSIBILITY
-
Exercise accountability to
shareholders and be
responsible to relevant
stakeholders
Exercising
accountability
and
responsibility
Foresight
Delegation
to
Management
Strategy
and
Structure
All-Executive Board
Governance
Management
Executive Directors
Majority Executive Board
Governance
Management
Executive Directors
Non- Executive Directors
Majority Non-Executive Board
Governance
Management
Executive Directors
Non- Executive Directors
Reserved Powers
Accounting

and management control policies and practices
Director and senior manager appointments, removals,
terms, conditions etc
• Auditor issues
• Communications to shareholders and the media
• Dividend payments
Disposal
or acquisition of major assets

Major contracts and investments

Authority levels

Treasury, risk management and capital policies

Budgets, strategies, mission and vision
Features of a well run board







Have a good balance of well-chosen and
competent directors
Meet regularly
Have challenging agendas
Keep minutes correctly
Shape the destiny of the company
Focus on the four key tasks of the board
Have board induction, inclusion, competence
building and evaluation / appraisal systems in
place.
Features of a poorly run board








Be too big or too small
Have insufficient range of expertise
Be provided with inadequate information.
Take major decisions with inadequate debate or
no challenge.
Have decisions made by cabals of the board
Have few reviews to see if the decisions were
correct or not
Fail to push management hard on succession,
investment (including training), R&D, product or
market development
Fail to keep the company's financing
arrangements under review.
Roles of a Director












Decision maker
Challenger
Supervisor of executive management
Reflective
Listener
Process manager
Knowledge provider
Developer
Company representative
Maverick
Representative
Status provider
Those who advance most rapidly to the top are:
 effective planners and organisers who take actions
involving clear risk;
 show vision, inspiration, commitment and enthusiasm;
 who develop, appraise, direct and take charge of
their staff;
 who are ascendant, forceful and decisive and who set
demanding goals for self and others,
 see things through to completion, play to win and who
are determined to beat others.

Dulewicz and Herbert (1999) p20
"Many academics and consultants,
however, will be disappointed to learn that
performance on some of the softer
competencies and personality factors
concerned with, for example,
interpersonal relationships and integrity
does not appear to lead to rapid
advancement to the top.
The high fliers appear to be rather hard
nosed, calculating individuals."

Dulewicz and Herbert (1999) p20
Independent Directors (UK definition)
An independent director in a listed company should not :

Be a former employee of the company or group within the last five
years;

have, or have had within the last three years, a material business
relationship with the company either directly, or as a partner,
shareholder, director or senior employee of a body that has such a
relationship with the company;

have received or receives additional remuneration from the
company apart from a director's fee, participates in the company's
share option or a performance-related pay scheme, or is a member
of the company's pension scheme;

have close family ties with any of the company's advisers, directors
or senior employees;

hold cross-directorships or has significant links with other directors
through involvement in other companies or bodies;

represent a significant shareholder; or

have served on the board for more than nine years.
Combined Code A3.1 (2003)
Board Evaluation
Internal v external
 ISS, S&P, ICSA, Deutsche Bank
 Chairman, CG Committee
Process of evaluation
 Prescriptive box ticking
 How much transparency?
 Does it change anything?
Annual Board Agenda Cycle
The Balanced Scorecard




Financial perspective
Customer perspective
Internal perspective
Learning and development
perspective
Kaplan and Norton

An effective board can provide an
important source of competitive edge
to the company.