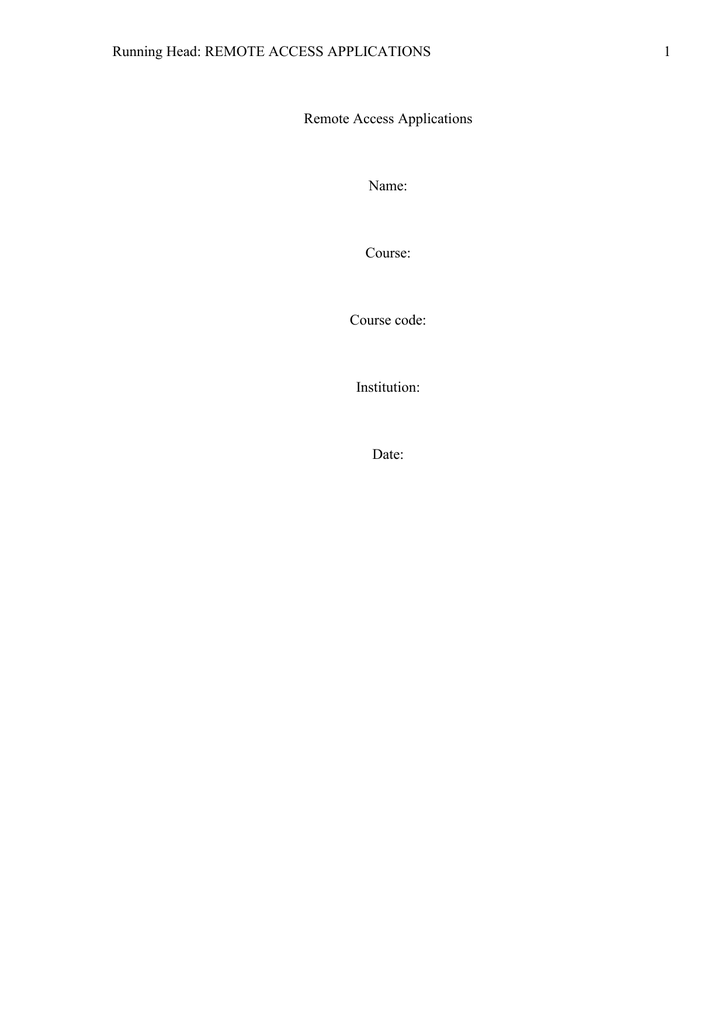 Running Head: REMOTE ACCESS APPLICATIONS
Remote Access Applications
Name:
Course:
Course code:
Institution:
Date:
1
REMOTE ACCESS APPLICATIONS
2
Remote Access Applications
Remote access applications allows users to share information and data from one
computer device to another and also the individuals can remotely get access to their computers or
others within the organization. Many organizations have reformed the manner in which they
operate their businesses since they are targeting an increasingly mobile and a global workforce.
They therefore accessing more cost effective and secure remote access become highly crucial in
order to extend their networks to clients, business partners, branch offices and/or telecommuters.
Virtual Private Network is a secure connection created towards or from a computer
device or a network utilizing resilient restrictions and encryption methods for private access to
data. This enables the data to be secure guarding it against various other users that operate within
this underlying network, since it could be a publicly accessed network such as the internet
(Stewart, J. M. 2010).. They are widely used due to their robust (encrypted) form and fast
interface. Common VPNs used are;

Site-to-site VPN
This type of VPN implements security by enabling various organizational sites to liaise
together and forming a VPN from their individual real network. Encryption routing and
decryption for site to site VPN is carried out by the routers on separate ends.

Pont-to-Point Tunneling Protocol
This is the VPN mostly used since it allows remote user with authorization to access the
VPN network through an internet connection after which using password authentication, they
can sign into the network.
Apart from these two, other types are IPsec, SSL (Secure Socket Layer), MPLS (MultiProtocol Label Switching), among other types. Another type of a Remote Access Application is
the Dial-up networking. This utilizes telecommunication providers' services to make temporary
dial-up connections by the remote access users to the physical access on the remote access
REMOTE ACCESS APPLICATIONS
3
server. These remote access applications are however prone to access control threats such as
DoS and DDoS attacks. Such access could be through malware sent to unsuspecting personnel to
collect information and data when the servers are under attack from unwanted traffic (Stewart, J.
M. 2010).
REMOTE ACCESS APPLICATIONS
4
References
Stewart, J. M. (2010). Network security firewalls & VPNs. Mississauga, Ont: Jones & Bartlett
Learning.