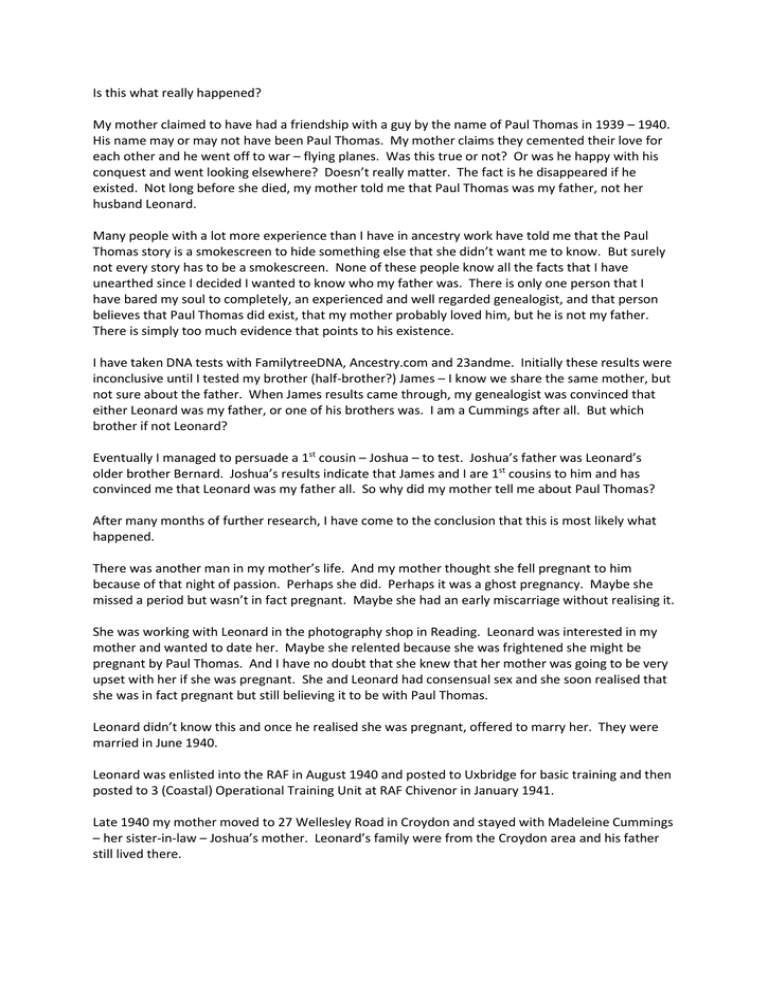 Is this what really happened?
My mother claimed to have had a friendship with a guy by the name of Paul Thomas in 1939 – 1940.
His name may or may not have been Paul Thomas. My mother claims they cemented their love for
each other and he went off to war – flying planes. Was this true or not? Or was he happy with his
conquest and went looking elsewhere? Doesn't really matter. The fact is he disappeared if he
existed. Not long before she died, my mother told me that Paul Thomas was my father, not her
husband Leonard.
Many people with a lot more experience than I have in ancestry work have told me that the Paul
Thomas story is a smokescreen to hide something else that she didn't want me to know. But surely
not every story has to be a smokescreen. None of these people know all the facts that I have
unearthed since I decided I wanted to know who my father was. There is only one person that I
have bared my soul to completely, an experienced and well regarded genealogist, and that person
believes that Paul Thomas did exist, that my mother probably loved him, but he is not my father.
There is simply too much evidence that points to his existence.
I have taken DNA tests with FamilytreeDNA, Ancestry.com and 23andme. Initially these results were
inconclusive until I tested my brother (half-brother?) James – I know we share the same mother, but
not sure about the father. When James results came through, my genealogist was convinced that
either Leonard was my father, or one of his brothers was. I am a Cummings after all. But which
brother if not Leonard?
Eventually I managed to persuade a 1st cousin – Joshua – to test. Joshua's father was Leonard's
older brother Bernard. Joshua's results indicate that James and I are 1st cousins to him and has
convinced me that Leonard was my father all. So why did my mother tell me about Paul Thomas?
After many months of further research, I have come to the conclusion that this is most likely what
happened.
There was another man in my mother's life. And my mother thought she fell pregnant to him
because of that night of passion. Perhaps she did. Perhaps it was a ghost pregnancy. Maybe she
missed a period but wasn't in fact pregnant. Maybe she had an early miscarriage without realising it.
She was working with Leonard in the photography shop in Reading. Leonard was interested in my
mother and wanted to date her. Maybe she relented because she was frightened she might be
pregnant by Paul Thomas. And I have no doubt that she knew that her mother was going to be very
upset with her if she was pregnant. She and Leonard had consensual sex and she soon realised that
she was in fact pregnant but still believing it to be with Paul Thomas.
Leonard didn't know this and once he realised she was pregnant, offered to marry her. They were
married in June 1940.
Leonard was enlisted into the RAF in August 1940 and posted to Uxbridge for basic training and then
posted to 3 (Coastal) Operational Training Unit at RAF Chivenor in January 1941.
Late 1940 my mother moved to 27 Wellesley Road in Croydon and stayed with Madeleine Cummings
– her sister-in-law – Joshua's mother. Leonard's family were from the Croydon area and his father
still lived there.
Late 1940 or early 1941 my mother ended up at The Cottage in Knowle, Braunton, near Barnstaple in
North Devon which in fact was not far from RAF Chivenor. This is her address that is recorded on my
birth certificate.
My mother (supposedly) gave birth to me on 3 March 1941 at 19 Alexandra Road in Barnstaple. In
1941, that was the address of the Barnstaple Public Assistance Institution – which was the 1940's
way of describing a Workhouse.
The question I ask is why was I born in Barnstaple? If it was so my mother could be near or with
Leonard at RAF Chivenor – which during WW2 is unlikely – why was I not born at The Cottage in
Knowle with a midwife in attendance or at a local hospital? During WW2 it was rare for a wife to
accompany her husband when he was posted away from home. Or why was I not born in Croydon
where Leonard's family were living? But more importantly, why was I not born in Reading? My
mother's mother and step father lived in a spacious and comfortable terrace house in Reading
within walking distance of a hospital. Seems to me to be the ideal place for me to be born.
I don't have proof of this but I suspect Leonard continued working until he joined the RAF so it's very
likely he and my mother lived in Reading after the marriage. My mother probably shifted to Croydon
after Leonard went to Uxbridge in Middlesex – near London – to do his basic RAF training.
I do believe that when my mother told her mother that she was pregnant, she also told her that she
thought it was by Paul Thomas. My grandmother – who was authoritarian – would have been
mollified that friends and neighbours would find out – bad for the family honour. I have a vague
memory of family or close friends on my grandmother's side in the Devon area. As well as that,
Leonard's younger brother James moved to Barnstaple after he married and his daughter still lives
there. I think it highly likely that my grandmother decided that my mother would have me in
Barnstaple. When friends or neighbours would ask why Barnstaple, my grandmother would have
been able to say that my mother was with Leonard at nearby RAF Chivenor. And if necessary, places
like Public Assistance Institutions would turn a blind eye to dates.
I was either born earlier than 3 March 1941 and the date was fudged, or as it most likely seems, I
was in fact born on 3 March much to my mother's surprise. I do remember my mother's sister
Dorothy telling me that my mother thought I was a very overdue baby. I do think that she thought
that Paul Thomas was my father when in fact Leonard was.
After I was born, and I don't know when, my mother went back to Croydon for a while and then
moved to Reading to 106 Wolseley Street in Coley. Leonard was posted to RAF Kirton in Lincolnshire
in March 1942 and my mother didn't accompany him there, or anywhere else for that matter.
The big question is when did Leonard find out that I wasn't, or perhaps wasn't, his son? And how did
he find out?
At some stage around 1946 something happened at 106 Wolseley Street in Reading and life was
never the same again.
If Paul Thomas had in fact gone off to war as aircrew and been shot down and captured by the
Germans, he would have been repatriated back to England late 1945 after the end of WW2 in
September 1945. I think this man tried to find my mother and when he did, he found that she was
married with a son. His son – or so he thought. At this stage Leonard was still away in the RAF. In
November 1944 Leonard was posted to the Mediterranean Allied Air Force but I don't know where
but almost certainly somewhere in Europe. Then in March 1945 he was posted to 683 Squadron
(Photo Recce) which operated out of Italy. And in September 1945 he was moved to 56 Personnel
Transit Centre based in Italy. From there he went to 1 Release Embarkation Centre on 14 November
1945 – there were several of these centres but the most common one was at Uxbridge in Middlesex,
England. He was discharged from the RAF on 31 January 1946.
My mother's second son was Robert and he was born on 28 August 1946 which means he was
conceived in November 1945 when Leonard was almost certainly away. Robert has told me that
Leonard has confirmed that Robert was not his son. I believe that when Paul Thomas re-appeared
and found that my mother was married, that they had a brief affair before he went out of her life for
good. And he is Robert's father.
How Leonard found out, I do not know. Maybe he came home unexpectedly and found Paul Thomas
there. Leonard didn't drive so didn't have a car. There wasn't a phone in the house at 106 Wolseley
Street. So it is very possible that once Leonard was given some leave to go home to his wife and
family, that he was unable to let my mother know – he simply hopped on a train to Reading and got
a bus to the end of the street. My mother would have been surprised when he walked in – and even
more surprised if she was with Paul Thomas at the time.
Perhaps a neighbour ratted on my mother. But Leonard was not known to the neighbours at that
time. I believe it was most likely that when my mother told Leonard she was pregnant with Robert,
Leonard knew it couldn't have been him as he was away.
I don't have very many memories of my life between 5 and 7 years of age. I do remember being
baptised a Catholic at the age of 7 at Leonard's insistence as I had been baptised as an Anglican
while he was away during the war. At the age of 7, I moved to St James Catholic School in Reading.
My first two years of primary schooling were at Coley Primary School and I have absolutely no
recollection of that school yet it was only a couple of hundred yards away from home and all my
friends went there as well.
What few memories I have at that time are all traumatic memories and one that stands out as
though it was yesterday was when my mother and Leonard were having a terrible argument one day
and I was hiding in the corner of the room watching it. It wasn't nice. Although I remember the
event clearly, I don't remember what the argument was about except I recall Leonard looking at me
in the corner, and pointing his finger at me, and saying "if it wasn't for him, we wouldn't be in this
mess" or words to that effect. When he said that, I ran out of the room.
It was around that time that I realised I could smell gas one day and that it was coming from my
mother's bedroom. The door was locked and when I called out to my mother, she told me to go
away. I went looking for Leonard and found him outside in the garden. When I told him what was
happening, he said he didn't care. I had to beg him to do something and eventually he went inside
the house to their bedroom and kicked the door down. He went inside the room, turned off the gas
tap, opened the window and then hurled abuse at my mother before leaving the room. There was
not a touch of tenderness – it was awful.
Before DNA testing proved to me that I was in fact a Cummings and that either Leonard or one of his
brothers was my father, I went looking for a Paul Thomas. Of course I never found him.
But I did find someone who I thought was a very good candidate – he ticked a lot boxes. His name
was Patrick Ainsley Ward-Thomas and he was in the RAF in Bomber Command. I established contact
with this man's family and discovered that some members of his family lived in Cookham in 1940
which is not far from Reading. One of the family, a 1st cousin, now living in Canada, told me that
Patrick often visited them in Cookham. Seemed to me he might have gone to Reading one day to
have his photo taken and met my mother in the shop. Maybe.
This guy was shot down in 1940 and was a POW until the end of the war.
I asked the cousin in Canada to take a DNA test which she did but I didn't show up anywhere in the
results – but now I know that I couldn't have shown up in the results as Patrick wasn't my father.
What made me think Patrick was a possible father was that he was known in the RAF as Pat Thomas
so his initials were PAWT which could be read as "paw" Thomas or even Paul Thomas. Maybe!
I am going to arrange a DNA test for Robert – the results may be very interesting.