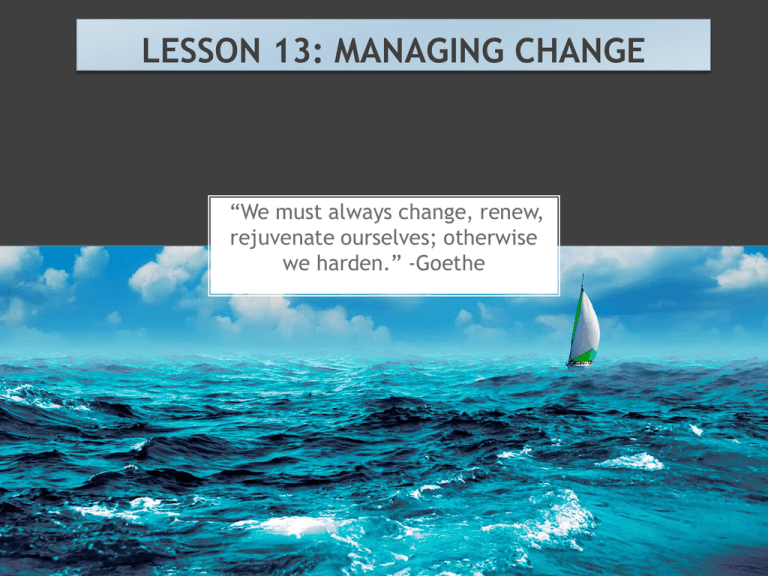 LESSON 13: MANAGING CHANGE
"We must always change, renew,
rejuvenate ourselves; otherwise
we harden." -Goethe
CHANGE
•
•
•
•
We are all human ships on
life's ocean!
Why does the wind have to
change?
Fact: We live in a world of
constant change.
"There is a certain relief
in change, even though it
be from bad to worse! As I
have often found in
traveling in a stagecoach,
that it is often a comfort to
shift one's position, and be
bruised in a new place."
-Washington Irving
1. WHY ARE CHANGES OCCURRING?
1. Change is inevitable.
• Basic condition of the world of
work.
• Technology, nature of work,
and diversity.
• Globalization: business
expansion globally - including
customers, suppliers and
employees.
• Increasing link between
national and regional
economies.
2. Changes resulting from mergers,
takeovers, buyouts, downsizing,
and acquisitions.
1. WHY ARE CHANGES OCCURRING?
3. Nobody will function effectively
without a capacity to plan and
implement change.
• Many changes are viewed as
failures internally.
4. Use of inside task forces or outside
consultants and specialists.
• Initiated by top-level leaders.
• Carried out by mid-level and
first-line leaders.
• Change means different
attitudes and behaviors by the
majority if not all employees.
2. WHAT CREATES ORGANIZATIONAL
CHANGE?
• Change can be initiated from the
inside or the outside.
• New or existing leadership or
new ideas from employees.
• Change can result from customers
or suppliers.
• Also result from the organization's
environment.
• Shifts in legal requirements,
competitors. or market
forces.
• Involving employees is critical for
success.
3. WHAT HAPPENS AS ORGANIZATIONAL
CHANGE IS IMPLEMENTED?
• Change happens on three
levels simultaneously.
1. Organization
2. Department, team or
group
3. Individual
• At organization level
vision or image of change
is required.
• Resources like time
and money are
needed.
• Across all divisions
understanding what the
change means is vital!
3. WHAT HAPPENS AS ORGANIZATIONAL
CHANGE IS IMPLEMENTED?
• Individuals must adjust attitudes
& behaviors, and be willing to
change. (Chameleon)
• Organizations must allocate
resources.
• These all require money and
time.
• Assign leaders to specific
efforts.
• Provide training to
employees.
• Communicating about the
change.
• Soliciting employee feedback.
4. WHY DO PEOPLE RESIST CHANGE?
• People naturally resist change.
• WHY?
• Fear of unknown
• Fear of power loss
• Economic loss
• Conflict of interest.
• Fear of unknown exists when
people are comfortable with the
constant.
• Can be perceived as potential
personal loss.
• Fear that change will create a loss
of income.
• Change threatens our present
traditions, standards, values and
norms.
5. HOW DO LEADERS FACILITATE
CHANGE?
• Leadership support is critical for
successful change.
• Leaders must show why
change is important.
• Communication is the most
important tool in facilitating
change.
• Employee participation.
• Focus groups.
• Establishing personal goals
related to change.
• Training.
• Focus on benefits from
changes.
PICASSO'S EXAMPLE!
In his later years, Pablo
Picasso was not allowed
to roam an art gallery
unattended, for he had
previously been
discovered in the act of
trying to improve on one
of his old masterpieces.